Normandy & D-Day Beaches tours
Starting from
229,00 €
Find out more
Canada was one of France's allies during the Second World War and would intervene during the conflict on the beaches of Normandy. As part of the British Commonwealth, Canada had strong ties with the United Kingdom. All in all, 1,1 million Canadian soldiers served during World War II and 15,000 of them landed in Normandy and took part in the fight against Germany..
Canadian Troops at Juno Beach
Juno Beach is the name of one of the beaches where the Western Allied forces landed on June 6, 1944. The coastal assault, which went by the code name Neptune, allowed the Allied forces to take control over strategic points (bridges, ports, cities) and move inland, thereby beginning the initial assaults of the Battle at Normandy. In the fight to win this mission, Canadian forces were in charge of the area between Saint-Aubin-sur-Mer and La Rivière.
German defenses were armed with artillery all along the coast as well as a defensive line of tanks. Anti-disembarkment obstacles were also on the beaches to prevent infantry from advancing and to render them vulnerable to artillery fire. Despite Allied bombardments prior to landing, German troops had the time to regroup and anticipate the Canadian arrival. Bad weather conditions didn't help matters; Canadian losses were significant during the first hours following disembarkment.
By the end of the day, however, Allied soldiers managed to take control of Saint-Aubin-sur-Mer. Additional Canadian troops rejoined the combat the following day, and would continue to progressively move inland into Normandy and its territories, thus liberating its towns and villages.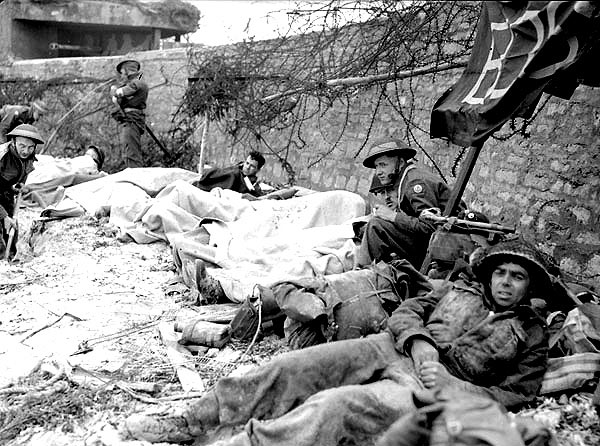 The Juno Beach Center
A staggering 45,000 Canadians perished during the Second World War of which 359 died on June 6, 1944. To render homage to these brave soldiers and tell their story, the Juno Beach Center at Courseulles-sur-Mer was opened in 2003. It houses a museum with temporary and permanent exhibitions as well as a park where guided tours are available.
The exhibitions recount Canada's involvement during the conflict starting in September 1939 up to its participation in summer 1944 battles. As for the park, there are vestiges of the Atlantic Wall, an extensive system of coastal defenses and fortifications initiated by Commander Rommel, to defend the coast in case of disembarkment. The guided tour allows visitors to better understand the meaning of such obstacles and their importance during the conflict.
The Canadian Army intervened on several fronts throughout WWII, and was part of military campaigns led in Italy, Sicily and in Holland. The Royal Canadian Navy also played an active role during battles led on the Atlantic front.
Today, Juno Beach is a place of remembrance. Monuments dedicated to Canadian losses are present all along the Normandy coastline. The remains of perished soldiers are buried at the military cemetery of the Bayeux Commonwealth as well as at the Canadian military cemetery at Bretteville-sur-Laize.