For tourists as well as locals, lavender is more than just a plant. The Provence lavender fields are part of the decor, and contribute's to the region's renown around the world. Does your French vacation include a stop in the South? Discover all the secrets of this plant, whose recognizable scent both fascinates and enchants: the history of its cultivation, the most beautiful fields of lavender in bloom of all Provence, the flowering seasons when the display is at its best.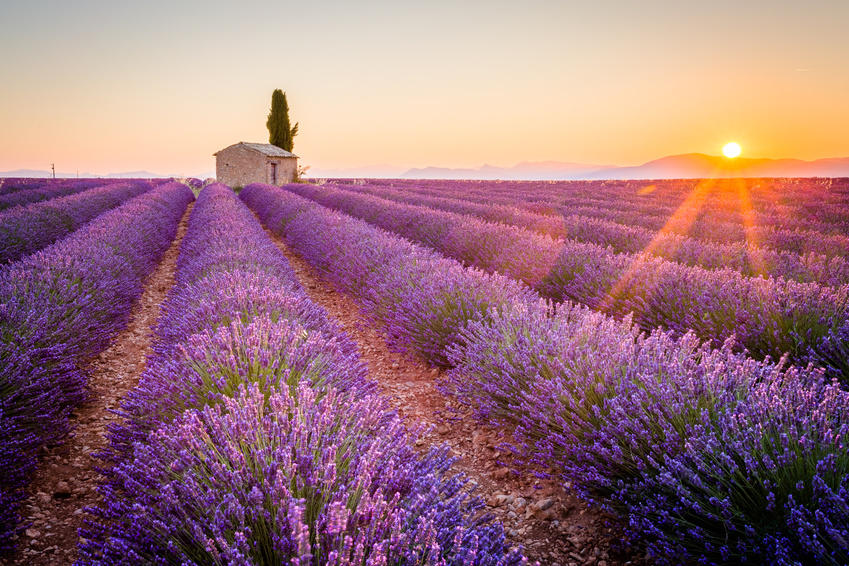 Late cultivation in Haute-Provence
Lavender, prized for its medicinal qualities, known for its ability to repel certain insects, and beloved for its fresh and floral scent that is both aromatic and lightly medicinal, has been picked in the wild by Provence locals since time immemorial. But it wasn't until the 19th century that poor Haute-Provence peasants saw its potential as a source of wealth worth cultivating and exporting. The first fields of lavender in Provence, as we know them today, date back to that era.
Several species can be cultivated in Provence lavender fields. In fact, we make a distinction between "true lavender", a noble plant protected since 1981 by a controlled designation of origin, and lavandin, a hybrid which produces more but is considered less noble and of lower quality. Often, these plants are turned into essential oils or are dried. They also serve as aromas for food recipes.
Lavender flowering periods
This little plant is shaped in small clusters, thirty to eighty centimeters high. It is only of aesthetic interest once it starts to bloom. The lavender flowering season in Provence is an extraordinary sight: fields of light purple stretch beyond the horizon, like endless, motionless waves.
The flowering season spans from mid-June to mid-August, and may depend on climate factors: it comes sooner in warmer, sunnier regions, and can come later nearer to Alpine valleys. To take in lavender fields in bloom in Provence, you can plan a trip between mid-June and mid-July.
The most beautiful lavender fields in Provence
Many areas have started cultivating this light purple flower, which is iconic throughout the region. Plateau de Valensole is definitely one of the best-known places. Located between the valley of Durance and the Gorges of Verdon, the region is home to many fields which produce both lavandin as well as true lavender.
To admire the most beautiful fields of lavender in Provence, you can also visit Luberon or the areas surrounding Mont Ventoux, in Pays de Sault. Sénanque Abbey, near the Gordes in Luberon, is located in the middle of a field of lavender, making it very photogenic when they are in bloom: the place's spiritual atmosphere is enhanced by the display of flowers, adding to the site's provençal, countryside tranquility and beauty.
See you for the next lavender flowering period, and welcome to Provence!