Visit the most beautiful villages of Burgundy
Burgundy is a region that contains a remarkable medieval architectural heritage. Divided into the departments of Yonne, Côte-d'Or, Nièvre and Saône-et-Loire, it is full of medieval villages, recognized as the most beautiful in France. Endowed with architectural and gastronomical riches, they are not to be missed stops during an adventure in Burgundy.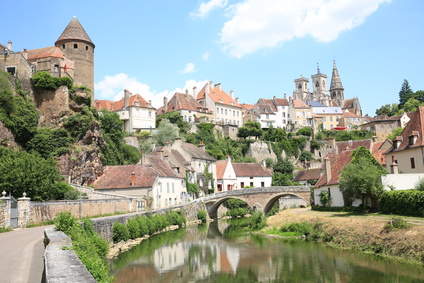 Tourism and hiking in the region
Between the vineyards, the lakes and the canals, the region is perfect for hiking. Each year, many vacationers journey to discover the architectural and gastronomical heritage of the region, known throughout the world. This heritage is protected by numerous small villages from the middle ages, which allows the visitor a veritable voyage through time. Whether you are going as a family or with friends, there is no end to the ways you can discover these villages.
The regional national park of Morvan, which extends over several communities, offers beautiful hiking options. With its rich natural and historical heritage, it is the ideal place for rambling walks. Seen from above, a full range of paths await you. High or low, you won't lack choices. The two most beautiful villages of this region are in this park: Avallon and Vézelay.
The bicycle is also central to the region. Dotted with green pathways, bicycle paths, and VTT roads: there is something for all tastes and all levels.From large loops to small stages, it is a unique way to travel through the region and its vast expanses of greenery.
You can visit the many remarkable villages of the region on foot or by bicycle. In one day, choose a selection of neighboring communities and leave on your trip. Over several days, you can indulge in a real trip through the Burgundian countryside.
The region also lends itself to horseback riding excursions. For children or adults, many tours are organized throughout the region. A fun way to discover the picturesque villages of Burgundy.
Endowed with numerous canals, the region can also be visited by water routes. Rent a boat for a day or several days to visit the surrounding villages. The villages of Vézelay and Avallon, located in Côte d'Or in the regional national park of Morvan can easily be explored by foot.
You can discover new landscapes in each season. The ideal period is spring.Vacationers are less numerous and the temperatures are mild.
Villages rich in historical and gastronomic heritage
Between the churches and the castles, lovers of old buildings will be in their glory.
These typically Burgundian villages are full of buildings of remarkable architecture.
Avallon and Châteauneuf both have a castle in the Gothic style. One of the more well known ones, Vézelay, has a church that mixes Roman and Gothic styles.
Flavigny-sur-Ozerainquant is a village known for its star anise, produced in the ancient abbey for many years.
A true medieval city, Noyers is blessed with ramparts that are well preserved; a visit to them is like a time warp.
Semur-en-Auxois, crossed by a river, will charm you with its medieval buildings. It also has ramparts, as well as a Gothic church.
The most beautiful villages of France in the region
Some of these villages are known as the most beautiful villages in France
Vézelay – Yonne
Avallon – Yonne
Châteauneuf – Côte d'Or
Semur-en-Auxois – Côte d'Or
Noyers – Yonne
Flavigny sur Ozerain – Côte d'Or
All you have to do is head to Burgundy and its little picturesque villages - they are definitely worth the detour!