Excursion available in a small group or on private basis
Experience an unforgettable day to see the emblematic sites of France in a friendly small group setting. You will enjoy a guided tour of Paris by minibus, a nice lunch at the Eiffel Tower and a guided tour of the sumptuous Palace of Versailles. You will have the opportunity to book this excursion for a private tour which will bring you a greater proximity and interactivity with our driver-guide.
You will be picked up from your accommodation located in Paris intramural by our driver-guide who will come to take you by minibus. You will then go to discover the essence of Paris by passing through the great Place de la Concorde, famous for its Obelisk coming from Egypt, in front of the Louvre and its pyramid, along the Seine and cross its beautiful bridges, the Champs Elysées dominated by the majestic Arc de Triomphe, and in many others districts. Comfortably seated in your minibus, you will ride along the Ile de la Cité discovering the Palais de Justice, the Hôtel de Ville and you will enter the Latin Quarter, the Champs Elysées dominated by the majestic Arc de Triomphe, and many other districts.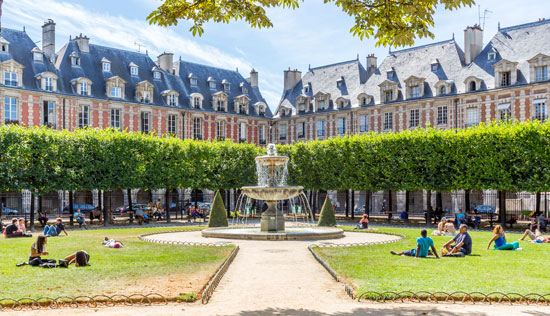 Place des Vosges in the Marais district
A short stop at the top of the Trocadero, or nearby, will allow you to enjoy an exceptional view of the Eiffel Tower and take stunning pictures. Our driver-guide will then take you to the top of the Butte Montmartre where you will discover this very typical district of Paris. You will have time to explore this charming little village with the Basilica of the Sacré Coeur overlooking the hill. You will be able to see the painters exhibiting their art at Place du Tertre, the picturesque streets and you might even see the vineyards of Montmartre as well.
After about 45 minutes' walk, you will find our driver-guide that will take you to the Eiffel Tower where you can have lunch in a warm setting. Thanks to its large bay windows, you will admire the view of Paris that is offered to you while tasting traditional French cuisine with several dishes at choice.
Menu*:
Starter at choice :
Maison Verot chicken liver terrine with a honey and Meaux mustard vinaigrette
Green asparagus with a raspberry vinaigrette and fresh herbs
Peas and fresh goat's cheese with a fine cress cream
Tomato gazpacho with vanilla olive oil and fresh basil

**
Main course at choice :
Fresh tagliatelle with sage sauce, parmesan and baby New Zealand spinach
Cod croquettes with aubergine caviar and organic quinoa with herbs
Llightly seared pork belly with honey and ginger roasted carrots
Creamy risotto with seasonal vegetables and fresh rocket
Crisp romaine lettuce, organic quinoa with herbs, tomatoes, charlotte potatoes and a raspberry vinaigrette (additional €5 on the set menu)
**
Cheese or dessert at choice :
Ferme de Viltain fromage blanc, muesli with Ile de France honey and fruits
Chocolate crème with streusel with sea salt and a dark chocolate coulis
Crisp pavlova with strawberry-rhubarb sorbet and a light coconut mousse
Iced seasonal fruit gazpacho

**
Drinks :
1 glass of wine or beer or soft
Coffee
Child Menu (- 12 years old)*

Toamto salad with vanilla olive oil and fresh basil
**
Cod croquettes with creamy risotto and sauce vierge OR Corn-fed chicken fillet with fresh tagliatelle

**
Chocolate crème with streusel with sea salt and a dark chocolate coulis

**
Soft drink
* Example of menu, subjet to modification
After the meal you will go to Versailles to visit this wonderful royal palace, emblematic site of French History. You will cross the big apartments of the king accompanied by your guide who will tell you many anecdotes about the life of French Kings and you will discover their daily life through rooms with period decor. You will not miss to admire the incredible Hall of Mirrors in which the Queen organized huge receptions. From these rooms you can admire the gardens adorned with their fountains and very well maintained. If time permits, you would enjoy a stroll through the park's paths, between the beautifully flowered flowerbeds.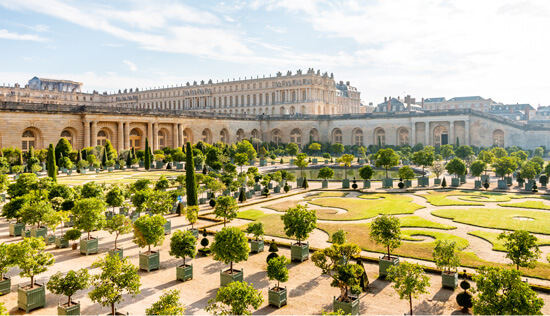 The gardens of the Palace of Versailles
If you wish, for even more conviviality, you can take our private tour option. This will give you more comfort, guidance in one language guarantee, better interactivity with our driver-guide to ask as many questions as you want.
At the end of the tour, our driver-guide will pick you up at the Palace car park to take you back to your residence in Paris.
The price includes:
Departure from and return to your hotel or apartment in Paris
Services of an experienced driver guide
Guided city tour of Paris by minibus
Free time at Montmartre
Lunch at the Eiffel Tower (restaurant "58 Tour Eiffel" restaurant)
Guided visit of the Palace of Versailles with priority access
Further information on your confirmation voucher :
You will receive your booking confirmation by email, as well as your voucher. Present it to the driver-guide who will pick you up at your accommodation within 30 minutes which follow the time indicated on the voucher.