Step onto the Montmartre funicular
Situated in Paris' 18th arrondissement, the Montmartre funicular allows you to climb the steep slope in just over a minute and easily reach the top of the hill and the parvis of the Sacré Coeur.
A little story about the Montmartre funicular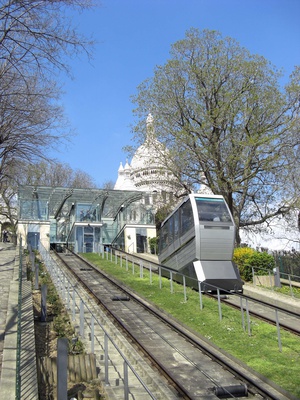 The Sacré Coeur funicular The construction of a funicular, connecting the new Sacré Coeur basilica and incidentally the houses of Montmartre old town, was decided in 1891 and inaugurated in 1900. The functioning of this ingenious machine was stopped twice in a little more than a century, for two refurbishments :
from 1931 to 1935: change from a water mechanism to electrical technology
from 1990 to 1991: installation of two new more modern cars
The Montmartre funicular's modern stations were designed by architect François Deslaugiers, and the cars by Roger Tallon.
The Montmartre funicular climbs a difference in height of 36 meters, for a slope with a gradient of approximately 35%, in just 1 and a half minutes. A distance of just 108 meters.
The first funicular worked using water, with a 5m3 tank under each car. In 1935 it was replaced by an electric system, deemed more effective.
Since 1990, the Montmartre funicular has adopted a modern look and relies on technology similar to that used in lifts. The stations were also fully refurbished. Two cars transport 1,300 people each way, every hour.
Practical tips for accessing the funicular
The Montmartre funicular is part of the RATP network and requires the same transport ticket as the metro or bus. From the upper station you can discover two of Paris' must-see tourist sites :
The Sacré Coeur basilica : built in the 19th century in a neo-byzantine style, it is one of Paris' most visited monuments.
Place du Tertre : this tourist hot-spot attracts the crowds with its painters, cafés and restaurants.