Pink Biscuits and Other Specialities from Reims
When they taste so darn good it's understandable why culinary traditions in Champagne hold strong. Take the Reims pink cookie for instance. Legend has it that the rose-colored pastry was served to Louis XVI and his guests. The cookie continues to titillate the palates of Champagne locals, whether dipped in bubbly or baked in a Charlotte cake.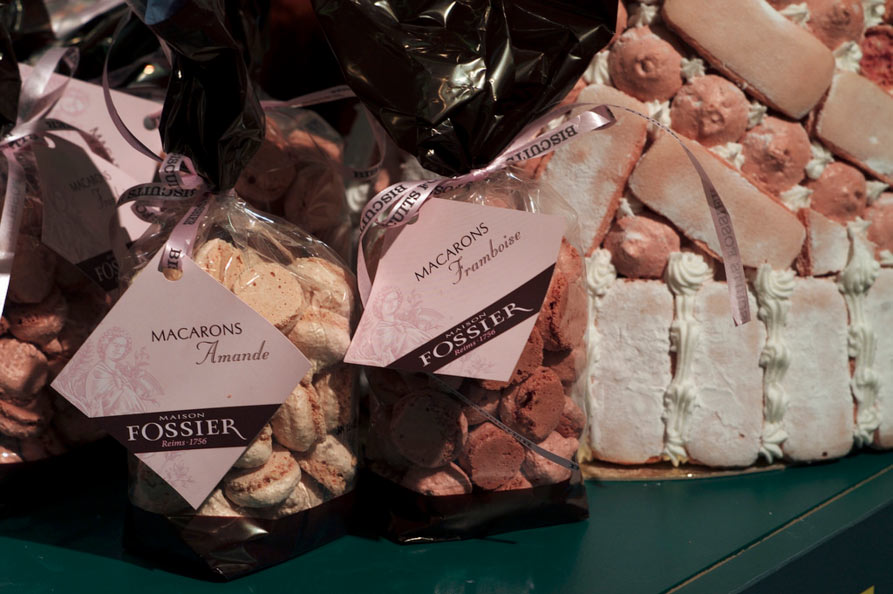 A Centuries-old Cookie
The famous pink cookie from Reims has existed since the end of the 17th century. A cookie-cake baked twice over, it's the most well-known aliment besides champagne. It's famous pink color, thanks to carmine, is actually designed to hide the black spots that vanilla extract can leave on the surface of a cookie once baked. Despite their yumminess, the speckled look didn't sit so well with consumers and so the cookie got its rosy tint!
You can eat the Reims pink cookie all by itself or, as some prefer, it can be used to make Charlotte cakes. Try dipping it in champagne or even in a glass of red wine!
The Maison Fossier
Unbelievably, the Maison Fossier recipe has remained unchanged since the Renaissance. The last cookie-maker to make the Reims pink cookie also happens to be the oldest cookie factory in all of France. This high-quality company also makes macaroons and spice bread.
Other Specialities from Champagne
Before getting to dessert, let's move on to Reims' famous regional dishes!
The White Blood Sausage from Rethel
Boudin blanc de Rethel, a white blood sausage minus the blood, is eaten as a main dish or as an appetizer. It goes perfectly well with champagne and unlike other boudins blancs is exclusively made of white pork meat and has no breadcrumbs. This specific preparation makes for a richly flavored and unctuous boudin.
Ham from Reims
Served cold, ham from Reims is deboned, molded, and made from pieces of pig shoulder and pallet. Veined in appearance and cut into cubes, it's a common snack that can be eaten alone or served with a salad.
All the culinary specialities from the region of Reims can be enjoyed throughout your meal, as an appetizer to begin with or as a dessert to finish off with! Don't forget about that requisite bottle of Champagne!
And if you feel like arousing your taste buds once again, check out BonnesAdressesRemoises.fr, a website that shares ideas and favorites for trying out regional specialities and eating at great restaurants in Reims.