The Reims Opera, also known as the Grand Theatre of Reims, was inaugurated in 1873. Architect Alphonse Gosset designed the opera room in the Neoclassical style. With its seats spread out in a horseshoe-shape fashion, the Grand Theatre follows the norms established by Italian-style theatre (as was common in France throughout the Renaissance). Its decorative elements, however, took inspiration from the Art Deco movement.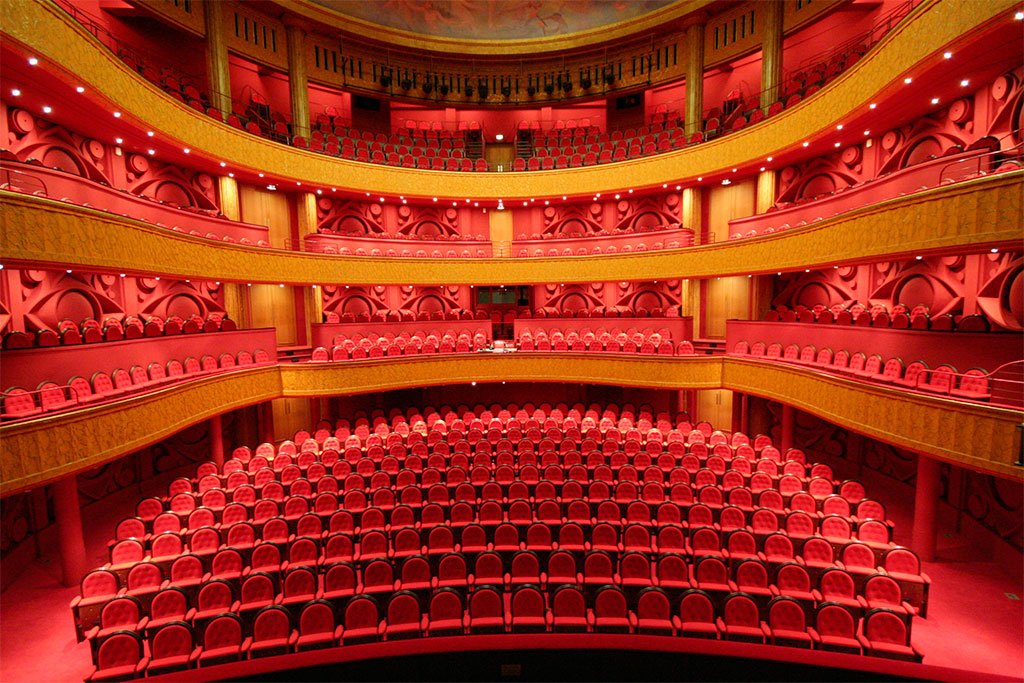 The Beginnings of the Reims Grand Theatre
A native of Remy, Alphonse Gosset won the 1864 Architectural Concours for his project, the Grand Theatre. The Franco-Prussian conflict interrupted construction and the building was completed in 1873. Gosset also designed the private mansion of Henry-Louis Walbaum in Reims and the Pommery champagne buildings.
Italian-style Theatre with a New Twist
Italian-style theatre was very much in fashion throughout the 17th century. The Montansier Theatre in Versailles is a prime example. Italy was an artistic model for many fields: music, architecture, painting and so on. Italian artists were continually brought to France to wield their influence and inspire French artists.
The architectural form of an Italian-style theatre is recognizable by its horseshoe-shaped seating arrangement. This model, however, created rivalries as some audience members could not see the stage as well as others could. A hierarchy was thus created. Nonetheless, the U-shaped form remains much appreciated as it allows for audience members to exchange glances and better visibility of the stage.
The Reims Grand Theatre, which then became the Reims Opera, adhered to the Italian theatre U-shaped model. However, it was the Art Deco movement that would influence its interior and exterior decoration.
Unfortunately, WWI bombings destroyed everything but the building's facade. The edifice that one sees today, however, is a faithful reconstruction of the original built by Alphonse Gosset.
An interesting tidbit: the chandelier that illuminates the theatre's hall and measures 7.5 meters in diameter was made in 1929 by the Simon ateliers, master glassworkers based in Reims.
Conferences and Live Performing Arts
Some of the greatest classical works have been played on the stage of the Reims Opera. That said, the Opera also stages new, contemporary performances that come to life for the first time in an opera house known for its acoustics. The Opera program also proposes events for its public such as workshops for children and conferences for adults.