The ceiling of the Opéra Garnier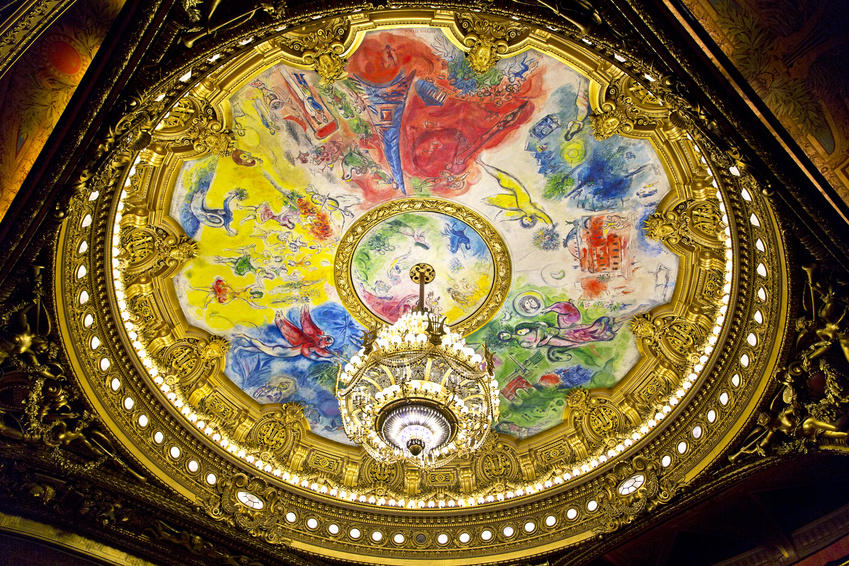 Admire the Chagall's frescoes, painted on the ceiling of the Opéra Garnier
The ceiling of the Opéra Garnier was completely renovated and re-imagined in 1964 at the urging of Minister of Culture André Malraux. The talented Marc Chagall was entrusted with painting 2,400 square feet of frescoes. The opera's new ceiling was widely decried and contested when it was unveiled to the public on September 23, 1964, and the work at this iconic Paris opera house continues to elicit curiosity and stir passions.
More than a ceiling: a lush, monumental work
It took Chagall a year to successfully complete this imposing work, which can be interpreted as an encapsulation of the artist's personality. The ceiling of the Opéra Garnier stands out for its luminous colors and myriad details. When you take a closer look, you can see discern winged characters, quintessential Parisian buildings and monuments like the Arc de Triomphe, and musical instruments. If you are especially keen-eyed, you may find Chagall himself or André Malraux, who commissioned this monumental fresco.
The ceiling of the Opéra Garnier pays homage to 14 major composers of opera and lyrical music, as well as their oeuvres. Marc Chagall, assisted by Roland Bierge, Paul Versteeg and Jules Paschal, found his way into the history of art in Paris. The feat is even more impressive in light of his advanced age: he was 77 years old when the ceiling at the Opéra Garnier was painted. In addition, the gesture was an unselfish offering as Chagall, inspired by the scale of the task and the mark it would leave on the world, declined to be paid a salary for the work!
The Opéra Garnier ceiling before Chagall
Although the ceiling painted by Chagall is a departure from Opéra Garnier's architecture – for better or worse depending on whom you ask – the work that occupied the space before 1964 was decidedly more classic. Entitled The Muses and the Hours of the Day and Night, it had been created in 1872 by Jules-Eugène Lenepveu, a far more conventional painter.
Eugène Lenepveu's original art was not destroyed: the ceiling painted by Chagall was superimposed on the original work using polyester panels that can be easily disassembled. It's a great example of preserving historic artifacts in a building that knows how to reinvent itself and freshen things up without denying its past. When you visit the Opéra Garnier, be sure to raise your eyes to the ceiling and let the visible talents of Marc Chagall transport you to seventh heaven!