Paris Plages was launched in summer 2002 by the Paris City Hall, and has since become an annual event that takes place on the right banks of the Seine, on the Hôtel de Ville Square and on the Villette Basin. Numerous outdoor activities and a beach-like ambiance make for a summer rendezvous that's not to be missed. The concept has spread to several other French cities.
A Parisian Beach Resort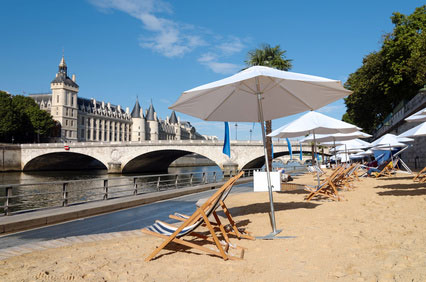 Paris Plages allows Parisians who don't go on summer holiday to enjoy activities that are normally reserved for those who live on the coast. From mid-July to mid-August, traffic on the Seine's right bank is cut off so that sandy beaches and palm trees can be installed. Traffic, a daily issue in this part of Paris throughout the year, takes the backseat as pedestrians who feel like strolling or picnicking along the Seine can do so without worrying about vehicles. Bathing in the Seine is not permitted and has been prohibited for many years.
It's Like Being on Vacation
Touches like sand sculptures and palm trees contribute to the beach-like ambiance at Paris Plages. A good half of the embankment is transformed into a long, white-sand beach replete with parasols and lounge chairs that are free of charge. Snack stands and musical performances are also organized. It's not uncommon to watch a concert while playing putt-putt or checking out an impromptu volleyball match on the square of the Hôtel de Ville. All you have to do is settle in, order a cocktail, and bring your pétanque balls!
Festivities and Free Activities
The Paris City Hall organizes loads of activities during Paris Plages. From fun festivities and available sport equipment to free fitness classes and activities for kids, Parisians and tourists alike get active!
Drinking and Eating
Don't pass up Paris Plages if you're in Paris during summer! A usually inaccessible zone to pedestrians is transformed into an urban beach with activities and festivities detailed in a program provided by the Paris City Hall on its website. Various restaurants and food trucks are installed along the embankment where it's possible to have a sit-down meal or to take away. Potable water and pubic toilets are available.