Spend a fantastic evening in Paris with a dinner cruise through the heart of the City of Light, a visit to the 2nd floor of the Eiffel Tower with priority access, and the unique Parisian experience of a show at the Moulin Rouge.
Leave our central Paris agency at 6 pm for a dinner-cruise that will last for one hour and fifteen minutes on the floating restaurant, La Marina de Paris. Enjoy a truly captivating experience as you savour your delicious meal, watching the famous illuminated monuments and bridges of Paris speed by: the Orsay Museum, the Conciergerie, Notre Dame Cathedral, the Louvre Museum and the Eiffel Tower, etc. It could almost be a film set!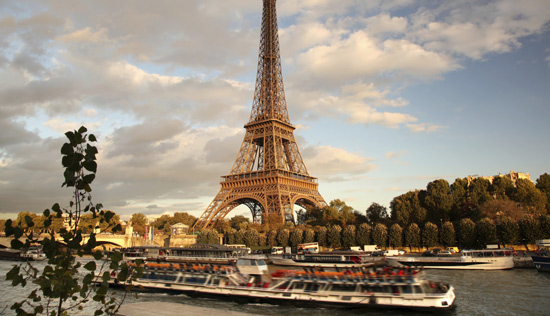 Cruise on the Seine river
Choice of starters
Assortment:
Foie Gras and Candied Fruit crisp, Balsamic Vinegar Cream
Poached Scallops, Glazed Leeks
Spelt and Vegetable Minestrone, chopped Endives with Tarragon VInegar
Butterfly Shrimps with Lemongrass, Fennel brunoise, Artichoke tapenade
***
Choice of main plates
Pan-seared Chicken Supreme, carrot and Potato curls, Mushroom coulis
Back of Salmon, Coconut-flavoured crushed Potatoes, Pea Juice
Slab of beef, pan-fried Oyster Mushrooms and Chestnuts, Porcini mushroom cream (+7)
***
Cheese platter (+6€)
***
Choice of desserts
Assortment:
Bitter orange Chocolate dessert, Exotic Fruit coulis
Paris Brest style Hazelnut Praline Eclair
Almond Biscuit, Chestnut and Blackcurrant cream
***
Vegan Menu:
Butternut soup, Chickpea mousseline with Coriander, Squash seeds
***
Wok of roasted Cauliflower with Turmeric, new potatoes, Carrot curls, Peas, Baby Broad Beans
***
Chocolate dome, Raspberry fondant, fresh Pineapple, Pomegranate pearls
*Lactose and gluten free vegetarian menu
***
Drinks:
One glass of wine (16 cl) at choice :
Touraine AOC Sauvignon Luc Poulain (blanc) or Touraine AOC Domaine des Echardières (rosé) or Bordeaux AOC les Mercadières (rouge)
OR
A glass of soft (water or cola cola ou fruit juice).
***
Children's Menu
Turkey breast wrap, cherry tomato and mozzarella balls
**
Choice of main dish from the menu
**
Sweet chocolate biscuit with raspberry soaked almonds
**
Drink: Orange juice; Coca-Cola or water
Your next stop will be the Eiffel Tower, where your skip-the-line ticket will give you priority access to the 2nd floor. Visit the Eiffel Tower and take in the unique views of the French capital from 377 feet up!
Finally, enjoy the legendary cabaret show at the Moulin Rouge in Paris's bohemian Montmartre district. The Moulin Rouge, France is well-known all over the world for its famous French cancan and has been performing its fantastic review shows for 120 years. The current show, "Fairy", includes 100 different performers, including 60 beautiful Doriss Girl Dancers. Allow yourself to be drawn into its world of rhinestones, feathers and sequins! The stunning stage sets and routines will take your breath away.
Among the two options offered, you have the choice of ordering during the show either a Coup de Champagne or a half bottle of champagne.
You will be taken back to your Paris accommodation after the show.
Please note:
Depending on the time of year, part of this excursion may take place during daylight hours
Moulin Rouge:
Children are accepted from 6 years old
The show starts at 11.00 pm and ends at 1.00 am
Guests should dress elegantly. No shorts, jeans or sneakers
Mandatory cloakroom facilities at the Moulin Rouge Cabaret (extra charge)
Dinner cruise:
Boarding from: 6.15pm
Departure: 6.45pm
Return: 8.00pm
Individual table guaranteed