The Eiffel Tower Ice Skating Rink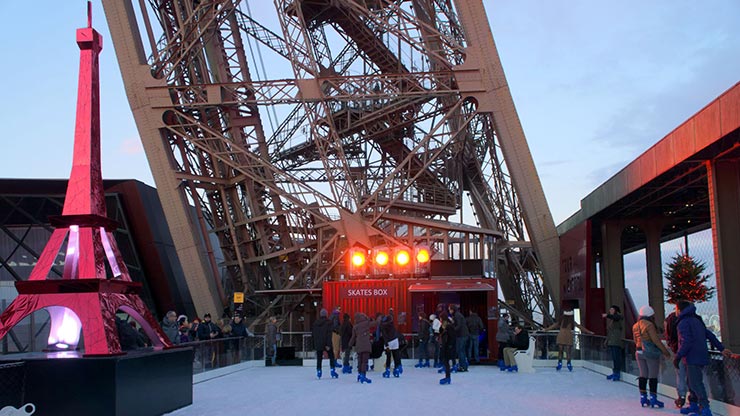 Source : www.toureiffel.paris
Wintertime at the Eiffel Tower looks more like an attraction park than anything. Bustling with people and energy, the Tower provides lighting shows and fun, original activities for all ages such as Ice Skating.
In reality, the installation of an ice skating rink on the Tower's first floor is nothing new; for the first time in 2004, 200 m2 of ice at 57 meters (187 ft.) above ground were put into place. The ice changed color depending on the lights projected above the rink. At the time, the rink was open to the public and ice-skating shoes were provided on the spot.
For the 2014-2015 winter season, the first floor ice-skating rink measured 190 m2 following recent renovations. The color red and transparent lighting effects were used, and a 6-meter high (20 ft.) mini Eiffel Tower, all in red, was exhibited just next to the rink. The principle of the Ice Skating rink is to simply have fun with one's family and friends while enjoying a popular activity.
Sled-chairs were even provided for the smallest participants and for physically challenged persons. And for those who need to warm up after facing the cold, an outdoor bar with hot drinks and meals provides comfort!
It must be said that the Ice Skating rink isn't the Tower's only first-floor star attraction: one can also experience vertiginous views while standing on glass flooring, discover a museum on the history of the Eiffel Tower, sit back and relax while watching a film on the Tower's history, projected onto seven screens, and enjoy a good meal at one of the numerous Eiffel Tower restaurants like 58 Eiffel Tower (north facade) and Salon Gustave Eiffel, more for business meetings (east facade).
In fact, wintertime at the Eiffel Tower doesn't really look like an attraction park, it is one! Book your Eiffel Tower visit online to fully enjoy Paris in wintertime.