Restaurants at the Eiffel Tower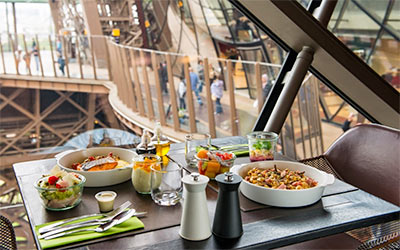 This restaurant has two facades: for lunch, one can enjoy a "chic picnic" served at the table while admiring the panoramic views of Paris. For dinner, the restaurant is transformed into a brasserie with a cozy, subdued ambiance that brings out the city and its lights below.
If you want to take full advantage of the city of Paris, don't forget to book a reserved access ticket for the Eiffel tower to enjoy a magical experience.
Address: 1st floor of the Eiffel Tower, Champ de Mars, 5 Avenue Anatole France - 75007 Paris
You can book your lunch or dinner directly on Paris City Vision: book your table or choose a combination of tours and lunch or dinner, a Seine Cruise, a Tour in Panoramic bus, or even a Cabaret Show.
Discover all our offers and book your dinner or lunch at the Eiffel Tower.
Eiffel Tower Buffets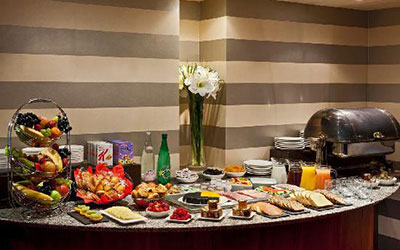 The buffets can be found on the esplanade or the Tower's first and second floors. They both propose an extensive range of quality, fast food that one can enjoy on-site or as take-out. On the menu: homemade sandwiches and salads, hot and cold drinks, salty and sweet snacks like pizza, pastries, cakes, and ice cream.
If you have some time, you can also enjoy a seine river cruise to get an incredible view of Paris!
Address: Esplanade, 1st, and 2nd floors, Eiffel Tower, Champ de Mars, 5 Avenue Anatole France - 75007 Paris. Open every weekday from 9:30 am to 11:30 pm.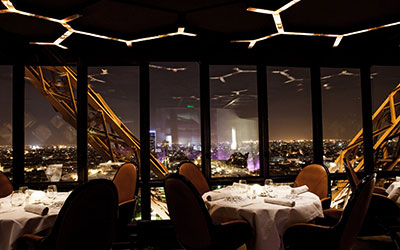 This restaurant has a timeless charm. Located at the heart of the Eiffel Tower, the Jules Verne invites you to embark on a real journey of the senses amid contemporary decor. Concerning your taste buds, French gastronomy is put to the test. You will share an unforgettable meal with an equally exceptional view. Reserve at least 3 months in advance for a window table. Alain Ducasse was for a long time at the head of this restaurant with one star in the Michelin guide. From April 2021, Frédéric Anton will be the chef of this mythical restaurant.
Address: 2nd floor- Southside - Avenue Gustave Eiffel - 75007 Paris
Le Salon Gustave Eiffel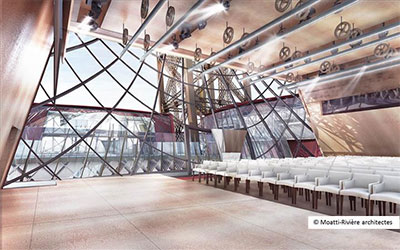 Located on the first floor of the "Iron Lady", the Salon Gustave Eiffel is one of the most sought after event rooms in Paris. Decorated with a modern yet warm touch, it's adjustable stage allows for large, professionally organized receptions that seat around 300 guests.
Address: 5, avenue Anatole France - Champ de Mars - 75007 Paris (Eiffel Tower, 1st floor)
Le bar à champagne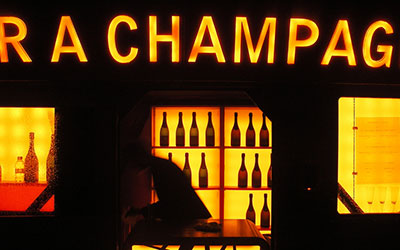 At the very top of the Eiffel Tower, the Champagne Bar offers a unique experience: a flute of champagne on the house while taking in panoramic views of Paris!
Restaurants with a view on the Eiffel Tower
La Maison Blanche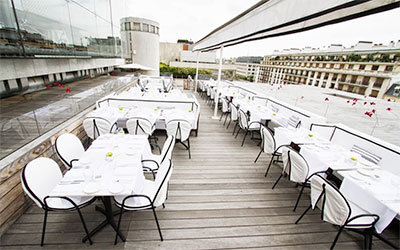 This gastronomic restaurant located on the rooftop of the Théâtre des Champs Elysées is one of the best restaurants in the Île-de-France region. Enjoy its incredible, outdoor terrace views of the Eiffel Tower and its topnotch French cuisine by Alsatian chef Sylvain Ruffenach. If you're looking for a chic, refined restaurant for either a business dinner or a romantic outing, La Maison Blanche is the place to be.
Address: 15, avenue Montaigne - 75008 Paris
Les Ombres
Located on the terrace rooftop of the Musée du Quai Branly, this private restaurant is extremely close to the Eiffel Tower. Not only are its views of the Tower unbeatable but its cuisine is incredibly refined and its ambiance not to be missed: at noon the restaurant walls seem to dance with contrasting shadow and light whereas at night the restaurant is as lit up as the Tower.
Address: 27 Quai Branly - 75007 Paris. Hours not to be associated with the Museum. It's highly recommended to reserve a table online.
Chez Francis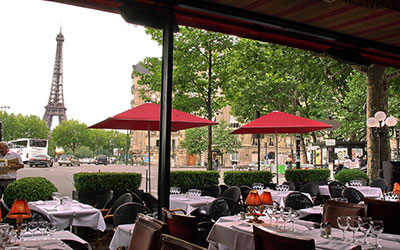 Take a break while you travel and come to this popular restaurant located just next to the Eiffel Tower. Dotted with the main dining room and an outdoor terrace that looks out onto the Tower, Chez Francis' dishes are diverse and refined. Besides, this tower restaurant has a very good reputation and many positives reviews.
Address: 7 place de l'Alma - 75008 Paris
Le Saut du Loup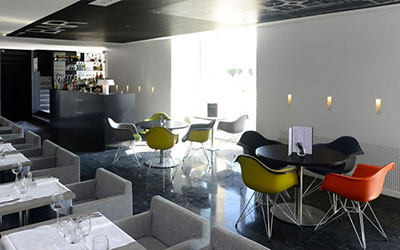 This restaurant has Tower viewpoints from both its main dining hall with bay windows and from its outdoor terrace. The ambiance evokes Paris's romantic side and at night the restaurant is aglow with the sparkling lights of the Eiffel Tower.
Address: 107 rue de Rivoli, 75001 Paris
Telephone: 01 42 25 49 55
Le Ciel de Paris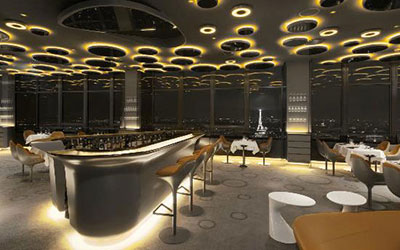 Depending on the time of day and lighting, this restaurant offers myriad views of Paris and the Tower. Located at the Montparnasse Tower, the restaurant's decoration is aesthetically charming and the Eiffel Tower can be admired from large bay windows that transform Paris into a sort of live show. Feel free to enjoy a glass of wine with this magnificent view.
Address: Tour Maine Montparnasse, 56th floor - 33 avenue du Maine - 75015 Paris
As an alternative, some hotels also have a terrace with a view on the Iron Lady. But the best way to experience French gastronomy and an amazing view over Paris is to book a lunch or dinner at the Eiffel Tower in Paris with Paris City Vision!