The Jules Verne, a gourmet Parisian restaurant
The Jules Verne, a gourmet Parisian restaurant There is no more perfect way to cap off a visit to the Eiffel Tower or a stay in Paris than with a lunch or dinner in the idyllic setting of the Jules Vernes gourmet restaurant on the second level of the most famous tower in the city.
Jules Vernes decor: a meticulous 19th century ambiance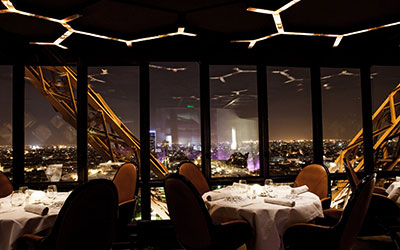 Jules Verne restaurant – Eiffel Tower, Paris
The Jules Verne Eiffel Tower is the perfect place to stop and savor the moment. Its refined, understated interior was put together by designer Patrick Jouin to serve up unobstructed perspectives on the spectacular view of Paris. From its spot 410 feet above the ground, you float above the city, combining visual and gustatory delights. When night falls, the city performs a show for you as it lights up at your feet. The Jules Vernes is an ideal spot for a romantic dinner, a special occasion or an important business meal as it transforms your Eiffel Tower experience into an extraordinary culinary memory.
On the menu at The Jules Vernes
The Jules Verne is an extraordinary restaurant, but not just because of its location. With a menu developed by Alain Ducasse, the recipient of numerous Michelin stars, chefs chosen for their talent and regional products of the highest quality, the kitchen turns out brilliant interpretations of French cuisine. Head Chef Éric Azoug and his sous-chef Gregory Stawawy lead a team of 50 people, who harness their know-how each day to exalt flavors and serve customers delicious, modern dishes.
In keeping with French tradition, desserts are entrusted to Head Pastry Chef Thomas Croizé, and the wine list to sommeliers Amar Chebrek and Roberto Amadei who, under the guidance of Gérard Margeon, Head Sommelier for all Alain Ducasse restaurants, have assembled a collection of over 400 French wines. Their selections will delight epicureans and introduce visitors to the breathtaking scope of France's winemaking heritage.
Book a table at the Eiffel Tower
The Jules Verne at the Eiffel Tower is open every day for lunch from noon and for dinner from 7:00 pm. Obviously, we recommend making a reservation to be sure you get a table and, perhaps, request a prime spot next to a window to make the most of the view. Reservations can only be made online. Remember to plan well in advance!
To dine at The Jules Verne, allow at least 105 euros for lunch and budget between 190 and 230 euros for dinner to enjoy a gourmet meal in an unsurpassed setting. For dinner, a five- or six-course tasting menu paired with the best wines goes perfectly with the nighttime view of the City of Lights. Remember to book a table by the window for an ideal vantage point!
Another restaurant at the Eiffel Tower that is more affordable and quite pleasant is 58 Tour Eiffel