Notre Dame de Paris opening hours and address
Notre Dame de Paris Cathedral
Starting from
20,00 €
Find out more
Spending a few days in Paris and thinking about visiting the magnificent Gothic cathedral located in the heart of the most beautiful city in the world? Discover our practical tips for saving time and making the most out of your visit to Notre-Dame de Paris: opening hours, address, and quick access.
Notre Dame de Paris: opening hours and peak times
Notre Dame opening hours
You can visit Notre Dame during the following opening hours:
From Monday to Friday from 8AM to 6:45PM (no midday closure)
On Saturday and Sunday from 8AM to 7:45PM (no midday closure)
This schedule is the same throughout the year.
Looking for more information? A welcome desk is located inside the building, right in front of the entrance, and is open all year round. Here are its opening hours:
from Monday to Friday, 9:30AM to 6PM
on Saturdays and Sundays: from 9AM to 6PM
The cathedral's opening hours and peak times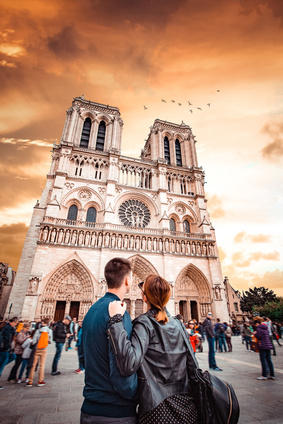 Notre Dame: opening hours and peak timesNotre-Dame is most visited during the summer, in the months of July and August. when many tourists come to Paris. If you would like to avoid crowds an enjoy a quieter visit to Notre-Dame, here are some practical tips:
Avoid Mass services: there will always be more people present during those times because many churchgoers participate, joined by curious onlookers who come to observe the celebrations.
Avoid religious holidays, when crowds are around and many chuchgoers visit, Christmas, Easter, All Saints' Day, and the Assumption (August 15)
Try to come on a Tuesday or Wednesday, which are usually less crowded. Avoid Sundays, which have the most Mass services.
If you would like to visit the cathedral outside of Mass services, you can check our page on Notre-Dame masses.
Dame de Paris address and access
The cathedral's official address is a follows: 6 Parvis Notre-Dame - Place Jean-Paul II, 75004 Paris
Access to Notre-Dame
Located on the île de la Cité in the heart of the city of light, Notre-Dame-de-Paris is easily accessible by public transport:
By metro:
Cité or Saint-Michel stations (line 4)
Hôtel de Ville station (lines 1 or 11)
Cluny – La Sorbonne or Maubert-Mutualité station (line 10)
Châtelet RER station (lines 7, 11 or 14)
By RER
Saint-Michel l – Notre-Dame station (line B)
Saint-Michel l – Notre-Dame station (line C)
Several metro stations are located nearby, as well as parking spots for vehicles. You can park at Parking Notre-Dame, place du Parvis Notre-Dame. It can be accessed through rue de la Cité.
Nearby attractions
You can easily get there on foot, from Notre-Dame cathedral or other monuments and attractions in Paris. You are just 6 minutes away from the Sainte-Chapele and Conciergerie, fifteen minutes from the Luxembourg Gardens, and around twenty minutes from the Louvre Palace.
Take advantage of our tips for getting to Notre Dame quickly, during its least crowded opening hours, and discover the secret Parisian attractions hidden right by the cathedral!