Day Trips to Mont Saint-Michel from Paris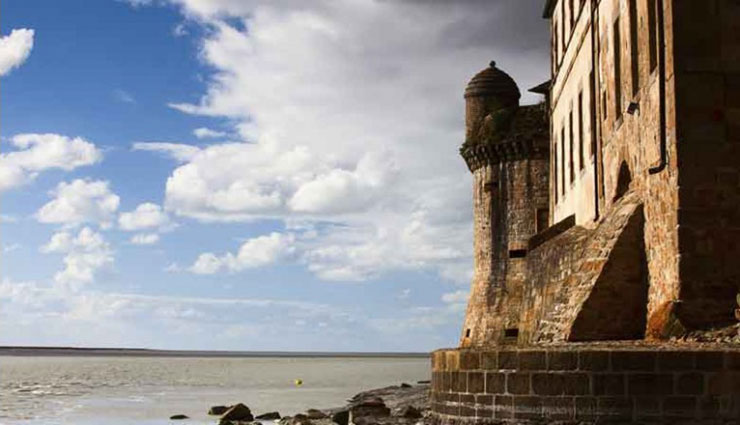 Mont Saint-Michel is situated less than four hours by car from Paris. You can make a trip to Mont Saint-Michel from Paris by bus or coach in just one day. Offers also make it possible to combine the visit with a detour in Normandy, to Saint-Malo or the chateaux in the Loire valley. In this case, they include overnight stays in a hotel, for a real sight-seeing tour at the right price.
Independent or guided visit of Mont Saint-Michel: price
Now accessible via a bridge on stilts, this tourist site can be visited regardless of the tides. At low tide, you can admire the bay, a UNESCO world heritage site. At high tide, this tourist site becomes an island with a silhouette sculpted by the shape of the Benedictine abbey.
Independent visits are perfect for adventurers who want to get of the beaten tracks and find streets less frequented by tourists. This type of visit is also perfect for this site that you will instantly fall in love with. You will be able to enjoy the nave of the abbey for as long as you want, with an explanatory book, and really immerse yourself in the spiritual ambiance of Mont Saint-Michel, a place dedicated to meditation and study. It also allows you to visit Mont-Saint-Michel for the best price, and with complete freedom.
However, guided tours are appreciated by organized people who want to benefit from the best guides, who can tell you stories about the place and its history. Available in French, English, Chinese, Italian, Japanese, Portuguese and Spanish, guided tours ensure you don't miss out on any aspect of the marvels admired every year by more than three million visitors. The price of a guided tour of Mont Saint-Michel is generally a little higher, but soon there won't be anything you don't know about this tourist location!
A few tips for preparing your trip
Mont Saint-Michel, as its name indicates, is a mount. The visit is by foot and involves a lot of walking. There are also a lot of steps, so we recommend choosing good shoes. The site is also subject to the stormy weather of the Manche region. So it's best to bring warm clothing in winter and to be equipped for rain in summer.
Opening hours of the monuments
It is important to note one thing: the town does not have any specific opening hours. You can wonder along the streets of the town whenever you want, enjoy the sunset on the bay of Mont-Saint-Michel or have dinner on-site.
However, some of the monuments have fixed opening hours :
The Abbey's opening hours vary depending on the season :
Low season: 8.30 a.m. to 9 p.m. from September 1 until April 20
High season: 9 a.m. to 7 p.m. from May 2 until August 31
Open every day from 9.30 a.m. until 6 p.m. FROM MAY 2 UNTIL AUGUST 31 Open every day from 9 a.m. until 7 p.m. FROM SEPTEMBER 1 UNTIL DECEMBER 31 Open every day from 9.30 a.m. until 6 p.m.
The abbey is only closed 3 days a year: January 1, May 1 and December 25.
To access Mont Saint-Michel, you can decide to finish up on foot. You can also take the shuttles available.
A tourist information center is situated in Bas Pays, Beauvoir. Its opening hours are :
High season: from 9 a.m. to 7 p.m. every day of the week and the weekend (from the Easter holidays until September 30)
Low season: from 10 a.m. to 6 p.m. (the rest of the year).
The tourist information center is closed on December 25 and January 1.
Please note that the nearby car parks offer paid parking, priced at €11.70 for 24 hours in 2017. The shuttle to the site is free.
Tide times
The high tidal coefficients can complicate access to Mont Saint-Michel. You can find regularly updated information at the Tourist Information Office. This will help you avoid any inconvenience and fully enjoy your trip.
Normandy, Brittany and Mont-Saint-Michel at the best rates
The price of parking, the price of the entrance ticket for the Abbey, the cost of a meal at a restaurant, for example la Mère Poularde: the price paid by one person travelling to Mont Saint-Michel includes a lot of hidden costs when they organize the trip themselves. But if you opt for a tour package, you won't have any surprises regarding the price or any additional costs to pay. You can enjoy a turnkey trip, leaving from Paris, which allows you to discover the treasures of the place that was once called Mont Tombe.
The town of Mont Saint-Michel is situated in Basse-Normandie, not far from Saint-Malo in Brittany. Once you arrive at Mont Saint-Michel, the visit can continue in Normandy and Brittany.
Leaving Brittany and Normandy behind, lets adventure a little further. Before returning to Paris, make a little detour and visit the chateaux in the Loire valley for example Chenonceau, Chambord or Cheverny. In just a few days, you'll explore iconic French heritage sites discovering medieval and Renaissance monuments.
Discover tourist packages at special rates on PARISCityVISION.