Set off for a day trip that allows you to design your own itinerary, between the sea and the sky! Visit one of France's most iconic sights, the stunning UNESCO World Heritage listed island of Mont Saint Michel and its bay. Discover the magnificent medieval abbey at the island's summit, a historical masterpiece. Take advantage of the opportunity to experience the magic of the island and the breath-taking sight of the Bay of Mont Saint Michel, at the mercy of the tides.
Departure at 7:15am from our office in the center of Paris for an amazing day at Mont-Saint-Michel. Take advantage of the bus journey to admire the beautiful green landscapes paraded before you. As you gaze out onto the Normandy countryside, listen to some initial commentaries on a personal audio guide in the language of your choice. reaching Mont-Saint-Michel around noon.
Visit the base of the island of Mont Saint Michel on foot; a unique fortified rocky outcrop, it dates back to the Middle Ages and is surrounded by a vast bay with one of the biggest tides in Europe.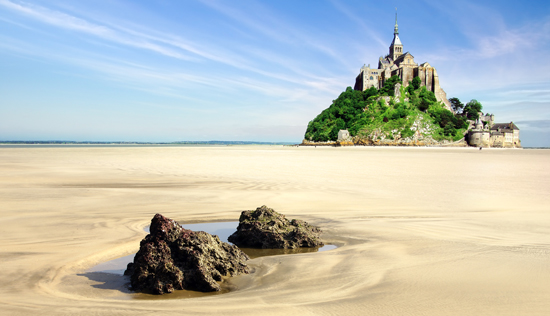 The Mont Saint Michel bay
You'll be free to climb up to the summit of the island to the fascinating Benedictine Abbey, dating from the 8th century. Audio guides will introduce you to the history of this church ,dedicated to the Archangel Saint Michael. You'll also be given an explanation of the construction of this jewel of Gothic architecture, built on three levels. You'll discover the cloisters, the Abbey's imposing refectory and its authentic garden overlooking the sea.
You can tour the site at your own pace, following the ramparts and climbing the perimeter walkway. Your walk through the village will be sprinkled with commentaries on the various points of interest located around the village. Marvel at the breathtaking landscape and take a lungful of real sea air! You'll be lost in admiration… at the sand stretching away as far as the eye can see at low tide, or the sea surrounding the island at high tide.
Please note:
Flyer with discounts coupons available in a wide choice of restaurants, museums and gifts shops of the group "la Mère Poulard"
Those with reduced mobility should note that the climb up to the abbey can be taxing
Comfortable shoes and warm clothing are advised in Winter
The languages available match the visitor guide that is provided to you at the time of departure
Audioguides available in: french, english, spanish, italian, portuguese, japenese, chinese, korean
On-site visit duration: 4h30
The price includes:
Abbey entrance ticket
Transport from and to Paris by luxury air-conditioned coach
The price does not include:
Lunch
Transfers to and from your accommodation
Further information on your confirmation voucher:
You will receive your confirmation and your tour voucher in 2 separate emails. Please print your tour voucher and present it to the PARISCityVISION office on the day of your departure.