La Mère Poulard (Mother Poulard)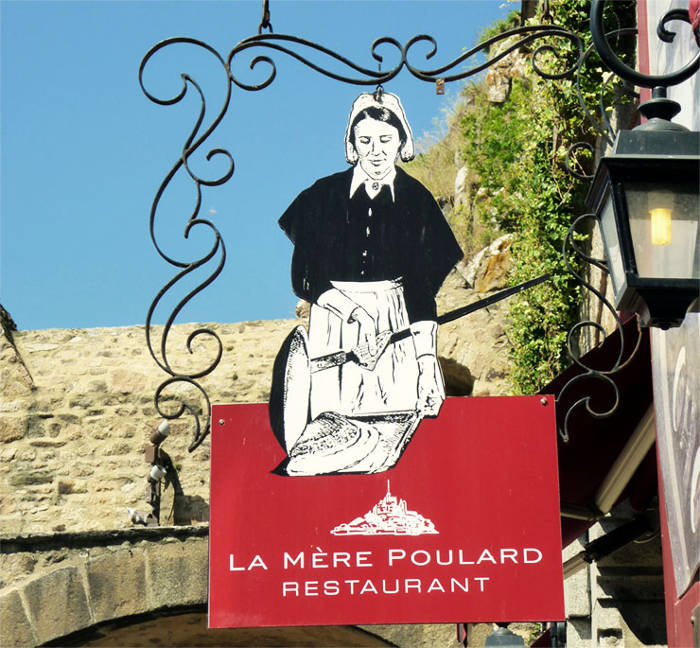 Over the years, Mère Poulard has become both a monument at Mont Saint-Michel France and a symbol of French culture. Mère Poulard, aka Anne Boutiaut, was a woman who distributed her now-famous cakes to the children of visiting pilgrims. Her omelette recipe is today known and eaten around the world from France to Taiwan.
Never Leave Nevers: Anne Boutiaut's Arrival in Normandy
Anne Boutiaut didn't give the impression that she was meant to become the famous Mère Poulard. A live-in maid to the Corroyer household, nothing was going on that would have made her leave the town of Nevers. However, her employer Edouard Corroyer was the student of Eugène Viollet-Le-Duc, an architect who worked on several renovation projects at Mont Saint-Michel. In fact, one of those projects, which started during the 1830s, was the restoration of all national monuments. In 1872, during this era of heritage conservation, Edouard Corroyer was named Restoration Manager of Mont Saint-Michel and its abbey in 1872. All the family packed up and left for Normandy, bringing along their furniture and personal affairs. Anne Boutiaut accompanied the Corroyer family, thereby sealing her destiny.
The Birth of Mère Poulard
When Anne Boutiaut married Victor Poulard, with whom she would spend her entire life, she took on the name Poulard. They met at Mont Saint-Michel but got married in Paris at the Saint-Philippe-du-Roule Church. The young newlyweds soon became managers of the Tête d'Or Hostel. At the time, pilgrims had to wait for the tides to recede until accessing or leaving Mont Saint Michel. To make the long wait more bearable, Anne Poulard served them a soufflé omelette, firm and runny at the same time, which later became particularly famous, as well as cakes called "galettes" that she served to the children of the pilgrims -- a tasty snack even though gluttony is considered to be one of the seven sins!
In 1888, the husband-and-wife team bought the Lion d'Or Hotel in order to build in its place another hotel called "Mère Poulard's Famous Omelette." Unfortunately, the resulting success created a stir of jealousy within the Poulard family; their children preferred to manage their own hotels to compete with those of their parents. The family turmoil didn't prevent Mère Poulard from growing in popularity, however...
What are Anne Poulard's secrets?
Mère Poulard's famous omelette is also known as an omelette soufflé. That's to say, it's runny in the middle but the texture is light and the eggs firm. This recipe makes for a simple but elegant omelette that also has the advantage of being whipped up quickly. Needless to say, countless pilgrims were fed rapidly and ate well!
To prepare a Mère Poulard omelette, separate the whites from the yolks and mix the whites until frothy, then slowly add in the yolks. Cook at high temperature.
Mère Poulard Today
The Mère Poulard guesthouse at Mont Saint-Michel is a 3-star hotel and restaurant that welcomes visitors (who come to discover and perhaps rediscover the town and its abbey), pilgrims, and even business seminars. Mère Poulard restaurants have been built all over the world. Indeed, Anne Poulard's famous omelette can be tasted in Japan, Taiwan, and Korea!
The modern cookie factory is still located in the region. The traditional shortbread cookies have become very popular treats and their box, with colors that resemble those of Mont-Saint-Michel, is the perfect gift!