Visiting Mont Saint-Michel
According to legend, the Mont Saint-Michel Abbey was thought up by Saint-Aubert, the Bishop of Avranches, who saw the archangel Saint-Michel appear in his dreams. It was after the archangel's third appearance that Saint-Aubert decided to have a place constructed in his honor. After finding a bull on the Mont Tombe, he chose this isolated mount in a bay to build a 78-meter high oratory.
Notre-Dame-Sous-Terre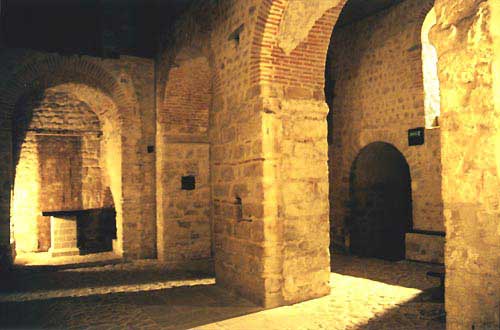 Over the centuries, the Island of Mont Tombe, later renamed Mont Saint-Michel, became a place of worship and prayer, study, and pilgrimage. The Benedictines set up there in 966 AD and scholarly, monk scribes translated the works of Aristotle from ancient Greek into Latin.
The church that was constructed to welcome the monks of the Saint-Benoît order would disappear over time. When the place of worship was enlarged, the old church was nearly engulfed by the renovations that followed. It was rediscovered during the 19th century and its subsequent restoration allows visitors to get a glimpse of an ancient architecture that differs greatly from the flamboyant gothic decor one currently sees at the abbey church and the Merveille.
The Abbey Church
The church that today welcomes visitors was constructed by Abbot Roger II between 1115 and 1125 following the collapse of a previous church whose construction was initiated by Abbot Ranulphe in 1103.
However, because the work that Abbot Roger II had begun would also crumble, the gothic quire was constructed at a later date. In addition to the quire, the church also harbors the Trente-Cierges Chapel, the quire crypt, and the Saint-Martin Chapel.
La Merveille (The Wonder)
La Merveille designates the living quarters of the monks and is located on the north face of Mont Saint-Michel. Its gothic architecture is divided into three floors and houses the chaplaincy, the reception hall, the refectory, the cellar, the Knights room, and the cloister dedicated to meditation and known for its medieval garden where an ancient variety of Damas roses grow.
Visiting a Prison-Abbey
Under the reign of King Louis XI, Mont Saint-Michel was a state-run prison and the abbey had dungeons. During the French Revolution, Mont Michel (as it was then called) held dissidents prisoner who were against the changes taking place in the kingdom. It wasn't until an imperial decree was issued in 1860 that the prison was officially shut down.
Mont Saint-Michel's abbey can be visited by the faithful and tourists. It's not only the third most visited tourist site in France but also a place of worship that is still active. The latter, restored in 1922, would attract a new wave of pilgrims. It was during this era that the French government, owner of Mont Saint-Michel, began restoration efforts of the abbey. Every day since 2001, the friars and sisters of the Monastic Fraternity of Jerusalem celebrate mass and meditate.