Where to find the best pastries in Paris
Paris the city of love…and sweets! Our beautiful French capital offers many shops where renowned pastry chefs have developed their signature styles. We will provide an overview of these virtuosos of sweets, for a gourmet tour filled with many new discoveries.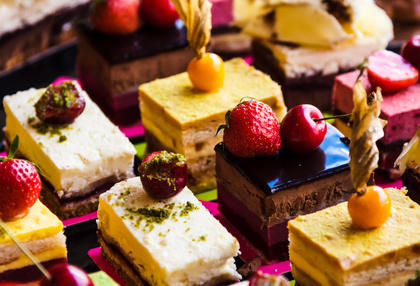 Pierre Hermé, the great pastry chef
He is often called THE greatest pastry chef in France, and as the inventor of "haute-couture" pastry, he is undeniably the only French pastry chef critically acclaimed throughout the world. We must admit that his creations are sublime, in every sense of the word. The pastries, bearing the famous "PH" logo, change according to the season and his inspiration. From the very beginning, he created his legend with desserts that today have become classics: Ispahan, 2000 feuilles, Mont Blanc...When you go through the doors of Pierre Hermé you are stepping into one of the best pastry shops in Paris.
Lenôtre, the gold standard
When it comes to sweets, you can always count on Lenôtre. Gaston Lenôtre was responsible for inventing the modern pastry using innovative techniques and quality ingredients while paying careful attention to every detail. His signature pastries include the Feuille d'automne (chocolat mousse and almond meringue) the Bagatelle (fraisier), the Succès aux amandes, not to mention seasonal creations that regularly fill the windows of his Parisian shops. Lenôtre remains one of the best pastry shops in Paris and is always a sure bet.
Christophe Michalak, the pastry superhero
Christophe Michalak (World Pastry Champion in 2005 and former pastry chef at the Plaza Athénée), is dedicated to creating high-end, innovative, rock'n'roll fun and sophisticated sweets. His shop is a combination of a store and a pastry school and offers everything your heart desires.
The selection features fresh and original creations: the Klassiks, large cakes which are a cross between a pie and a dessert cake; the Kosmiks, pastry in glass jars that you can easily eat on the go; but also extremely addictive cakes or different individual "Religieuses" (Miss K), including the iconic salted butter caramel version. This contender for best pastry shop in Paris can also be found on line at the website http://www.christophemichalak.com/.
Cyril Lignac, France's favorite chef
"France's golden boy" has proved his talents as a pastry maker. In less than six years, the Cyril Lignac brand has become one of the leading players in the world of sweets. Classic pastries - like the salted butter caramel eclair, baba au rhum, lemon or raspberry tart - have been revived with one purpose in mind: to make customers happy. Discover a media-loving chef who has retained his artist's soul and continues to offer your taste buds some of the best pastries in Paris.
Claire Damon - Des Gâteaux et du pain
Having worked in the most beautiful pastry shops of the French capital, this pastry chef has that little something special, that extra touch of soul and a desire to find the best recipes. On her beautiful gourmet shelves, Claire Damon displays an array of ten cakes which change regularly. We recommend trying the salted butter caramel cream puff, one of the seasonal versions of her Saint-Honoré, or her vanilla mille-feuille. Her shop offers you a taste of the best pastry specialties in Paris.
L'Eclair de génie
This pastry shop redefines the whole concept of the famous éclair. The brainchild of this idea is Christopher Adam, a French pastry maker widely known for his TV appearances of on "Qui sera le prochain grand pâtissier?" ("Who will be the next great pastry chef?" on the France 2 channel. He creates sweets to tempt the taste buds (and the eyes) which feature original and appetizing flavors like mascarpone cream with Andalusian woodland strawberries.