Selection of organic markets in Paris
Would you like to take a gourmet tour during your stay in Paris, soaking up the magical atmosphere of its organic markets where passionate vendors and producers offer the best the region has to offer? Discover our selection of organic markets in Paris!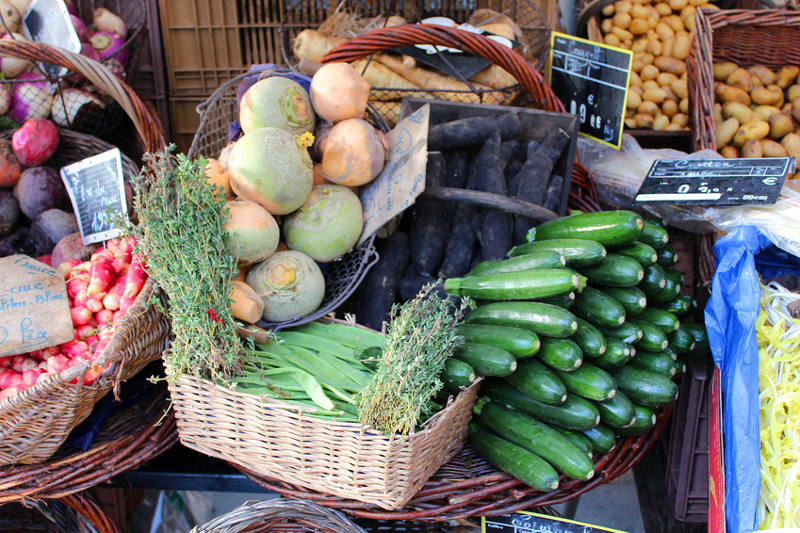 La Halle Aubervilliers organic market
Every Saturday, from 11:00 a.m. to 2:00 p.m. in the 19th arrondissement, the Halle Aubervilliers is transformed into a local organic market. You'll find a wide selection of local and artisanal products which have come directly from the Parisian region, including seasonal fruits and vegetables, at reasonable prices. For about fifteen Euros, you can fill a very large basket with imperfect produce, generally covered with a bit of dirt (these are real vegetables!). One of the best organic markets in Paris!
Dates and times: Saturday mornings from 11 a.m. to 3 p.m.
Address: Halle d'Aubervilliers, 5, rue Curial, 75009 Paris.
Getting there by Metro: Riquet Station (line 7)
Raspail organic market
Held every Sunday morning on boulevard Raspail, the Raspail market is the most beautiful and the largest organic market in Paris. Its charm attracts Parisians as well as tourists. Along with fruits and vegetables, you will also find small business owners like an Italian caterer, organic and natural beauty products, and even jewelry created by a local designer.
Dates and times: Sundays from 9 a.m. to 3 p.m.
Address: boulevard Raspail 75006 Paris
Getting there by Metro: Notre-Dame des Champs Station (line 12)
Brancusi organic market
The little organic market that takes place every Saturday in the 14th arrondissement of Paris, on the Place Constantin Brancusi, is absolutely iconic for all local food networks lovers.
Entirely based on good and organic food, this market is pleasant and rather peaceful. There are small greengrocers and market gardeners, butchers, fish sellers, cheese makers, wine merchants, and you will find sourdough bread as well as oysters and fishes from natural breeding farms. This small market suits gourmets with a socially engaged palate.
Dates and times: Saturdays from 9 a.m. to 3 p.m.
Adress: Place Constantin Brancusi 75014 Paris
Getting there by Metro: Gaîté Station (line 13)
Batignolles organic market
The Batignolles organic market has all the best to offer, with its homely and friendly atmosphere. Every Saturday morning, while strolling along the producers' stalls, you will encounter endless flavours, scents and colors. More than 50 retailers and producers are there to praise their beautiful and healthy products. Those are so good that it is very hard not to taste everything.
But if you want to leave with your basket full of meats, fruits and/or vegetables for less than 20€, you will have to choose.
Dates and times: Saturdays from 9 a.m. to 3 p.m.
Adress: 34 boulevard des Batignolles 75017 Paris
Getting there by Metro: Place de Clichy Station (lines 2 and 13)
Le marché bio du Boulevard Richard Lenoir
The Bastille market, located in the 11th arrondissement of Paris, opens every Sunday from 7 a.m. to 3 p.m. and is partially organic that day. It is Paris most lively market. Tourists love to stroll there and get French products. If you go there on a Sunday morning, you will find some organic products.
Dates et times: Sundaysde 7 a.m. to 3 p.m.
Adress: Boulevard Richard Lenoir 75011 Paris
Get there by Metro: Richard Lenoir Station (line 5)
But also...
Apart from parisian organic markets, if you wish to eat local and healthy food, you can opt for the organic products baskets from the AMAPs (associations supporting small farming). There, you will find fresh, seasonal, organic products from eco-friendly farms, and sometimes even local or old varieties. Consumers almost meet producers directly.
Brancusi, Batignolles, Raspail and others. There are not that many organic markets in Paris, but they all offer local and quality products. Enough to do your shopping without hurting the planet.