Discover the best culinary specialties of Paris
In addition to it exceptional and rich historical heritage, Paris holds many epicurean treasures for fine gourmets and other lovers of delicious food. Here are some culinary specialties of Paris to discover (or rediscover) during your next gourmet tour of the French capital!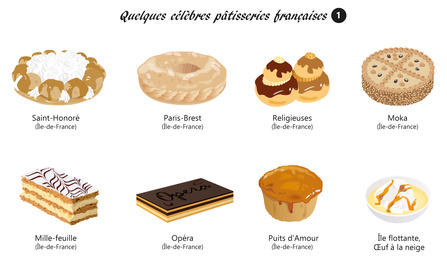 The Saint-Honoré
The Saint-Honoré cake was invented in 1850 by Auguste Julien. It was originally conceived as a large brioche filled with pastry cream. Later on, the pastry maker used a flaky crust as a base topped with small cream puffs decorated with cream. The puffs are dipped in caramelized sugar and attached to the cake which is then finished with whipped cream. This very elegant prepartion bears the name of the patron saint of bakers, and is also an authentic Parisian pastry!
The Parisian flan
A custard pie (also called Parisian flan) is a dessert made popular by pastry makers who prepared a flan on a short pastry base. The short pastry is topped with a light-yellow layer (a mixture of eggs, milk, sugar and vanilla). The gustatory pleasures of this dessert are multifold: it has a fresh taste and a delicious flavor of milk and vanilla. This dessert, which is often associated with childhood, will tantalize the taste buds of young and older gourmets.
The Paris-Brest
The Paris-Brest is a wreath-shaped pastry of French origin composed of a choux pastry filled with a praline-flavored cream and garnished with sliced almonds. Inspired by a bicycle race between Paris and Brest in 1891, Louis Durand, the pastry chef from la Maison Lafitte, created this famous cake. It is for this reason that the real Paris-Brest must be round, in the shape of a wheel. Square or rectangular Paris-Brest pastries have the taste and flavor of the classic cake, but not the shape.
The religieuse
This French pastry composed of two choux pastry buns on top of each other, the top one being smaller than the bottom one, and vanilla or coffee cream, was created in Paris at Frascati, a cafe owned by an Italian ice-cream maker. At the time, the Religieuse had a shape different from the one known today. Its recipe was inspired by that of eclairs, and its name, according to legend, by the color of its icing which resembles a nun's habit. This delicacy is such a delicious sin that the religieuse, a world-famous Parisian specialty, forgives you for indulging.
The croque-monsieur
Let's move on to a salty Parisian specialty. Ah, the croque-monsieur! This sandwich is so good that you could eat it every day! According to legend, it was created in Paris in 1910 when a bistro owner, when serving a croque-monsieur to his customers, joked that it contained human meat. Fortunately for everyone, this gentleman was a more gifted cook than comedian, and for this reason the croque-monsieur is today on the menu of many Parisian bistros.
Hachis Parmentier
Hachis Parmentier is a dish made with mashed potatoes and ground beef. Its inventor, Antoine Parmentier, was able to convince King Louis XVI that potatoes were good for his health thanks to this dish. In fact, he had to fight for many years to promote this vegetable, which at the time, was believed to transmit leprosy. Since then, hachis Parmentier has spanned generations and has become a very popular and economic family meal because it can be made with meat leftover from a roast or stew. Hachis Parmentier therefore originated in Paris. It has gained its reputation in many brasseries of the French capital that make this family dish the traditional way.
So, are you now familiar with all the culinary specialties of our beautiful capital? This non-exhaustive list will tantalize your taste buds and bring back some childhood memories. Now make your choice and treat yourself!