10 things to experience in Paris as a couple
What's there to do tonight? A visit to Paris is always an unforgettable experience. For each outing to be special, though, it is important to choose locations wisely.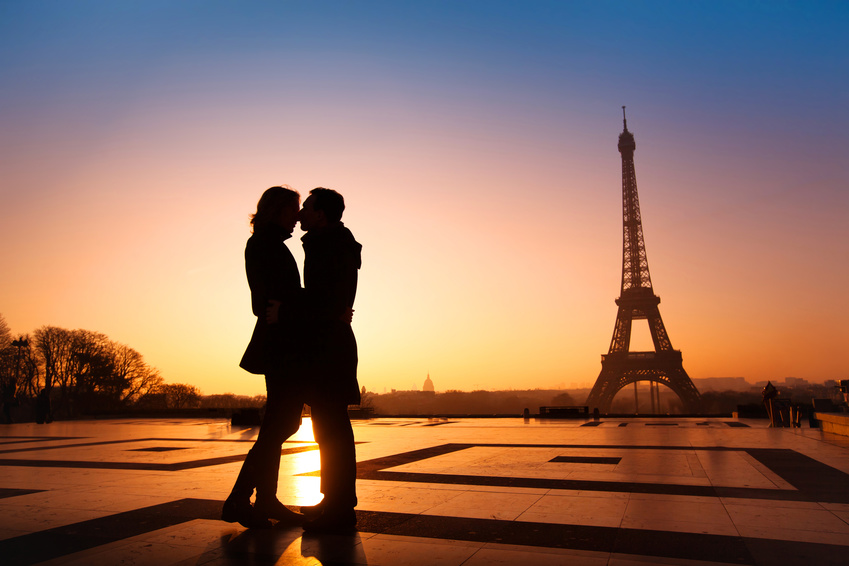 From timeless to unexpected, we've made a selection of the 10 places not to miss while discovering or rediscovering Paris as a couple.
Top three jazz cafés for a romantic night out in Paris
To experience romance in a festive atmosphere, there's nothing like spending the evening at a jazz café. Here is a list of our top three picks for Parisian jazz cafés for a successful couple's night out.
1) Duc des Lombards
Located on rue des Lombards in the 1st arrondissement, Duc des Lombards is a Parisian jazz café that is not to be missed.
With its plush, cozy interior and friendly atmosphere, Duc des Lombards offers remarkable acoustics. There's no doubt—this jazz café oozes romance. Be sure to book in advance.
2) Chez Papa Jazz Club
In the heart of the Latin Quarter, try excellent French dishes to the tune of a jazz concert.
The Papa Jazz Club is best known for originality, as its stone walls are covered in celebrity autographs and messages from previous visitors. It offers a New York atmosphere in the heart of Paris, a unique atmosphere in the City of Light.
3) Le Caveau de la Huchette
It's hard not to be surprised as you enter this former prison, but Le Caveau de la Huchette is one of the greatest places to spend a good time as a couple in Paris.
After taking the spotlight in the film "La La Land" with Ryan Gosling and Emma Stone, Le Caveau de la Huchette is more than ever a must-see in Paris, where the party never ends.
Three unique restaurants to enjoy Paris as a couple
To break out of routine and try a new experience, here are three restaurants that find no match and should not be missed.
1) Dans le Noir ?
Forget what you think you know about smell and taste as you discover your meal by surprise... in complete darkness! Truly a moment for sharing and discovery, Dans le Noir is the perfect way to experience a different side of Paris for couples.
2) Le Châlet des Iles
Accessible by boat in the heart of the 16th arrondissement, Le Châlet des Iles is located on the lake in the Bois de Boulogne and offers an idyllic setting and incredible views. It's a must-see for any couples looking to get the most out of Paris.
3) Sur un Arbre Perché
A couple hundred feet from the "Bourse" parking lot, taste exquisite cuisine in a charming hut or seated on swings. Enjoy a shiatsu massage at any time during your meal, to vary the pleasures of your different senses.
Sur un Arbre Perché is a true slice of paradise. It ranks among the romantic places in Paris that you just shouldn't miss if you're looking to enjoy Paris as a couple.
Four unbeatable performance venues to enjoy Paris as a couple
A night out for two in Paris can also be the occasion to enjoy a show. Below is a list of four venues for such a night.
1) The Palais Garnier Opera House
The Garnier Opera House has décor that offers a spectacle of its own. In this stunning space, you will be left speechless as you admire some of the most intricate ballet choreography in the world. Whether you're a novice, an amateur, or a connoisseur, you're sure to fall for the polished charm and beauty of the space.
2) Moulin Rouge
The most famous cabaret in the world offers visitors magical shows. Admire the feathers, rhinestones, and glittering dancers as you enjoy an exceptional dinner show at Moulin Rouge.
3) Théâtre de la Huchette
In the Saint Michel neighborhood, the Théâtre de la Huchette offers couples a performing arts cultural display. The program includes the timeless classics "La cantatrice chauve" (The Bald Soprano) and "La leçon" (The Lesson) by the French playwright Ionesco.
4) La filmothèque, Paris's classic film archive in the Latin Quarter
Just steps from the Sorbonne is a choice classic and contemporary movie theater for film buffs. You may have the incredible chance to meet artists and critics and speak with other aficionados! A truly enriching experience.