Types of wine: the different rosés, reds and whites
Wine is an alcoholic beverage, obtained from the fermentation of grapes. Each French region is classified as producing wines of a particular style. With all the different rosés, reds and whites available, it's sometimes easy to get confused. An overview of the different types of wines available is a useful prerequisite, along with a little wine tourism and a visit to a vineyard with us as your guide.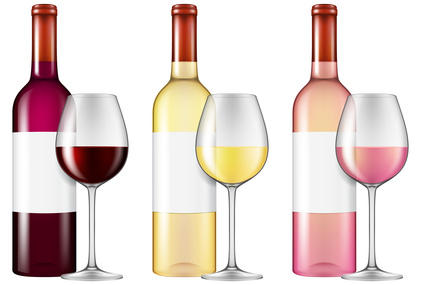 The intricacies of red wine
A red wine is obtained by the fermentation of the must of black grapes along with the skins, seeds and possibly the stems. The length of fermentation varies depending on the type of wine desired, the characteristics of each harvest and the traditions of the region where the wine is produced. The vatting period can vary from a maximum of one week to obtain light and smooth wines, to three or four weeks for a "vin de garde" (a wine that is meant to age well).
Light-bodied and lightly colored red wines are meant to be drunk when they are young. Some examples are Beaujolais, Touraine, Coteaux du Lyonnais, Burgundies or the wines of Savoy.
Fresh and crisp reds, which are light on the palate, predominantly fruity, and still young, are meant to be paired with simple dishes. Examples include some wines from Provence, the Beaujolais crus, the wines of Fronton and Gaillac, Samur-Champigny...
Full-bodied very fragrant reds, with a good aging potential, like Premier Cru Burgundy wines, Right Bank Bordeaux wines, Chinons and Saint-Nicolas de Bourgueil, etc., are perfect for pairing with game or rare meat.
Tannic reds and those with a long aging potential are strong wines, with a rough or coarse taste when they are young, and require at least 5 years of aging before beginning to develop their aromas. Some examples are the wines of Haut Médoc (Pauillac, Margaux...) the wines of South West France (Cahors and Madiran), and certain Grand Cru Burgundies of the Côtes de Nuits (Chambertin, Vosne-Romané...).
White wines: grape varieties and production
White wine is made from white grapes (green or yellow skins) or black grapes with white flesh. Certain grape varieties are very common, like Chardonnay and Sauvignon. White wine is produced in all areas where vineyards grow. It is processed in a way so as to achieve a finished product with a transparent yellow color. There is a wide variety of white wines, just like there is a large variety of grapes, winemaking methods, etc.
There are light-bodied white wines that are rather acidic, pale-colored and that need to be consumed when they are young. Some examples are wine from Gros Plant du Pays Nantais, Bourgogne Aligoté, Muscadet su Lie, the wines of Savoy or Alsace Pinot Blanc, etc. White wines that are more aromatic, less acidic, and more fragrant, are ready to drink when they are young or after a few years of aging. These include white Burgundy wines, Chablis, Alsace wines, wine from the Middle Loire (Quincy, Sancerre, Pouilly-Fumé...).
Soft and fruity whites, with no acidic taste, are ready to drink when they are young and are often from the south of France. For example, Côtes-du-Rhône, white wines from Roussillon...
The diversity of rosés wines
Rosé wine is described as a product resulting from the alcoholic fermentation of black grapes (but with white juice). There are numerous grape varieties used for the preparation of rosé wines which can also be used for the production of red wines. Here are some examples that can be found across the regions: Cabernet Franc, Merlot, Pineau d'Aunis, Pinot Noir, Gamay, Cinsaut, Grenache Noir, Tibouren, Shiraz, etc...
Some types of rosé wines are fresh and light-tasting, with a pale color, like the rosés from Provence and the Loire.
You can also grace your table with more full-bodied and fruity rosés, with a deeper color and raspberry nuances. Some examples are rosés from South West France and Languedoc, or Bordeaux Clairet.

Generally speaking, it is rather difficult to obtain a rosé wine that is fruity and balanced, while maintaining its color and remaining consistent from one vintage to another.

Thanks to our advice, you will never be overwhelmed again when facing all the intricacies of wine!