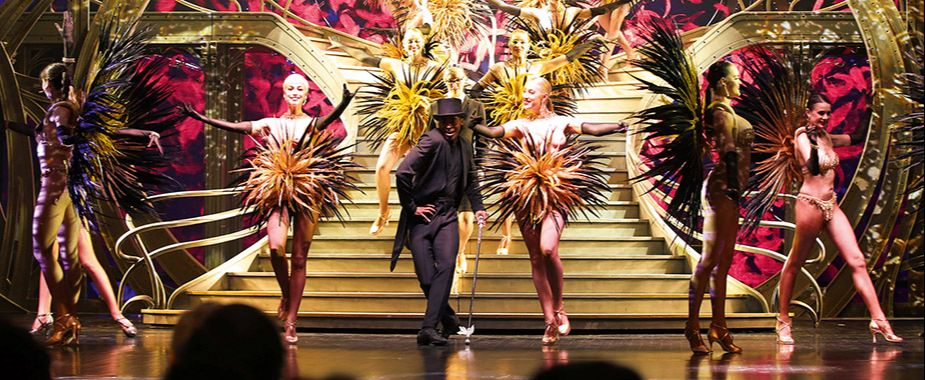 Paris tours & shows at Night
Night in the best cabarets of Paris
France is known for its prestigious Parisian cabarets. A trip to Paris wouldn't be complete without stepping foot inside the fantastical world of one of the globe's most famous cabarets. With Paris City Vision you can reserve your magical night out at the Moulin Rouge, the Lido or Crazy Horse without waiting any longer. Treat yourself to a fabulous evening out replete with champagne and sequins, a great way to finish off your stay in Paris!
In making your reservation with Paris City Vision, you can choose between the mythic Moulin Rouge located in Pigalle district not too far from the Place de Clichy at the foot of Montmartre hill where the Sacrée Coeur is located. Not far from there you will also find Les Folies Bergères with the Fashion Freak Show of the French fashion designer Jean-Paul Gaultier. The prestigious Lido on the Champs-Elysées or Crazy Horse on George V Avenue, just next to the Arc de Triomphe. If you go for Moulin Rouge or Lido, you can see only the show or enjoy a refined pre-show meal at an Eiffel Tower restaurant or on one of the boats that cruise along the Seine at night, making its way through the city of lights.
Another possibility is combining a Seine cruise with going up the mythical Gustave Eiffel work: the Eiffel Tower where you can also have dinner with wine. Plus, a panoramic bus tour of the city at dusk when all the capital's monuments are lit up. You can also reserve a table at the cabaret and enjoy a memorable meal while watching the dancers such as for the "Belle Époque" dinner in the Moulin Rouge. Depending on the offer you choose, transfers to and from your hotel are included in the price.
Going to a show at a famous Parisian cabaret is like putting your ears up to the nocturne heart of the city in a magical environment and hearing it pound away. It's being amazed and wowed by fabulous stage decor and choreography, costumes and sequins and glitter that for several decades have made artists and audience members alike dream and fantasize. The dancers are often sublime and contribute to the international reputation of the beauty of French women; the Doriss Girls at the Moulin Rouge and their famous French Cancan, the Bluebell Girls at Lido and their brand-new revue and the statuesque dancers at Crazy Horse change appearance along with the music and the acts, made beautifully ethereal by lighting, costumes, and make-up. It's an enchanting and spellbinding vision that renders anyone's cabaret experience truly special, a moment out of time and yet one that will be entrenched in your memory, forever. The Jardin des Plantes (Botanic Garden) brings together plants and trees from Europe, Asia or America.