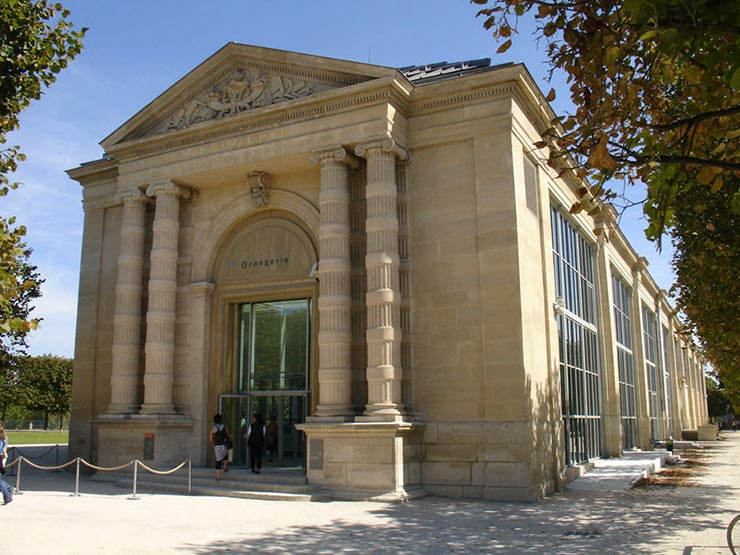 The Orangery Museum is located in the Tuileries Gardens of Paris. Constructed in 1853, the building was once home to a veritable orangery, a place where oranges were stored and conserved. After serving several other purposes during the Third Republic, the Orangery was bestowed to the Fine Arts Administration in 1921. Helped by his friend and fellow painter Georges Clémenceau, Claude Monet chose the orangery to exhibie his White Water Lily series which was donated to the State in order to make his works known to the public.
Along with architect Camille Lefèvre, Monet would determine the interior layout required. Although his White Water Lily series ended up occupying only half of the allotted space, the other half served as an exhibition gallery. The Orangery Museum was inaugurated in 1927 after Monet's death. In both 1959 and 1963, the museum acquired the Jean Walter and Paul Guillaume collections.
In order to create more exhibition space, the museum was enlarged by architect Olivier Lahall who created a second level for the exhibition gallery. A variety of impressionist and postimpressionist paintings are on display in the museum, a must-see after having visited Giverny and Claude Monet's house and gardens.
Practical Information
Address:
Musée de l'Orangerie
Jardin des Tuileries
75001 Paris
Mail and telephone:
Voice server: 00 33 + 1 44 77 80 07
Standard: 00 33 + 1 44 50 43 00
Email: information@musee-orangerie.fr
Hours:
Open from 9am to 6pm every day except Tuesdays, May 1st, the morning of July 14th and December 25th. No entry allowed after 5:15pm and premises must be exited by 5:45pm.
Access
Metro: Lines 1, 8, and 12 to Concorde station
Bus: Lines 24, 42, 52, 72, 73, 84 and 94 to Concorde
Parking:
Jardin des Tuileries and Carrousel (access by the Tuileries quay or by Rivoli Street)
Mont-Thabor Street and des Pyramides Street
Stations Vélib' (city bike rental points): 119, rue de Lille and 2, rue Cambon
Prices
Full price, one entry: 9€
Reduced price, one entry: 6,5€
Free entry the first Sunday of every month
Other prices and ticketing