Hotels near the Moulin Rouge
For more than 120 years now the Moulin Rouge has dictated the nightlife in Paris's 18th district. Throughout the decades, balls, music-hall shows and cabarets animated the neighborhood from Place Blanche to Pigalle. Although the area might today be somewhat less rowdy than it was during the Roaring Twenties, dinners at the Moulin Rouge do finish quite late into the night. And what better after seeing the Féérie show than a good night's sleep where you can continue dreaming about your fabulous evening at the Moulin Rouge? Here's our selection of hotels.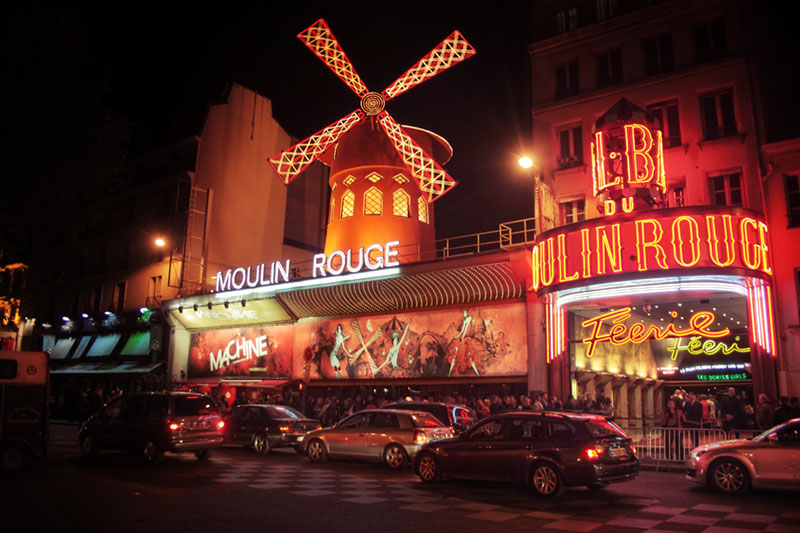 Le Moulin Rouge de nuit, by Juanedc
Getting Your Money's Worth in the Heart of the Capital
The Ibis Paris Montmartre Hotel is located on 5 rue Caulaincourt in the 18th district. Its peaceful rooms are worth every penny and are appreciated by the most demanding hotel guests. There's a public parking garage nearby and the hotel is accessible by all modes of transport.
Renovated Hotels
The Mercure Paris Montmatre Sacré-Coeur Hotel on 3 rue Caulaincourt and the Libertel Montmartre Duperre Hotel on 32 rue Duperre have both undergone recent renovation. Guests will enjoy modern rooms with new amenities and excellent service. The two hotels are conveniently located only 300 meters from the Moulin Rouge.
An Ambiance (almost) like the Olden Days
The Joke-Astotel Hotel and the Joséphine Hotel are located at 69 and 67 rue Blance, respectively, in the tranquility of the 9th district. The Moulin Rouge is easily accessible as the Pigalle and Blanche metro stations are just around the corner from the hotels. At the Joséphine Hotel you'll enjoy cocktail tastings every evening especially absinthe, the drink of the 1920s. A hotel library is also open to guests.
If you want to experience a magical evening, choose a comfortable hotel that will only help to prolong the enchantment you'll feel at the Moulin Rouge. Getting to your hotel means walking along the footsteps of those before you -- Edith Piaf, Yves Montand, Maurice Chevalier, Bourvil -- in the heart of Paris and its world-famous neighborhood, Montmartre.