This fantastic half day excursion (morning or afternoon) gives you an opportunity to discover Paris's famous tourist sights and monuments. It includes lunch at the restaurant on the 1st floor of the Eiffel Tower or in front of the Eiffel Tower (depending on the tour selected), a city tour by panoramic coach, and an hour-long cruise along the Seine. Experience the beauty and heritage of the French capital in three different ways.
Come to our agency Paris City VIsion, 30 minutes before your departure, located next to the Louvre where you will board in our panoramic bus.
Your tour of Paris by air-conditioned panoramic coach will last for one and a half hours: learn about the city's history and its well-known monuments thanks to our audio guide commentary (individual headsets). Your tour will visit some unique sights, such as Place de l'Opéra Square, Place de la Concorde Square, the Champs-Élysées, the Arc de Triomphe, Place du Trocadéro Square, the Eiffel Tower, the Invalides, the Pont-Neuf Bridge, the Bastille Opera House and its square, Notre Dame de Paris, the Luxembourg Gardens, and Saint Germain des Prés.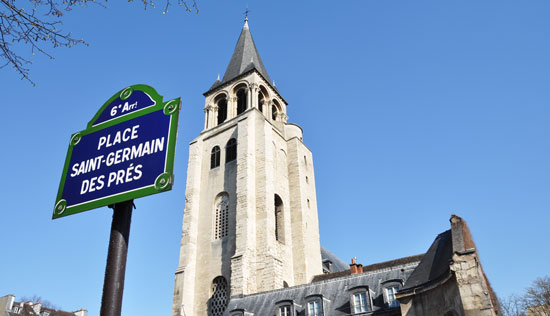 Saint Germain des Prés
During the city tour in a panoramic bus, enthralling recorded commentaries will reveal you the habits of Paris people and how they perceive their city. You will discover how the architecture of Paris evolved throughout the years. You will pass by its main monuments and go through its greatest neighborhoods so that you will find your bearings in Paris: the Champs-Elysées overlooked by the Arc de Triomphe, the Ile de la Cité with the Notre-Dame Cathedral at its heart, the Louvre Museum and its pyramid, without forgetting the Eiffel Tower.
Children have their own commentaries too. They will listen to the story of Lulu and Maurice, two dogs that will show them Paris. All along the tour, Lulu and Maurice tell them many anecdotes about dogs of famous figures, such as Napoleon and Marie Antoinette. Children will be delighted to visit Paris in a fun way.
Enjoy a memorable lunch at the Eiffel Tower. The "58 Tour Eiffel" restaurant is located on the 1st floor of the Eiffel Tower, as uninterrupted views of Paris stretch out as far as the eye can see. This chic and contemporary restaurant has the feel of a Parisian brasserie. Taste fresh seasonal produce with our three-course menu.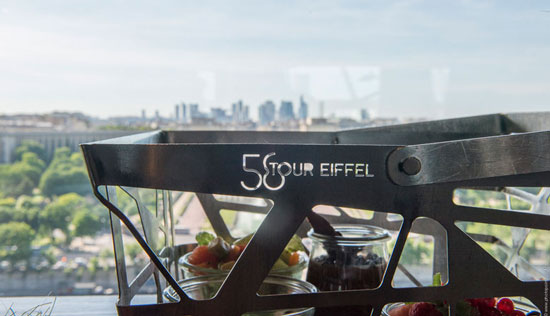 View from the Eiffel Tower
Lunch will be served as a picnic for even more friendliness. You will enjoy this packed lunch consisting of three dishes menu allowing you to eat at your own pace while contemplating the panoramic view of Paris.
"58 Tour Eiffel" restaurant
3 Course Menu*
Starter at choice :
Maison Verot chicken liver terrine with a honey and Meaux mustard vinaigrette
Green asparagus with a raspberry vinaigrette and fresh herbs
Peas and fresh goat's cheese with a fine cress cream
Tomato gazpacho with vanilla olive oil and fresh basil

**
Main course at choice :
Fresh tagliatelle with sage sauce, parmesan and baby New Zealand spinach
Cod croquettes with aubergine caviar and organic quinoa with herbs
Lightly seared pork belly with honey and ginger roasted carrots
Creamy risotto with seasonal vegetables and fresh rocket
Crisp romaine lettuce, organic quinoa with herbs, tomatoes, charlotte potatoes and a raspberry vinaigrette (additional €5 on the set menu)
**
Cheese or dessert at choice :
Ferme de Viltain fromage blanc, muesli with Ile de France honey and fruits
Chocolate crème with streusel with sea salt and a dark chocolate coulis
Crisp Pavlova with strawberry-rhubarb sorbet and a light coconut mousse
Iced seasonal fruit gazpacho

**
Drinks :
1 glass of wine or beer or soft + coffee
Coffee
Child Menu (- 12 years old)*

Tomato salad with vanilla olive oil and fresh basil
**
Cod croquettes with creamy risotto and sauce vierge
Corn-fed chicken fillet with fresh tagliatelle
**
Chocolate crème with streusel with sea salt and a dark chocolate coulis
**
Soft drink
* Examples of menu, subject to modification
At the foot of the Eiffel Tower, step aboard for a fantastic one-hour audio guided cruise on the Seine River with music. Admire the stunning architecture of the heart of the capital's most prestigious monuments that line the banks of the Seine: the Louvre Museum, Notre Dame Cathedral, the Orsay Museum, the Conciergerie, etc. Enjoy the views from the fully-glassed boat with open-air terrace. Be captivated by this river trip under Paris's bridges, past Parisians going about their business as they walk or cycle by.
Please note :
The itinerary of the tour : City Tour + Lunch + Seine river cruise
The cruise ticket is given inside the coach upon the departure of the tour.
The skip-the-line access is subject to the Eiffel tower procedures: The Vigipirate plan, the security control or an unforeseen crowd can slow down the entrance
Available languages for city tour commentary: French, English, Spanish, Italian, German, Portuguese, Japanese, Mandarin, Russian, Korean
Commentary for children available in: French, English, Spanish