The prestigious Paris Opera House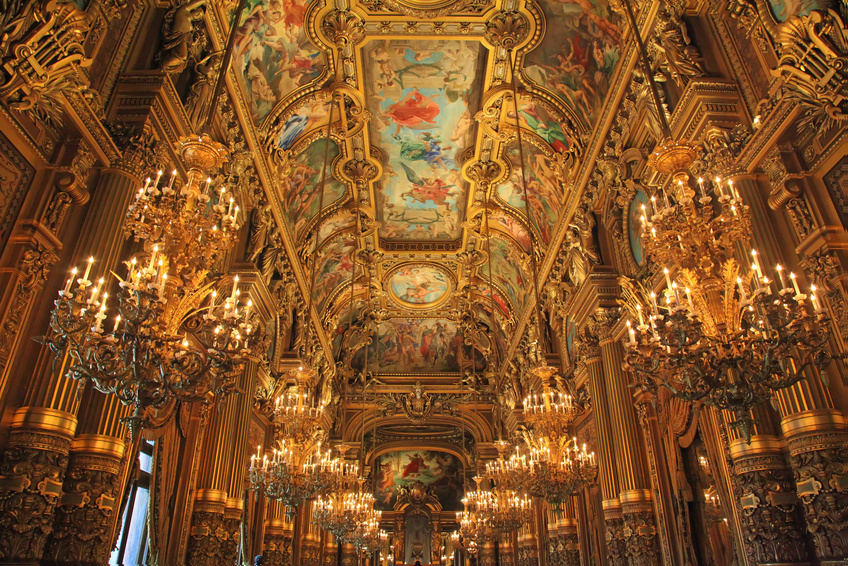 Are you passionate about dance, lyrical music and classical music? Then you must be familiar with the Opéra National de Paris, which puts on a rich program of cultural events in the capital city and online.
Two stages for the Paris Opera House
The government, through its Ministry of Culture, manages two of the most prestigious stages in Paris: the Palais Garnier and the Bastille Opera.
The Palais Garnier, which opened in 1875, can seat up to 1,900. The Second Empire stylings inspired by Antiquity make an impression with their outsize dimensions and facade embellished with bas-reliefs and dominated by gold-leaf sculptures. The ceiling of the Opéra Garnier boasts a monumental work created by the painter Marc Chagall. The awe-inspiring institution and building can be explored during performances or guided tours.
The Bastille Opera, the other stage on which the Opéra National de Paris performs, reflects a completely different style. This modern stage debuted in 1989 and can accommodate an audience of 2,703. It is quite simply one of the biggest opera houses in the world. It is an exceptional venue for the most popular works staged by the Paris Opera House !
But we must not overlook the third opera house: a virtual presence that features original creations from artists of all stripes. On the website you can find highly artistic videos, such as A bout portés by Clémence Poésy, a reflection on the grace and wonder inspired by the dancers in the ballet.
A remarkably rich program for the Paris Opera House
The Opéra National de Paris boasts a remarkable program in terms of the diversity of the works it selects and the quality of the production and performers. The greatest tenors and the most celebrated divas dream of singing at the Palais Garnier or in the immense Bastille opera house.
The classics are always on the roster, with works by Wolfgang Amadeus Mozart, Claude Debussy and Giuseppe Verdi. Così Fan Tutte, Pelleas et Mélisande and Don Carlos are all on the schedule in 2017, to the great delight of those who love these timeless pieces that have left their mark on lyrical music.
But the Opéra National de Paris also serves up resolutely modern options. One such example is Play, a contemporary ballet from Sweden's Alexander Ekman scheduled for December 2017.
A national, but highly accessible opera
Although the Paris Opéra House is internationally known, it is still open to the masses. You can visit the Opéra Garnier and explore its hallowed halls and you can enjoy a number of publications, including the magazine Octave which you can read online for free to learn more about classical music and dance. There are affordable options for the general public, such as the "First Time" packages, which allow families, young adults and singles to learn about this historic art form with a bright future.