Booksellers Along the Seine
The activity that the Seine generates along its banks is also a part of its heritage. Just as the Seine would not exist without water, so would the banks cease to be what they are without their infamous booksellers. Admired by passerbys, they are part and parcel of a veritable community of expert booksellers.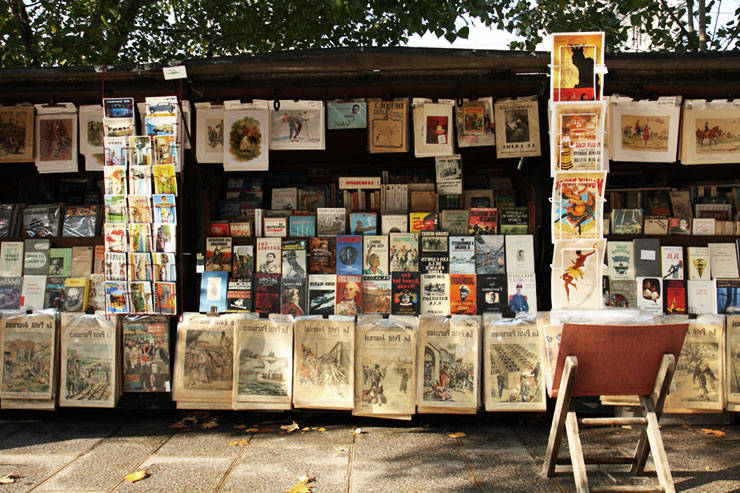 Peddlers-cum-Booksellers
Throughout the 16th century, the booksellers who were not subject to royal censure were the peddlers. Like a sort of bookstore on the sly, they were also known as carny bookshops. In 1859, the green stalls that exist today became the norm and were installed at various points along the banks of the Seine. It was then that Paris's booksellers as we know them today were born. Factual tidbit: 1,000 green stalls exist today compared to 200 bookstores in Paris.
Antique Books and Illustrations
Today's book trade is dedicated to antique, printed books and illustrations. One can find numerous engravings of Paris on postcards or on posters from the 19th century at specialized bookstores. If you're looking for that hidden gem, you'll most likely find it at a bookstore!
New Avenues for Booksellers
Although bookselling along the banks of the Seine has been heavily criticized by authorities who see an inherent threat to the Seine's heritage, it remains possible to find those hidden treasures at the green stalls. In fact, ever since the banks of the Seine have become a UNESCO World Heritage Site, the regulations surrounding the selling of books and the booksellers has become increasingly strict.
Where and When
The majority of the green stalls open at 11:30 am and remain open until sunset.
Whether you're a curious passerby, a passionate book-lover or an antique book collector, don't hesitate to check out the green stalls along the Seine. You'll find their owners sitting just next to their stall, on a stool and wearing a large sunhat. Sift through the stalls and you'll without a doubt find a unique treasure, a fantastic souvenir of Paris.