Embankment Activities on the Seine
The "Banks of the Seine" is the name given to the pedestrian walkway that runs the length of the left bank of the Seine in Paris. Since 1991, the Seine's riverbanks have been registered as a UNESCO World Heritage Site.
Year-round Accessibility
Another initiative taken by the Paris City Hall, the reorganization of the left riverbank was modeled on Paris Plages and rendered this side of the Seine entirely pedestrian as well as accessible to cyclists. Unlike Paris Plages, the left riverbank is open to everyone throughout the year and free activities specific to every season (not only summertime) are also organized.
2.5 km of Fun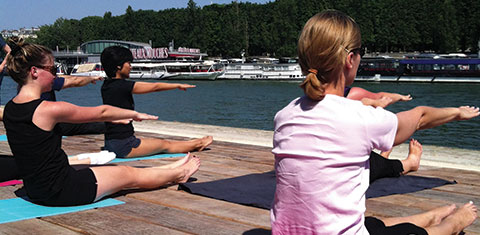 The banks of the Seine go from the Alma Bridge to the Royal Bridge. Needless to say, it's an ideal place to play sports. In fact, this side of the river is often used during footraces but not only: fitness classes, a 100-meter running track to measure performance or a 15-meter track for sprints, a zen or cardio-intense workout, cycling classes and informative workshops on biodiversity are all proposed by the City Hall. And yes, everything is free!
A Walk You Shouldn't Miss
The pedestrian zone that has been created along the banks of the Seine makes for a very enjoyable stroll. Start at the Place de la Concorde, go down the stairs and along the river until you reach the Hôtel de Ville, passing in front of les Invalides and the Musée d'Orsay. To catch your breath or to simply unwind, you can relax at one of the free, riverside terraces (reservations possible) to enjoy a moment of incredible urban tranquility.
Food and Music
Food trucks, restaurants and even an orchard give Parisians and tourists alike the opportunity to get comfy. The most fashionable menus can be tasted in a convivial ambiance, like eating a mozzarella di bufala sandwich while listening to a live jazz concert and watching a street art performance! The banks of the Seine are extremely appreciated by Parisians and has become the place to be for outdoor activities in the heart of Paris. Every moment is savored whether it be a sporty, food-loving, or artistic one!