Castle of Chenonceau : location and hours
Are you headed to the chateau-rich Loire region? Don't skip the Château de Chenonceau. This unmissable attraction straddles the Cher River, a tributary of the Loire, in the town of Chenonceaux (postal code: 37150) less than 20 miles from the city of Tours. Here are some tips to help you make the most of your getaway to the "Castle of Ladies".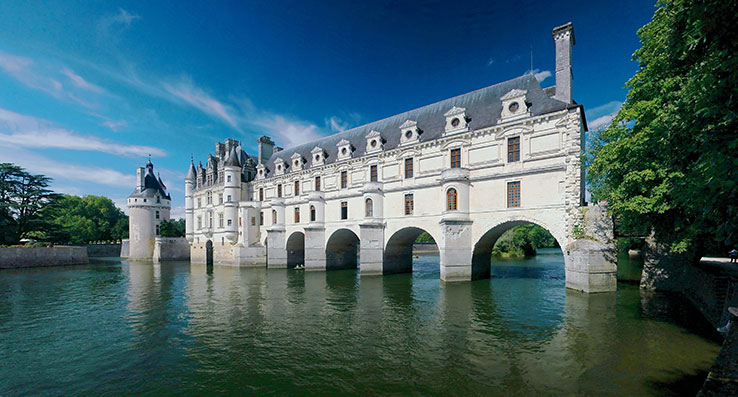 Chenonceau: hours of operation and visitor traffic
The site open all year, including bank holidays. If you are visiting Chenonceau, note that its hours of operation vary throughout the year.
Here are the 2017 hours of operation:
January 1 - February 3: 9:30 am to 5:00 pm
February 4 to March 31: 9:30 am to 5:30 pm
April 1 - May 28: 9:00 am to 7:00 pm
May 29 - June 30: 9:00 am to 7:30 pm
July 2 - August 31: 9:00 am to 8:00 pm
September 1 - September 30: 9:00 am to 7:30 pm
October 1 - November 5: 9:00 am to 6:30 pm
November 6 - November 12: 9:00 am to 6:00 pm
November 13 - December 31: 9:30 am to 5:00 pm
On the long weekends in May, Chenonceau expands its hours: 9:00 am to 7:30 pm.
You can linger in the chateau at Chenonceau for a half-hour after the ticket window closes.
Because it is a tremendously popular tourist destination, especially when the weather is nice, we encourage you to go early in the morning or in the early afternoon. In the summer, you will appreciate the cool air if you visit early in the day and you will avoid the heaviest visitor traffic. In Chenonceau, your time should be spent enjoyably, not waiting!
Chenonceau: admission pricing
The prices at Chenonceau vary according to the experience you choose: a self-tour with a brochure costs less than an audio-guided tour. Regardless of your selection, the price includes access to the chateau, the Dome Building, the hitches exhibition at the farm and the gardens. The price can be as high as €17.50.
While the cost of admission may seem steep, remember that this kind of building requires regular maintenance and ongoing attention. Restorations require the work of specialized craftsmen, whose know-how is disappearing and comes at a high price. The grounds are maintained by gardeners all year long.
PARISCityVISION offers turn-key sightseeing itineraries to visit Chenonceau location and other essential chateaus of the Loire. This makes it easy for you to savor the enchanted experience and spend one or several days surrounding yourself with lavish historic and cultural monuments.