Celebrating the Anniversary of D-Day
Normandy & D-Day Beaches tours
Starting from
229,00 €
Find out more
The 70th anniversary of D-day (Jour-j in French) was commemorated on June 6, 2014, the day that Western Allied forces landed in Normandy thereby paving way for the liberation of France. Annual celebrations have taken place since June 6, 1945.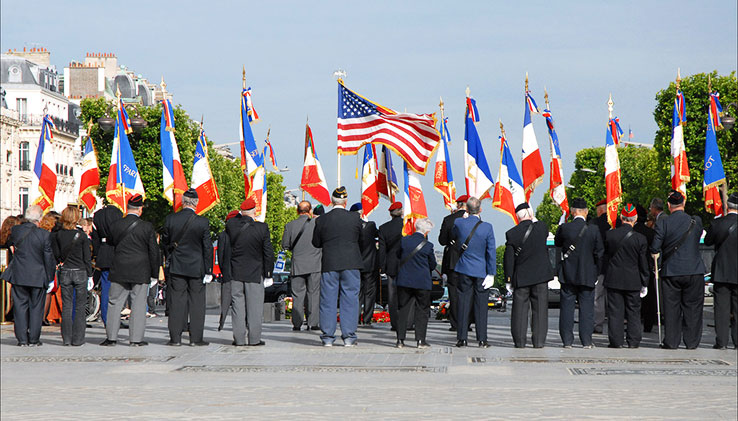 The First Commemoration
In June 1945, the signing of the armistice was only weeks old and Paris had been liberated for less than a year. The Allied forces and their commitment to French liberation is konwn worldwide. A television documentary, "A Year Has Passed," (Un an a passé), was diffused on June 15, 1945, and covers the disembarkment near Arromanches and the commemoration of this event. The ceremony was held on the beach in the presence of UK Ambassador Duff Cooper and his wife, Diana Cooper.
From very early on, the D-day anniversary became a major event that benefited from significant communication campaigns. The war caused countless casualties and considerably impoverished the country. Commemorating the Allied forces and their sacrifices allows for a collective memory to stay fresh so that past errors will never be repeated.
An Event for Peace
For a long time, commemorations of the Normandy beach landings were military celebrations that discreetly took place on site and only on certain important dates for which the biggest ceremonies were held.
Since the 1980s, the commemoration of the Battle at Normandy is an event that also carries diplomatic weight. Re-diffused on television, the ceremony takes place around a series of speeches and reenactments in homage to the troops that perished on Normandy's fronts. The program focuses on the sacrifices made to liberate France and also on the horrors of war that are not to be repeated. By their simple presence, Chiefs of State reinforce the peace that today exists between the former WWII warring nations (1939-1945).
Reenactment and Remembrance
Veteran associations and history buffs congregate every summer in Normandy to commemorate the landings on June 6, 1944. Tales from this turning point in the history of France are numerous. We are well documented on the sites that were decisive in determining the outcome of the Battle at Normandy.
It's not rare in Normandy to come across a Jeep driven by young people wearing 1940s American military garb who are heading to a site to participate in its commemoration. Battles are reenacted, without violence, to show the public how the armies were displaced on ground. Aerial fights are also organized so that one can admire the maneuverability and the power of the planes that allowed airborne troops to land.
You can't visit theses places during the month of June ? You can also celebrating D-Day with our Normandy Tours !