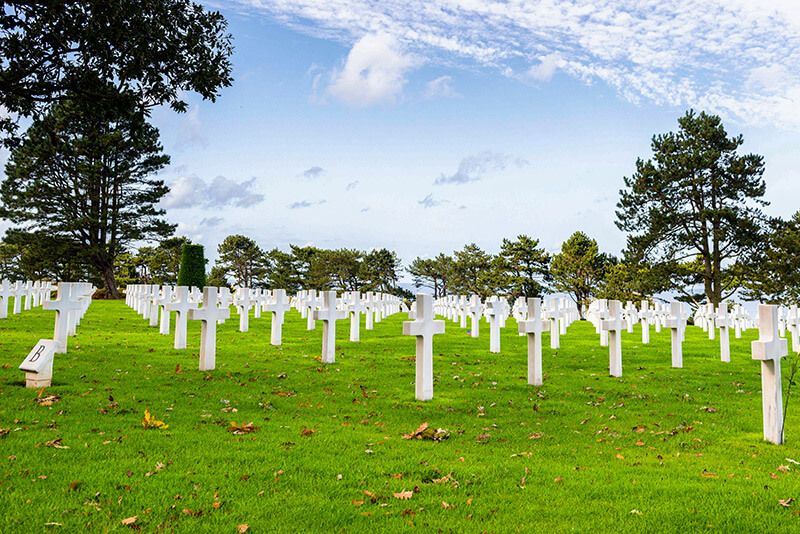 Discover Normandy and the famous D-Day Landing Beaches
4 tour(s)
Sort by
Best of the moment descending
Want to take advantage of your stay in Paris to visit other emblematic cities in France? If there's another one you've got to see, it's Normandy. Normandy is one of Parisians' favorite vacation spot for Parisians, Normandy is also where the Western Allied beach landings occurred (a crucial turning point during WWII) and are now commemorated with museums and memorials. With Paris City Vision you can book guided visits or sightseeing tours of Normandy in order to admire its peaceful wooded countryside and immerse yourself in some of France's most moving history. Within the comfort of a luxurious and air-conditioned bus that leaves Paris, you will admire the views of the French countryside throughout your trip. To ensure maximum comfort, direct pick-up and drop-off at your Parisian hotel are possible.
What to visit in Normandy?
Are you planning to go on holiday for a few days while taking part in a city tour? Many tourist treasures await you: if you felt in love with the Normandy countryside view, you will also love to explore the villages, museums, and places of memory of the region.
Landing beaches, museums, places of memory
Upon arrival, a guide-interpreter will take you around to discover the landing beaches, the Caen Memorial, and the American Cemetery at Colleville-sur-Mer to learn more about this unprecedented historical event. Pockets of free time will give you the chance to take some photos, walk around on Omaha Beach and at Pointe du Hoc. The all-inclusive, full-day package, which can be tailored to and made private for small groups, comprises eating a traditional French meal at a restaurant in Caen and discovering Arromanches and the Canadian Memorial at Juno Beach.
Normandy beach tours will allow you to discover places full of memory. They are very visited by American, English, Canadian or Australian tourists: it happens that some of them have a family member who was involved in the fighting in Normandy and was able to give oral testimony. By discovering the landing beaches and the sites where the battlefields took places, such as Sainte-Mère-l'Eglise or Pegasus Bridge, they can honor his memory.
Discover Normandy outside the ports
Picturesque fishing ports run along the coast. You will be able to succumb to the beauty of Deauville, a charming seaside resort famous for its film festival. Historical monuments have also escaped destruction or have been restored and let themselves today discover with great pleasure. Bayeux is also a beautiful city to visit and famous for its "Bayeux Tapestry" of 68 meters long. Moreover, Honfleur, so appreciated by Impressionist painters, is a magnificent place at the mouth of the Seine. The historic center of Rouen, with its cathedral, also has many attractions.
What to visit in Normandy by day or over several days?
Paris City Vision's sightseeing tours that take place over several days are also available and will provide you with the opportunity to discover even more of France before heading to the Normandy region, like Saint-Malo and Mont Saint Michel (a 2-day trip with an overnight stay in a 3-star hotel) or a guided visit of the famous Loire Valley châteaux (a 3-4 day trip that includes touring Normandy).
Going on a guided tour of Normandy D-Day beaches with ParisCityVision allows visitors to retrace the steps of the 150,000 brave American, British and Canadian soldiers who disembarked on June 6, 1944, to liberate France from German occupation. It also means reliving D-Day and remembering those who fought and who gave their lives in the name of liberty. It's also the chance to thank them by gathering before the Mémorial de la Paix de Caen (the Caen Peace Memorial) and to stand before the graves of those buried at the Saint-Laurent American Cemetery.
The Discover Normandy Sightseeing Tour also allows tourists to visit a beautiful region highly appreciated by those in search of fresh air and stunning nature. Don't deny yourself the pleasure of enjoying the best of French gastronomy, visiting small, charming fishing ports, admiring homes flower-covered, touring beaches and quaint villages. This visit is simply another way to pay tribute to France and its "art de Vivre".
For a few hours or for several days, we certainly offer the excursion or the circuit adapted to your expectations to visit Normandy!
Save time!
Prepare your visit