3 Day Guided Trip to Normandy, Mont Saint-Michel, Loire Valley Chateaux from Paris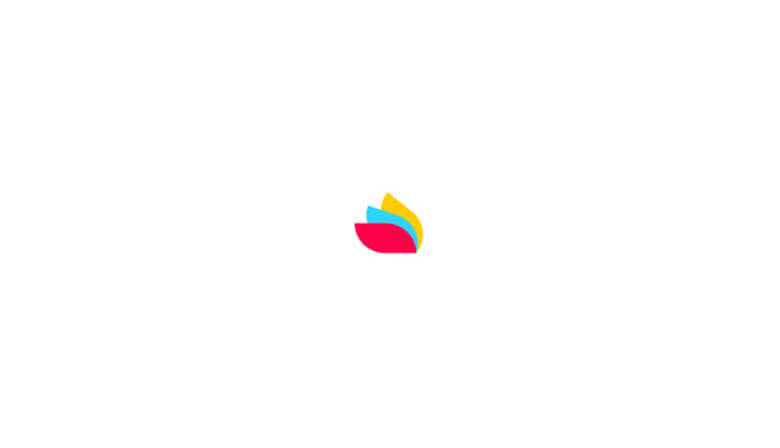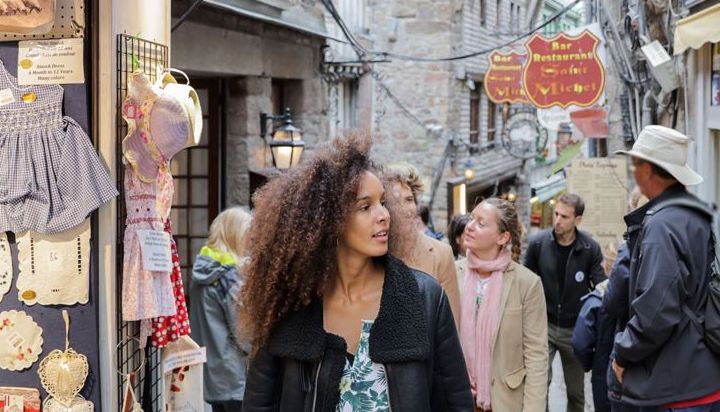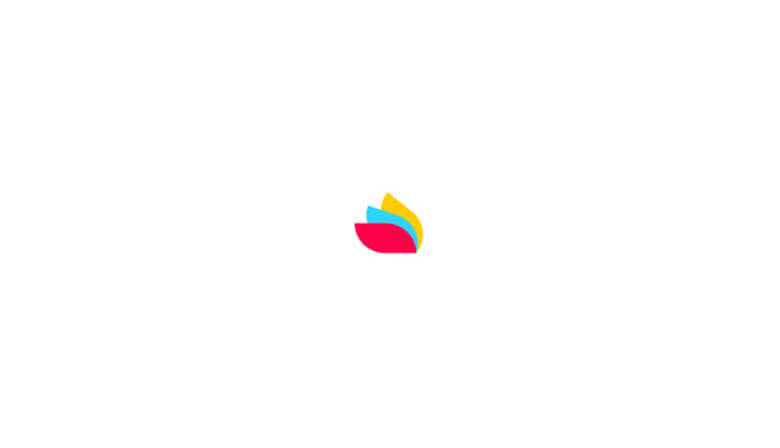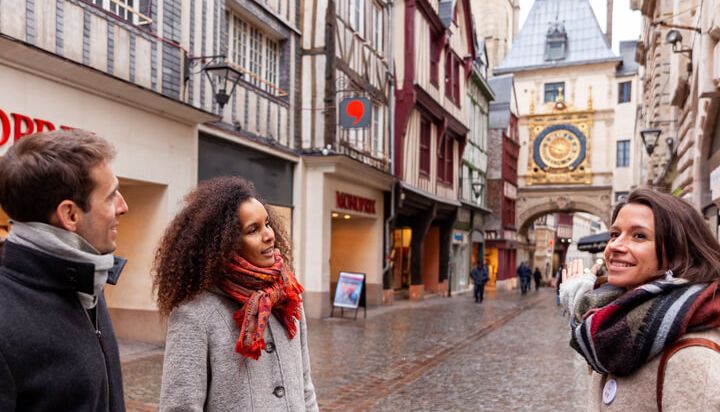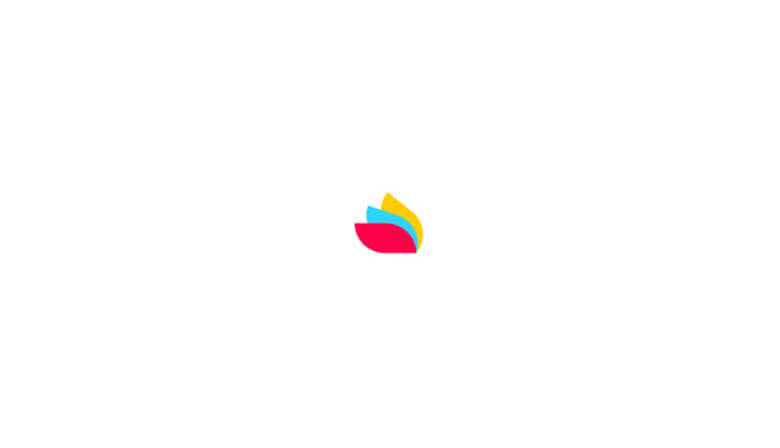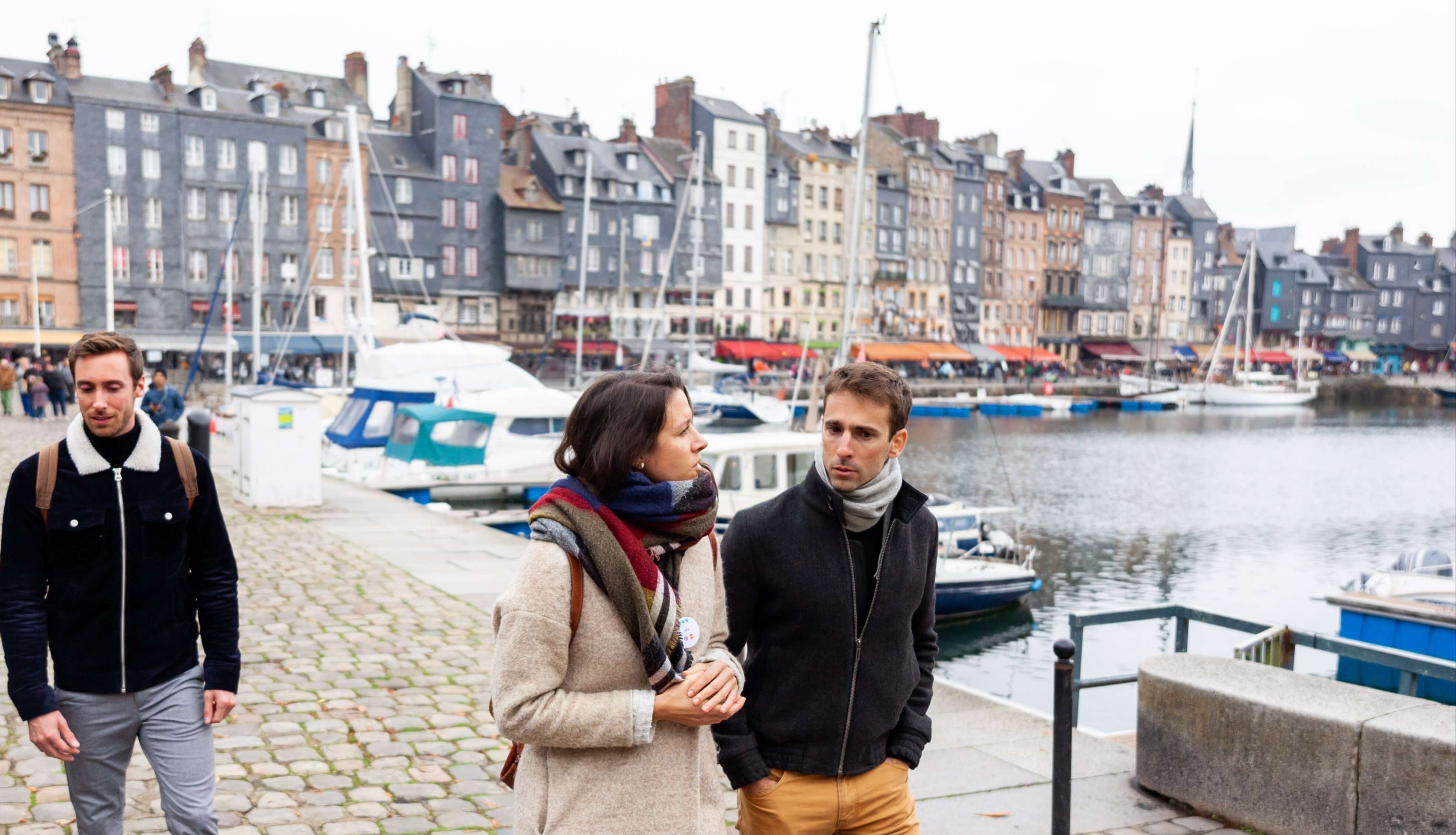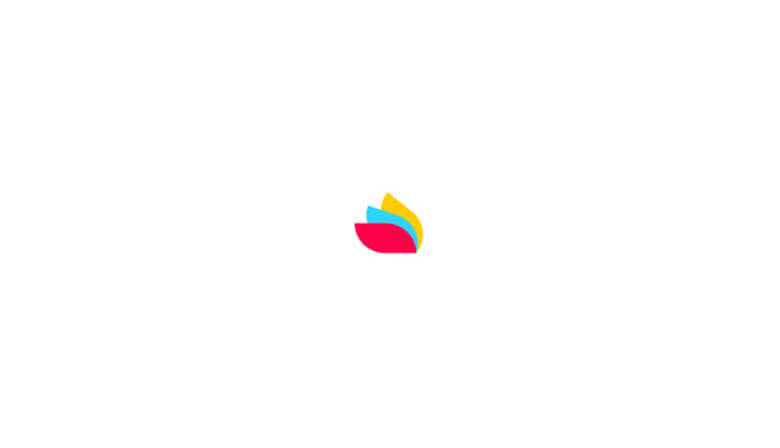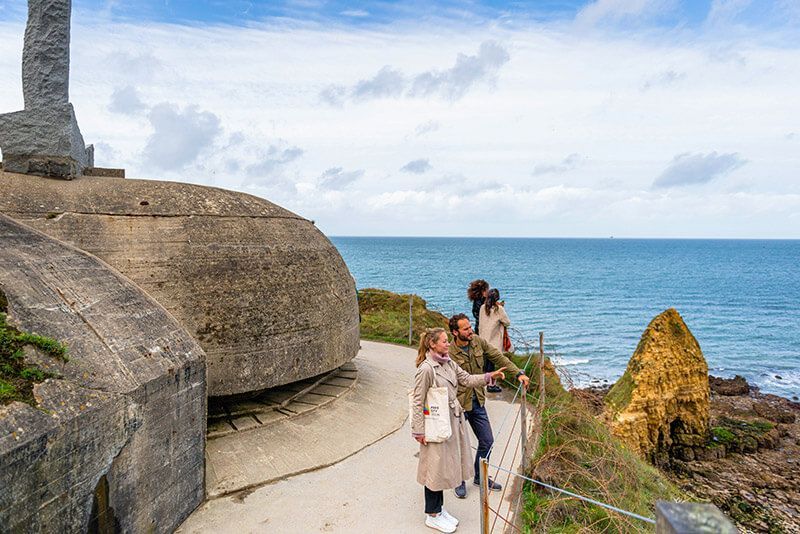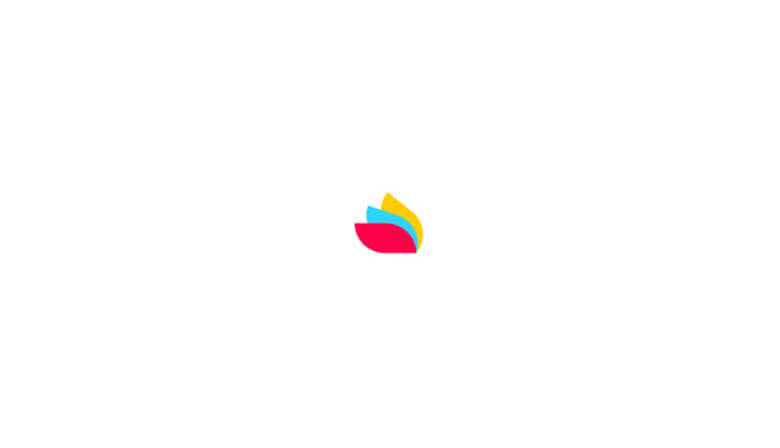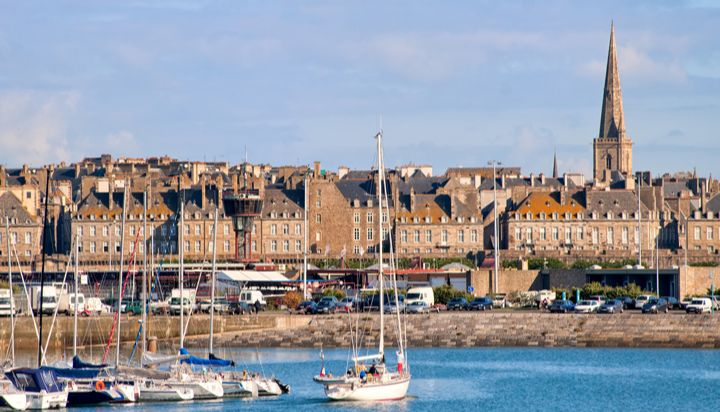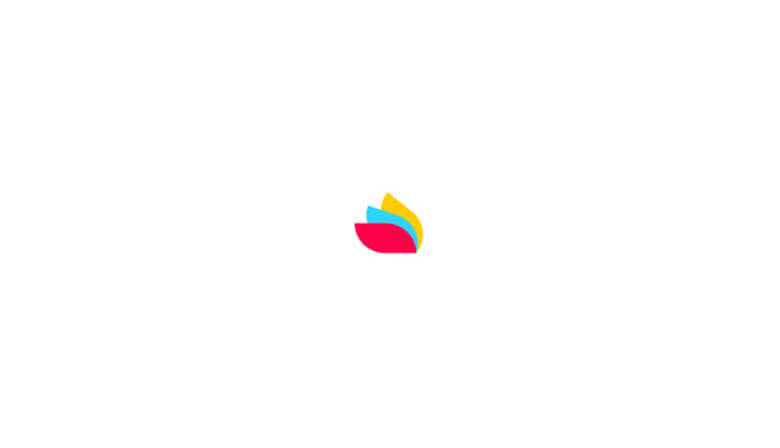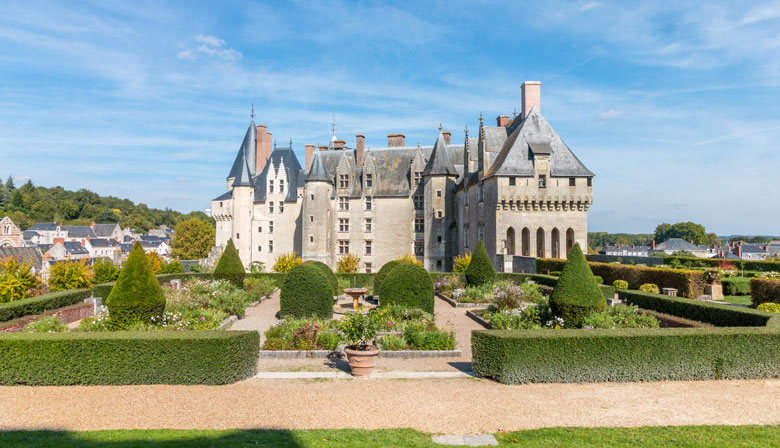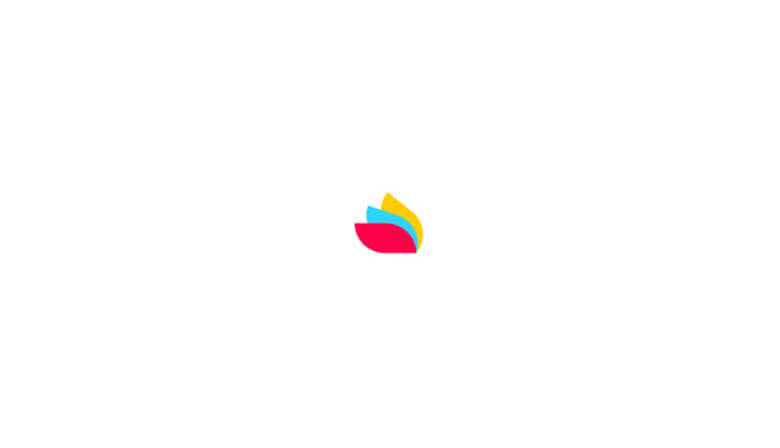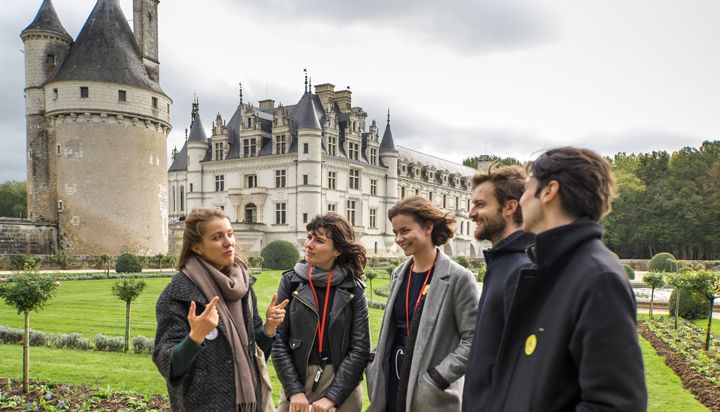 Highlights
One day in Normandy to see the famous D-Day beaches 
Visits to these famous French sites with an enthusiastic guide
Visit to the unmissable Mont-Saint-Michel
Explore two major Loire châteaux: Langeais, Chenonceau
Magnificent 3-day French trip starting from Paris 
This three-day tour will delight you as you explore France's rich cultural heritage with a guide-interpreter. Tour the Beaches of Normandy after first visiting two Norman towns: Honfleur and Rouen. Continue your journey with a tour of Saint-Malo and Mont Saint-Michel. Finish your trip in the Loire Valley with a visit to Langeais and Chenonceau.
DAY 1: Guided Sightseeing Tour of Rouen, Honfleur and the Normandy Landing Beaches
Our air-conditioned bus boards at 6:45 am in front of our agency located near the Louvre Museum. At 7:15 am you will set off on the Normandy highway after passing through the western districts of Paris. After about two hours on the road, the bus will make its first stop in the city of Rouen. Your guide will take you on a walking tour of the historic district featuring the magnificent Notre Dame Cathedral, the Gros Horloge (an astronomical clock that is one of the city's treasures), the half-timbered houses and the medieval pedestrian streets that give the area an authentic charm. Rouen has inspired many Impressionists, including Claude Monet who depicted the Cathedral in a series of paintings.

Honfleur
The morning ends with an hour-long drive to Honfleur. During the ride, be sure to look for the incredible Pont de Normandie suspension bridge that spans the Seine estuary. During the stop in Honfleur, you will have the chance to explore the town on your own. Enjoy the picturesque streets and colorful houses of this quintessential harbor town. This is the perfect chance to have lunch in one of Honfleur's restaurants on a terrace with a view of the sea.
After lunch, the bus will set off again, this time along the Norman coastline. Explore the famous Normandy beaches where the Allies landed on June 6, 1944. These are must-see sites for World War II history. The American Cemetery in Colleville sur Mer, located near Omaha Beach, is a place for quiet reflection. Commemorating the Battle of Normandy, the cemetery is notable for its size, 70 hectares, and its rows of white marble tombstones.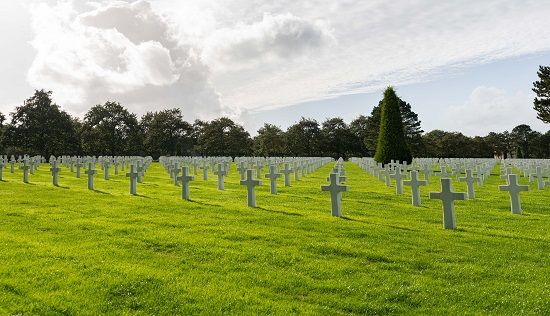 American Cemetery in Colleville sur Mer
After leaving this site, the next stop is Arromanches beach (25 minutes from Colleville sur Mer), where you can still spy traces of the pontoons used to support the artificial harbor (built-in England and towed to this site for the landings) despite the wear and tear inflicted by the sea.
Your first day ends at the Caen Novotel (or a similar hotel) where you will have dinner and spend the night.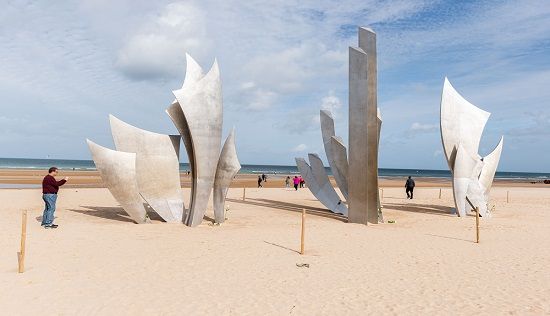 Omaha Beach
Menu
Potato tortilla with camembert cheese
**
Chicken fillet with cider sauce, mashed potatoes, and green salad
**
Tarte Tatin with Isigny crème fraîche
Vegetarian Menu
Raw vegetables or tomato salad with pesto
**
Plain omelet
**
Tarte Tatin with Isigny crème fraîche
DAY 2: Guided Sightseeing Tour of Saint-Malo and the Mont Saint-Michel cities
Your second day begins with a breakfast buffet and the excursion continues in Saint-Malo (located about 170 km from Caen). Admire the city walls, Château, Saint-Malo Cathedral, and Fort National during the guided tour of Saint-Malo, a town with a rich heritage. You will then have time for lunch in this Breton town at a restaurant of your choosing.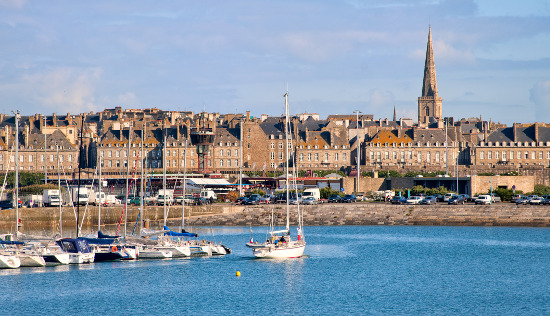 Saint-Malo
The day continues at one of the can't-miss sites for any trip to France. Let your guide introduce you to the incredible Mont Saint-Michel, perched on a rocky peak and surrounded by a beautiful bay. You can best enjoy the climb to the top of the village by taking the Grande Rue, where most of the shops, museums, and traditional medieval houses can be found. The walk ends at the top of the mountain where the Benedectine abbey that dates back to the 8th century is located. Enjoy a guided tour of Mont Saint-Michel abbey, during which you can take in the incredible Gothic structure featuring a cloister and a garden with a panoramic view of the sea. After your tour, take a moment to stroll the bustling streets, admire the incredible vista of the bay as you walk down along the city walls or sample some delicious crêpes.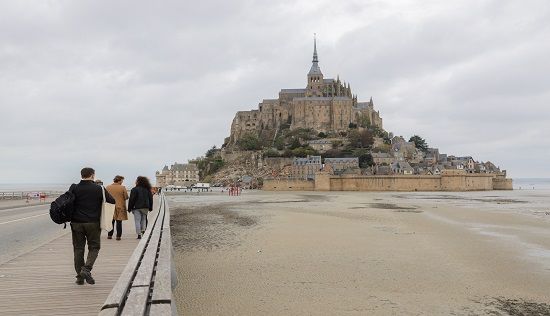 Mont Saint Michel
The bus leaves for Angers around 4:30 pm. After a ride of about three hours, you will get off at the Angers Centre (or a similar hotel) where you will spend the night. You will find many restaurants near your hotel to have dinner.
DAY 3: Guided Sightseeing Tour of the Loire Valley Castles of Langeais and Chenonceau
The third day begins with breakfast at the hotel.
You will then set off for the Loire Valley and the first tour will take place at Château de Langeais, a well-preserved fortified castle. Your guide will take you through the interior of the château, where depictions of everyday life in the medieval era using highly realistic wax figures will take you on a voyage of discovery through French history.
After the tour of Langeais, there will be time for lunch in Amboise at a restaurant of your choosing. Your guide will point out some dining options located near Château d'Amboise.
The afternoon kicks off with a guided tour of Château de Chenonceau, just 20 kilometers from Amboise. This Renaissance masterpiece that spans the Cher river looks like a palace from a fairytale and has played a major role in French history. Also known as the "Château des Dames", it was built and renovated over many years by some famous women from French history (including Diane de Poitiers and Catherine de' Medici). During your guided tour you will get the chance to admire the lavishly appointed rooms that embody the refined French way of life in the castle's heyday.
The bus leaves from Chenonceaux at 5.15 pm to arrive at Paris City Vision in downtown Paris around 8:00 pm.
Please note :
Persons with walking difficulties might not be able to reach the Abbey (many steps)
Comfortable clothing and good shoes recommended
In the case of a booking requiring a single room, a supplement of 101€ will have to be paid.
For example:
- For a booking of 1 person: you will be automatically assigned a single room, so you will have to pay 101€ extra upon the departure of the tour
- For a booking of 2 people: you will be in a double room without any extra charge. If you want to be in two separate rooms, you will need to book the tour separately and pay the single room extra for each person upon the departure.
- For a booking of 3 people: you will be in a double room and a single room. In that case, you will have to pay the 101€ extra upon the departure. Triple rooms are unavailable.
Please note that on May 1st, the Mont Saint-Michel Abbey will be closed. On that day, as an exception, lunch will be included in Saint-Malo followed by a guided visit of the Mont Saint-Michel surrounding
The price includes:
Porterage service on hotel arrival and departure
Accommodation (2 nights) in 4-star hotel (double room accommodation with bathroom) 
Entrance tickets for the various monument and museum visits
Services of a tour guide
Buffet breakfast and evening meal in the hotels except in day 2 
Transportation in an air conditioned coach
Return transport from/to your residence in Paris depending on the tour selected
The price does not include:
Dinner in Angers on the second day
Lunches
Let's go
Book your tour
1. Define your needs
Date
Selected
Special offer
Unvailable
2. Select your tour
3 Day Guided Trip to Normandy, Mont Saint-Michel, Loire Valley Chateaux from Paris
Cancellation fees : Free cancellation up to 6 calendar days before departure (Central European Time). Beyond that period, the following fees apply: 5 calendar days prior service: 50% of tour price (Central European Time) 3 calendar days prior service: 100% of tour price (Central European Time)
We take care of everything
Preparation of the tour
Address : Paris City Vision Louvre Agency
2 rue des Pyramides 75001 Paris
Metro :
Tuileries
, Pyramides
3 days
Address : Paris City Vision Louvre Agency
true
Metro :
Tuileries
, Pyramides
Organized by PARISCityVISION
Tour Code: NBC3
Reviews from the community
They give their opinion
History brought together finally for northern France with outstanding guides!
It's an excellent tour, worth every dime and I would highly recommend taking it.
Very memorable experience with wonderful tour guide and well organized itinerary for the 3 days! Its perfect and worth every Euro spent!