The German Cemetery in La Cambe
Normandy & D-Day Beaches tours
Starting from
229,00 €
Find out more
La Cambe is a town in Calvados located near Omaha Beach where American troops landed on June 6, 1944, at the end of the Second World War. Today, La Cambe is known for its German military cemetery. Some Normandy Tours include a step in this place, because everyone is a victim of war.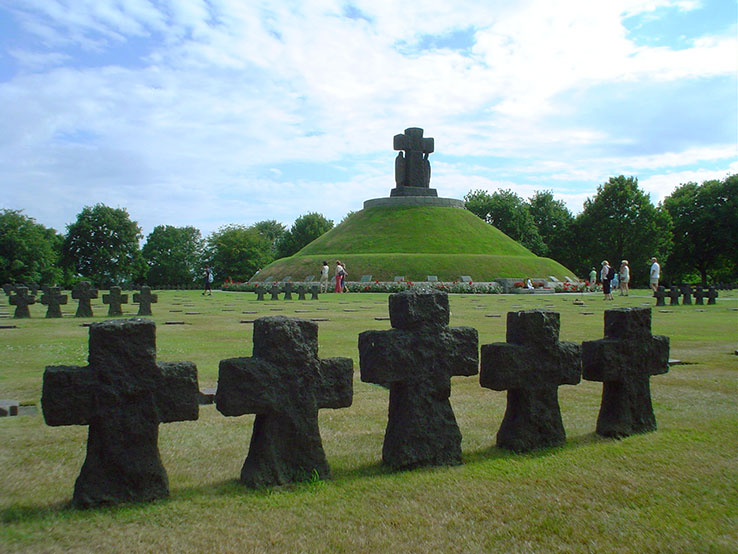 German Occupation in France
From 1940 until its liberation, the German Army occupied the north of France. The rest of the French territory was governed by the Vichy regime and Marechal Philippe Pétain. The German Army requisitioned buildings and resources to accomplish its missions. German casualties were numerous during the Battle of Normandy. It was on May 8, 1945, that Germany surrendered to the Allied forces. The day has since become a national holiday in France.
Birth of the German Cemetery in La Cambe
Military cemeteries were installed quite early on in the town of La Cambe. In fact, some American soldiers who died before and after the landings were buried at La Cambe. The remains of those who were not repatriated to the US at their family's request were buried in American military cemeteries in France. The German cemetery in La Cambe was inaugurated in September 1961. Spread out over 7 hectares, 21,222 German soldiers are buried there.
The anonymous also have their place in the cemetery. In fact, the burial mound holds the remains of 207 soldiers whose names were never discovered. Commemorative plaques for 89 identified soldiers are also visible on the burial mound.
The Garden of Peace
A 3-hectare garden where 1,200 maple trees were planted in 2009 in the name of peace is part of the German cemetery in La Cambe. The garden has benefited from international financing.
A Cemetery in the Germany Military Tradition
Since the Versailles Treaty of 1919, German military cemeteries bear crosses and somber tombs. The one at La Cambe is no exception to the rule as it's a site dedicated to WWII (1939-1945).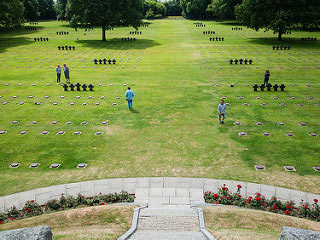 © Fabrizio Sciami
Unlike American cemeteries (for example American Cemetery above Omaha Beach), La Cambe creates a space conducive to contemplation as its layout is particularly somber. Only the burial mound sticks out. As for the tombs, they are made of a dark stone and are laid out on the grass. The presence of trees throughout the cemetery comes form a Nordic tradition where the dead rest in peace in the shade.
The german military cemetery in La Cambe is open to the public. In 2015, the tomb of the famous German tank operator, Michael Wittman, was vandalized and his tombstone stolen. The cemetery is entirely maintained and managed by the Volksbund Deutsche Kriegsgräberfürsorge.