The Military Cemetery of Bayeux Commonwealth
Normandy & D-Day Beaches tours
Starting from
229,00 €
Find out more
Bayeux Commonwealth is the biggest British military cemetery located on French territory. The British Empire's involvement in the Battle of Normandy and France's subsequent liberation is immense. Many of the English troops who landed on Gold Beach and Sword Beach on June 6,1944, would lose their lives in battle. An essential step for some Normandy tours, very appreciated by American, English, Canadian and Australian tourists
.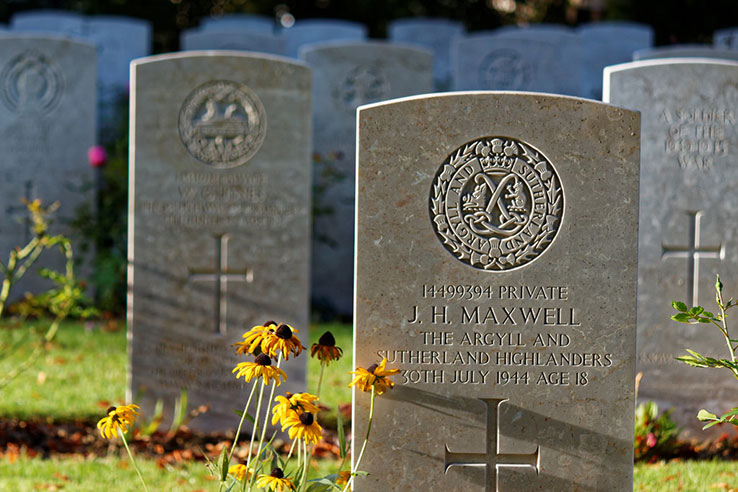 © Jean-Baptiste Roux
A Community of Nations
The Commonwealth of Nations has 53 independent member states that share common interests. Although the majority of the member states were former British colonies, they remain united in and by their common values. Whenever a member nation is in a state of war, the others have no obligation to take part in the same conflict and can even remain neutral. As was the case during WWII, they can provide one another with aide and support.
The Existence of the Military Cemetery in Bayeux
Spared by the bombings that targeted German defenses, Bayeux was the first big city to be liberated on June 7, 1944. Schools were transformed into makeshift hospitals to care for the wounded; another reason for which Bayeux was a place where countless Commonwealth soldiers would die from fatal wounds.
The land on which the military cemetery lies was given to the United Kingdom by France, and is managed entirely by the Commonwealth War Graves Commission.
Bayeux is also home to the Battle of Normandy Museum that displays the city's history during WWII in a 2,000 m2 exhibition space. Archived films are screened to further X the era. Yu can also discover another D-Day Museums with PARISCityVISION.
An International Cemetery
There are 4,144 graves at the Military Cemetery of the Bayeux Commonwealth; 3,935 British soldiers and 338 non-identified soldiers. Among the nationalities there are Canadians, New Zealanders, Australians, South-Africans, Polish, French, Czech, Italians, Russians and also Germans.
On the other side of the road, in front of the cemetery, there is a Memorial in honor of the 2,092 Commonwealth soldiers who were reported Missing in Action during and after the Normandy landings, and who do not have a grave. According to an English tradition, a solider is buried by his brothers in arms -- the reason why so many nationalities are here present.
The existence of a place like the Military Cemetery of the Bayeux Commonwealth reveals the global nature of the conflict. Taking to arms and heading to the battlefield, West Europe became a part of the world that rose up against the Axis powers and Nazi ideology.
During your holidays, you could visit the American Cemetery too.