Pegasus Bridge and the battle of Normandy
Normandy & D-Day Beaches tours
Starting from
229,00 €
Find out more
Pegasus Bridge (or Pégase Bridge) is a testament to art located in the Calvados area of the Lower Normandy region. Originally named Bénouville, the bridge was re-baptized in honor of the British parachutists who fought in the Battle of Normandy. The swinging bridge was replaced by a new one in 1944, the former on display at the Pegasus Museum. If you plan a trip in Normandy, don't miss this place !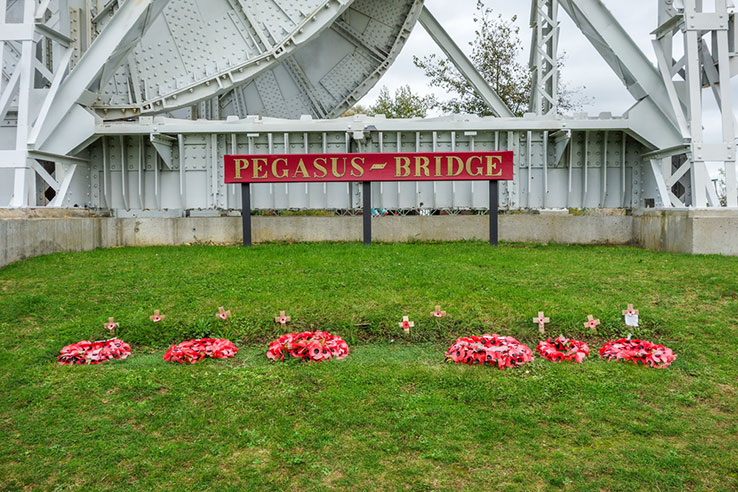 The 6th British Airborne Division
Several nationalities were present during the Battle of Normandy. On June 6, 1944, millions of soldiers landed on the beaches of Normandy on amphibious boats while others reached French soil by air. This was the case of the 6th British Airborne Division who had three main objectives:
Take control over the bridges of Bénouville and Ranville without causing any damage.
Destroy the Merville batterie that defended the Ouistreham beaches.
Take an easterly position and destroy the bridges on the Dives, a river in the Calvados area.
Major John Howard and his men landed during the night of June 5, 1944, at a distance of 200 meters from the above-mentioned bridges without being detected by German troops. Three Horsa gliders, each capable of transporting 30 soldiers, brought the parachutists just above the target zone.
The Pegasus Memorial Museum
The museum, located in the town of Bénouville, was inaugurated on June 4, 2000, by His Royal Highness Prince Charles of England. The Pegasus Memorial allows visitors to discover the mission undertaken by the 6th Airborne Division. Period objects and photographic documents bring into focus the battle that took place on the museum site. The museum complex houses the original Pegasus bridge, as well as a life-size replica of a Horsa glider from which British soldiers parachuted.
Pegasus bridge museum opening times
You want to visit the museum ? The opening times are :
1st February to 31st Marh, museum is opened from 10.00 to 17.00
1st April to 30th September, the memorial is opened from 9.30 to 18.30
1st October to 15th December, the place is opened from 10.00 to 17.00
Posterity of the bridge
The bridge and its environs were designated a historical monument in 2001. This means that in light of its historical importance, the entire zone must be preserved and maintained. The site of the bridge became even more famous thanks to Darryl Zanuck's successful 1961 film, The Longest Day.
Reenactments of the taking of the bridge are organized during D-day commemorations, a great opportunity to see period equipment in action and to understand just how important control over this site was in ensuring the success of Operation Overlord.