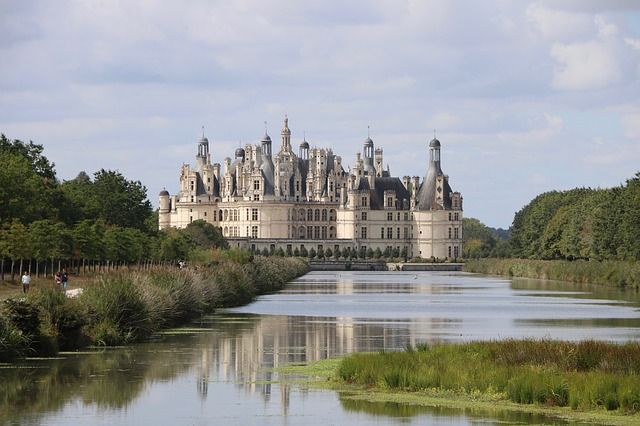 The prestigious Chambord Castle is one of the largest castles in the Loire Valley. It is located 14 kilometres away from Blois in the Loir-et-Cher region. To help you discover this jewel of the Renaissance, Paris City Vision offers you this Chambord Castle guide so that you don't miss anything during your tour.
Plan your visit
Built at the request of King Francis I in 1519, this building was erected in the heart of the largest forest park in Europe. A titanic work which required 1800 workers to build the 450 rooms of this incredible castle. Leonardo da Vinci took part in the elaboration of this masterpiece and created the double revolution staircase (a staircase that can be used without the users having to cross paths). Get all the practical information you need to visit the Chambord Castle: opening hours, best time to visit, itinerary, etc. Thanks to our guide, you will be able to admire this Renaissance architectural prowess in the best conditions possible.
Ticket
Get your tickets at the best rate to spend the day at the Chambord Castle. You have different options to visit the Loire Valley castles: audio-guided tours, guided tours from Paris. You can even get on an helicopter flight over the Loire Valley.
Opening hours
Opening hours and opening days change depending to the season:
High Season: from 9:00Am to 6:00PM (from April, 1st to October, 31st)
Low Season: from 9:00AM to 5:00PM (from November,1st to March, 31st)
How long does it take to visit the Chambord Castle?
You need to give yourself at least one hour and a half to visit the greater part of the Chambord Castle. However, during high season, the number of visitors is higher and your visiting time may be extended.
How to get to the Chambord Castle?
The Chambord Castle is only a two-hour-and-a-half drive away from Paris by car. Here is the address of the castle: Château, 41250 Chambord. The estate is located halfway between the Huisseau-sur-Cosson and Thoury villages. You can get there easily from the A10 highway.
Events
Events are organized throughout the year to entertain visitors.
Horse and bird of prey show
The must-sees and must-dos
This incredible building not only stands out for its architecture, but also for the green spaces surrounding it.
The King's dwelling and apartments
The gardens of Chambord
The fauna and flora of the forest
History and culture
This architectural gem is classified as a UNESCO World Heritage Site since 1981. The castle is filled with history and culture in many ways.
History
History of the Castle
Louis XIV
Labels and awards
Culture: The 7th Art and Chambord
Many movies have been filmed at the Castle, being a true symbol of the Renaissance.