Where to eat the best macarons in Paris
Are you a devoted fan of macarons but you don't know where to find the best macarons in Paris? Well here is the perfect guide for you. We have carefully selected the best spots in the capital to enjoy the star of French pastry: THE MACARON! Pistachio, chocolate, raspberry, vanilla, coffee, lemon...so many possible tastes and flavors for this sweet delicacy. Go on a gourmet adventure in the most legendary Parisian pastry shops to savor these little almond gems.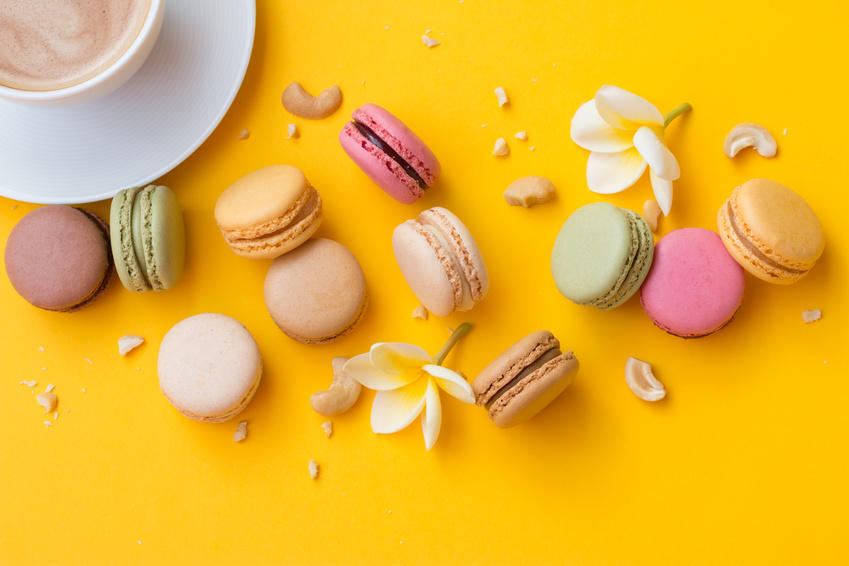 The legendary Ladurée
Ladurée...a famous name that everyone associates with its legendary macarons. The creations, which are certainly the most famous in the world, expertly combine a crisp almond shell with creamy fillings. With specialties such as coconut, tonka bean, marshmallow and lily of the valley, the Maison Ladurée is well-deserving of its reputation. The added touch we love: the Ladurée boxes are real jewelry cases. There is no doubt that Ladurée has earned the title as the shop with "the best macarons in Paris".
Price: 17.10 € for 6 macarons
Website: www.laduree.fr/en
Delectable macarons at Pierre Hermé
With an international reputation, Pierre Hermé has set the gold standard for macarons. It is difficult to talk about this exceptional Parisian dessert without mentioning his name. Showing a passion for pastries from the age of 14 when he began his career, Pierre Hermé worked at Fauchon and then at Ladurée before opening his own store. The ganache fillings are generous and have a distinct flavor. The shells are round and smooth, with a beautiful crispy crust on the sides. The price is a little higher than the average macaron, but you'll understand why from the very first bite. Whether you are just curious to try one or a seasoned gourmet, pass by the Pierre Hermé shop in your search for the best macaron in Paris.
Price: 2.10 € per macaron or 20 Euros for 7 macarons
Website: www.pierreherme.com
Jean-Paul Hévin chocolatier
Voted the best chocolate maker in France, Jean-Paul Hévin delights the ultimate chocolate lover's taste buds with his famous macarons. Whether it's chocolate from Peru or Venezuela, Jean-Paul Hévin knows how to combine flavors. For example, you can savor "caramel apple" which consists of a milk chocolate base and the juice of caramelized green apples. His stores are a must-visit haven for chocoholics. Could the cocoa bean be the secret ingredient for the best macaron in Paris?
Price: 8.20 € for 5 macarons
Website: www.jeanpaulhevin.com
Dalloyau
Could the best macarons in Paris come from Dalloyau? Their sweet delectable delicacies are prepared with the highest quality ingredients: Valencia almonds, hazelnuts from Piedmont, pistachios from Iran. The flavors are classic - chocolate, vanilla, pistachio, raspberry, salted caramel, praline or lemon - but very tasty. Recently, Dalloyau has begun to offer more original flavors like bergamot or champagne-cognac.
Price: 9 € for 4 macarons
Website: http://www.dalloyau.com
Original macarons from the Monde du Macaron
Located in the 1st, 5th, and 15th arrondissements of Paris (and in other French cities), this shop specializes in the most amazing flavors: Red Bull, goat cheese-chili pepper, lime-cactus, Roquefort, and even vanilla-flavored olive oil. The chef, a specialist in sweet and salty, tantalizes our taste buds with new and unique combinations. And each of the creations has been a great success: when biting into a champagne macaron, you can actually experience the sensation of sparkling bubbles under your tongue. A place that is full of surprises.
Price: Not available
Website: https://www.mondedumacaron.fr/
The unique Asian flavors of Sadaharu Aoki
Sadaharu Aoki, who was born in Tokyo and came to France in 1991 at the age of 23, creates his pastries by infusing Japanese flavors into traditional French sweets. His specialties include junos (citrus), black sesame, wasabi, matcha (green tea) and even ume (salted plum). Are you ready to taste the first, and the best, Franco-Japanese macarons in Paris?
Price: Box with 8 pieces: 13.60 €
Website: http://www.sadaharuaoki.com
The great classics of la maison Lenôtre
Gaston Lenôtre, founder of the Maison Lenôtre, opened his first shop in Normandy in 1947. Building on his success, he bought a shop in Paris several years later. For those who like their macarons to be delicate and luscious, Lenôtre is the place to go. The fragrance of the chestnut cream macaron is subtly sweet, and the grapefruit/vanilla creation is the perfect balance of sweet and bitter.
Price: 1.80 € per macaron
Website: https://www.lenotre.com/
Despite passing years and short-lived fads, the macaron remains one of the star delicacies of pastry. Do you know all these macaron shops? Is your taste classic or exotic? Nothing is stopping you from discovering new taste experiences.