The Top 10 Romantic Spots in Paris
It's not for nothing that Paris attracts couples from all over the world. By turns chaotic and bohemian, Paris offers seemingly endless ways to get lost as well as countless romantic places where lovers can reconnect. Whether you're literary buffs, night owls or nature lovers there's a bit of everything for everyone. Together, you can find an oasis of tranquility where you can confide in one another or declare your love. Don't hesitate to take your Valentine somewhere special to woo him or her as if it were the first day you met!
The "I Love You" Wall

Montmarte is the undisputed romantic neighborhood in Paris. Its rich artistic past and small, steep streets are the perfect setting for lovers to stroll around and head to the Jehan Rictus des Abbesses Square where the "I Love You" Wall, an installation by Frédéric Baron and Claire Kito, displays the most beautiful declaration in over 300 languages and dialects. Why not declare your love to your Valentine in this beautiful setting surrounded by cherry trees, oleander and ancient roses.
Address: Square Jehan Rictus, place des Abbesses, 75018 Paris
Shakespeare and Company Bookstore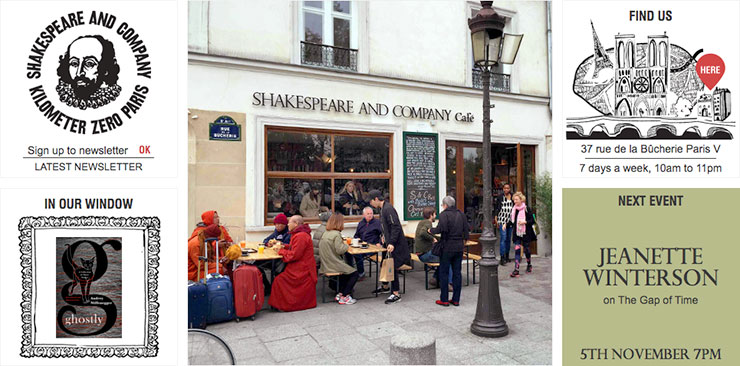 This Anglo-Saxon bookstore located in the 5th arrondissement is the perfect place to spend a dreary, rainy Parisian afternoon with your loved one. A well-known refuge for lit lovers, travelers and writers since the 50s, this atypical bookstore-boutique is not only brimming with books but with romance! There you can read to your heart's content in a velour fold-up seat or a used Chesterfield, play piano, crank out a couple of poems or love letters on a typewriter or even spend the night if you spent your day volunteering!
It's no wonder then that Beat Generation writers had scoped it out in the 50s or that the bookstore appeared in several romantic films like Before Sunset and Minuit à Paris. More than just a bookstore, it's an ode to literature and to bohemian Paris.
Address: 37 rue de la Bûcherie, 75005 Paris
Museum of Romantic Life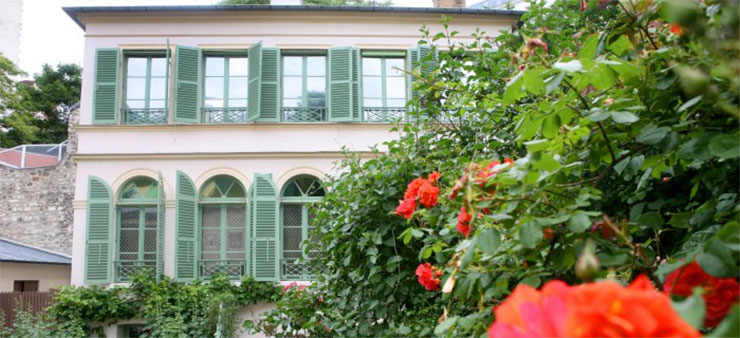 It's in a 9th arrondissement private mansion that 19th century painter Ary Scheffer received his artists friends. Delacroix, Chopin and Dickens are just a few names of those who visited the mansion's flowered paths, sitting rooms, workshop and romantic garden where, today, the Museum of Romantic Life is located. The museum is provides a historical backdrop to the Romance Period and displays everyday objects that belonged to Georges Sand who also visited the pavilion. Furniture, paintings and jewelry are on display on the ground floor, an introductory taste of the Romance Era paintings on the first floor. Temporary exhibitions and concerts are regularly organized in this ethereal and quaint environment. Take advantage of good weather in Paris to take a tea break in the garden.
Address: 16 Rue Chaptal, 75009 Paris
Paris Seen from Above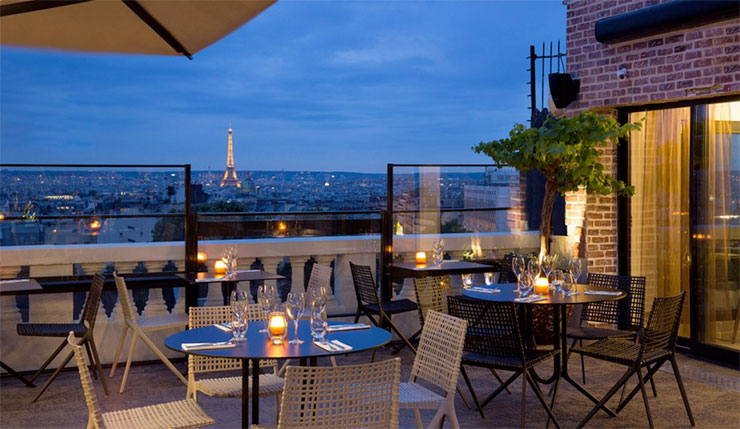 What's more romantic than to overlook the City of Lights at sunset? The 7th is a rooftop bar at the Terrasse Hotel in Montmartre where incredible panoramic views of Paris and its famous rooftops can be seen from both inside ant outside. The 7th is the perfect place to drink a cocktail such as Passionnément (passionately) with Bourbon, passion fruit syrup and lime while admiring the setting sun and dusk colors that light up the Invalides, the Eiffel Tower and the Grand Palais.
Address: 12-14 Rue Joseph de Maistre 75018 Paris
Official website: https://www.terrass-hotel.com
Luxembourg Gardens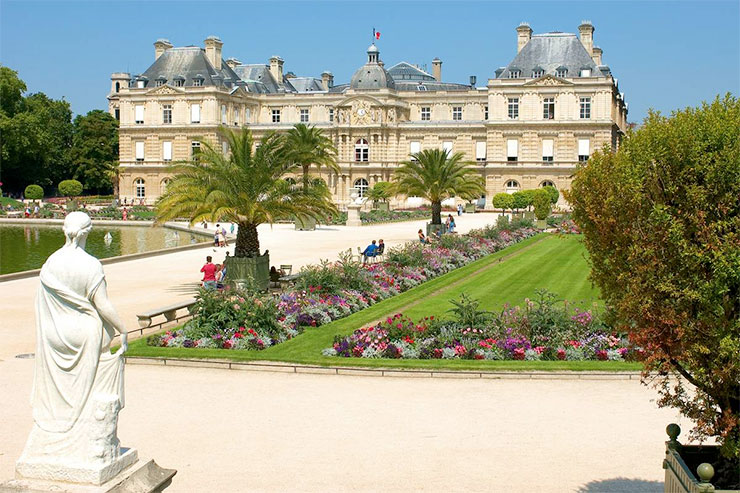 It's not by chance that this Parisian garden and its wrought-iron chairs have become icons. The perfect place to converse and to contemplate the English-style gardens and fountains, Parisian lovers flock to Luxembourg Gardens when the weather is nice. Don't hesitate to move your chair around until you find the point of view that suits you best or to get close to the Medici Fountain where the reflection of the statue of Galatée and Acis, enlaced in each other's arms, ripples in the water.
Address: 6th arrondissement, Paris
The Père Lachaise Cemetery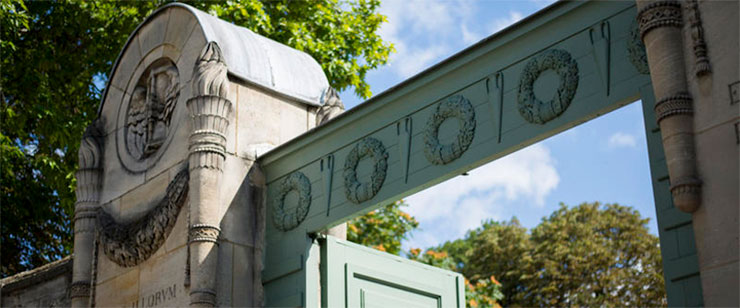 © Christophe Noël
Although it may seem strange to set up an amorous meeting at a cemetery, it must be known that few places attract as many Parisian lovers as the Père Lachaise cemetery does. If its immense size and some several thousand trees are enough to provide a pleasant wake around its grounds, then the famous people who are buried there is certainly enough to make it an unbeatable romantic place. One will come across the tomb of poet Guillaume Apollinaire, whose poems to Lou revealed a loving eloquence without end, of Marcel Proust, who so well described the uncertainties of love, of Simone Signoret and Yves Montand who lie together and tombs of so many other mythic figures: Balzac, Colette, Gustave Doré, Alfred de Musset, Edith Piaf and even Jim Morrison...Visiting the Père Lachaise cemetery is uncovering names from under layers of moss, imagining past lives, loves, adventures and jealousies, and promising your loved one to make the most of life.
Address: 16 Rue du Repos, 75020 Paris
The Fairground Art Museum

Nestled in the Bercy neighborhood in the former wine covered outdoor wine market, The Fairground Art Museum is quite unique. With over 8,000 square meters of space filled with magical objects, the museum is also popular as a rental for large events. In fact, it's possible to reserve a private tour where in total intimacy visitors can enjoy a recreated fairground, a ride on an old merry-go-round and visit the open-air theatre or Venetian sitting rooms. There's enough to keep you busy for a couple of hours in this dreamlike and colorful universe that seems to pop out of a book and that only exists for you.
Address: 53 avenue des Terroirs de France 75012 Paris
Telephone reservations: 01 43 40 16 22
The Seine

It might come across as cliché but a boat cruise on the Seine nonetheless remains one of the best ways to discover Paris. It's also quite practical if you're short on time; not only will you be able to see Paris's main monuments (Eiffel Tower, Alexandre III Bridge, Notre Dame, the Grand Palais...) but you'll also enjoy a delicious traditional French meal. In fact, choosing the dinner-boat cruise package means seeing all those famous monuments lit up at night -- an experience that is tempting even for Parisians as the city takes on a different look. It's also a great way to spend a relaxing, romantic evening for two.
Departure from Port de Solferino 75007 Paris just beneath the Musée d'Orsay.
Telephone reservations: 01 43 43 40 30
Perched on a Tree: A Fairytale-like Restaurant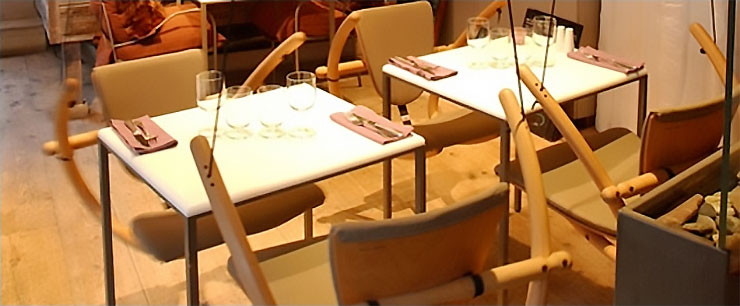 In his book "The Perched Baron," author Italo Calvino tells the story of a young man who doesn't want to come down from his branch. And this is exactly what could happen to you after having dined at "Perched on a Tree," the comfy-concept restaurant where you can order from a swing or from inside a cabin. The perfect place for a one-on-one, intimate meal. With a refined menu and impeccable service, the restaurant has been nominated several times over the Maître Restaurateur Français.
Address: 1 Rue du 4 Septembre, 75002 Paris
Telephone reservations: 01 42 96 97 01
The Buttes Chaumont Lookout Point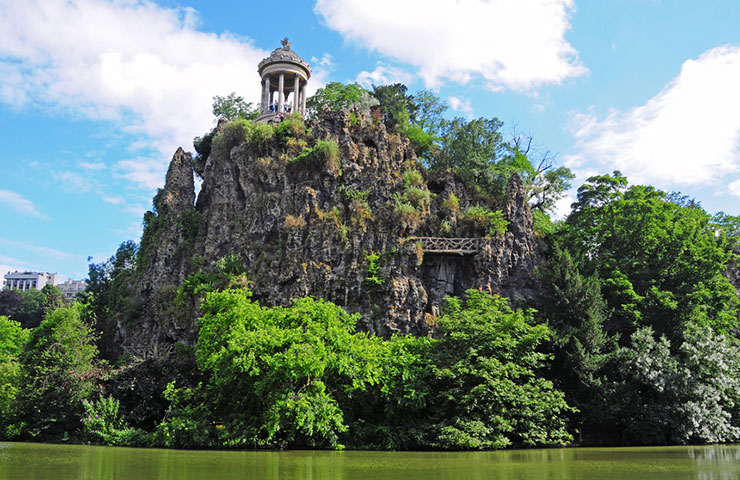 There's no need whatsoever to dine in a Michelin star restaurant to get a fabulous view of the capital! The patience and courage needed to climb the 173 steps of the Buttes Chaumont Lookout Point will be amply compensated by a great view of the 19th arrondissement and of Montmartre and the Eiffel Tower a bit farther off. Once you've caught your breath, you'll find you and your Valentine alone on the island in the middle of greenery, separated from the world by a wooden footbridge and tranquil in an Italian-style pavilion 30 meters up...sounds good, doesn't it?