Traditionally, a revue is a comical often satirical play that addresses current issues. When it comes to the Moulin Rouge, however, the revue is far from this image. At the cabaret, musical shows are structured around scenes in which artists interpret historical facts via dance and acrobatics. The artists are donned in sparkling costumes and surrounded by amazing stage decor, the latter being one element that very early on ensured the cabaret's success as sizable set decoration was rapidly changed for another.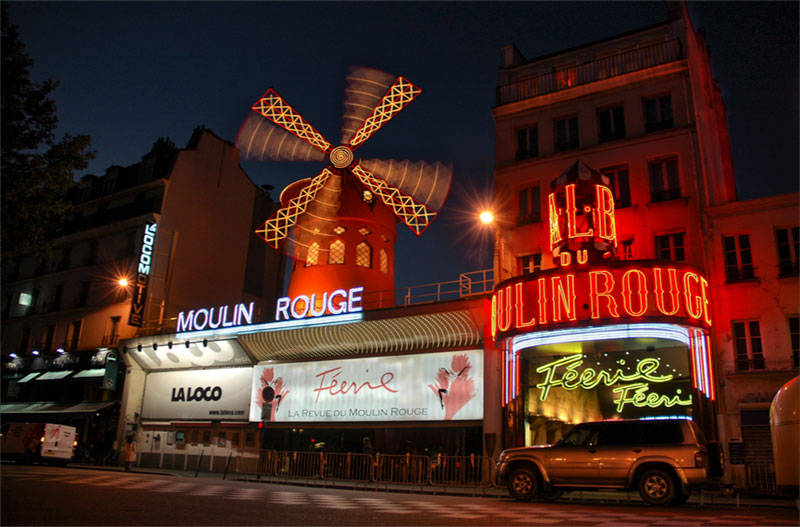 Moulin Rouge Féérie, by Riccardo Cuppini
A Historical Heir to the Moulin Rouge
The first cancan revue came to stage on April 19, 1890, with "La Goulue" (Louise Weber) as its star performer. In fact, it's Weber who Toulouse-Lautrec put on his poster created for the cabaret in 1891. The Moulin Rouge's stage is marked by the passage of female revue stars like Gina Palerme a.k.a. "La Cocotte Française" and Jeanne Perrinot (stage name Jeanne Aubert). Other internationally famous French artists would also tread on the cabaret's stage such as Edith Piaf and Maurice Chevalier who was the lover of Mistinguett, artist and Co-director of the cabaret.
80 Professional Artists
Created by Doris Haug and Ruggero Angeletti, Féérie has been in production since 1999. Made up of 80 artists, 60 of whom are Doriss Girls, or dancers recruited world-wide, the artistic troupe leads spectators on a voyage through five distinct scenes that are accompanied by an original musical score written by Pierre Porte and Roland Léonar. Corrado Colabucci created the show's original costumes.
Throughout the show, spectators watch the scenes unfold one after the other to recount the history of the cabaret as well as spectacular creations. A giant aquarium in which an aquatic ballet takes place is one example of many from the following scenes:
The Moulin Rouge, today and yesterday
Pirates
At the Circus
The Moulin Rouge, from 1900 to...
International Acts
A True Sensorial Experience
Going to a Moulin Rouge show can't be had without a dinner whipped up by chef David Le Quellec. To fully take advantage of the cabaret's ambiance as one did in the 1920s, and to enjoy the cabaret's mythic theatre room, you must have a seat, enjoy a fabulous gastronomic meal and let the French Cancan quadrille transport you to another era...