Paris Neighborhoods: download the map
Did you know? Paris has 80 administrative neighborhoods, and even more, if you count those neighborhoods not included in this official list, like the renowned party district of Pigalle. Pairs City Vision invites you to discover a downloadable map of Paris neighborhoods, which lays out the most well-known Parisian neighborhoods.
Click below to download the plan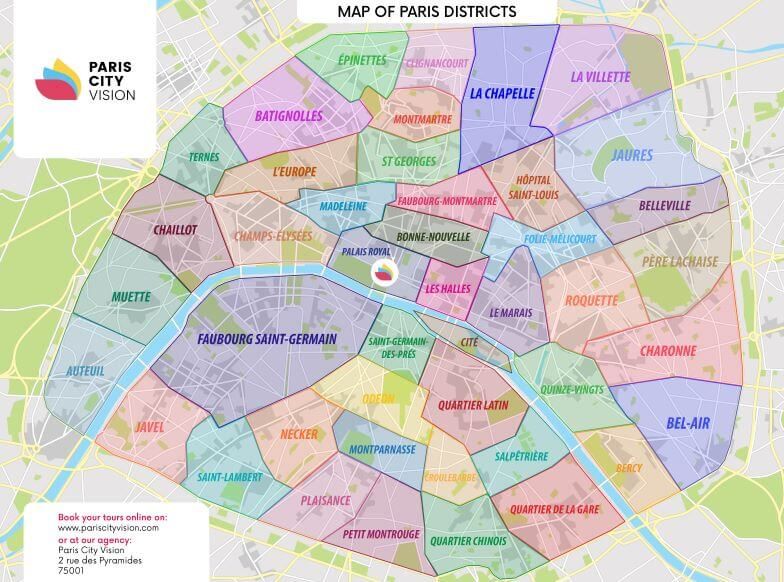 In the heart of the city, you'll find cité Saint-Louis, the refuge of ancient Parisians who built a fortress town there. Our resource on Parisian neighborhoods also invites you to discover a synthetic map of other historic areas in the capital, such as the Palais Royal, where French monarchs built their palace, the maze of alleyways in the Marais, the Latin Quarter, which was already home to students in the Middle Ages, or the Quinze-Vingts, whose name derives from the hospital founded by Saint Louis. Faubourg Saint-Germain, whose name indicates that it was located "outside the wall", used to mark the beginning of the countryside.
Our map of Parisian neighborhoods helps you orient yourself quickly and easily within the capital. Fancy traveling to the Far East? Just head to the very south of the city and wander through the colorful streets of Chinatown. An explosion of exotic flavors, colors, and aromas will surprise you at every turn. Or maybe you'd prefer to discover the picturesque neighborhood of Montmartre, which has maintained some of its original village charms. From the top of the Butte, you'll enjoy an unbelievable view of the capital.
Download or print this map of Parisian neighborhoods and keep it close at hand. Uncover both the soul and the history of the capital, with each place name bearing the memories of generations of Parisians. The neighborhood of Belleville, for example, dates back to Paris's expansion in the 19th century, and behind its streets and alleyways, you'll find little courtyards recalling the area's working-class past. The huge local market there is one of the most interesting open-air markets in Paris.
Want to discover the secrets of the capital? Use this map of Parisian neighborhoods to explore the City of Light yourself. You can also join group trips organized by PARISCityVISION and our partners to discover the most tourist-friendly, or most secret, Paris neighborhoods.
Our different downloadable tourist maps
Discover our different maps of Paris to download with the must-see tourist sites, monuments, and attractions: