Paris Tourist Map: your downloadable PDF map
Are you planning an upcoming visit to the City of Lights and need a PDF tourist map you can easily access on your smartphone or tablet, even without an internet connection? Paris City Vision offers you a Paris tourist map you can download completely free of charge. This map lists museums, monuments, and must-see destinations and is a useful tool, whether you are spending a few hours or several days in France's most beautiful city.
Click below to download the plan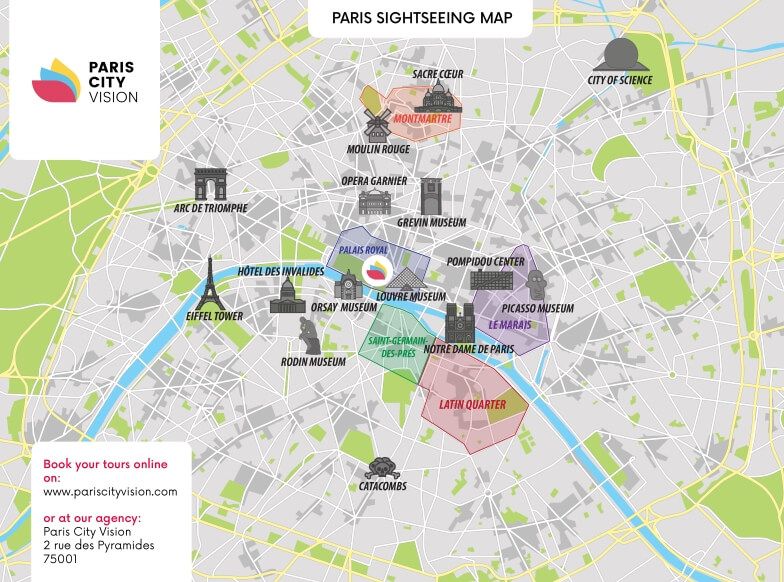 Much more than simply a downloadable map of Paris
We are offering you much more than simply a downloadable Paris tourist map. On just one map, you will find everything you need to make your visit to Paris an unforgettable experience.
Among all the must-see tourist destinations, locate the most beautiful and most popular Paris monuments within a few seconds. On the same map, you can find the Eiffel Tower, Notre Dame Cathedral, the Arc de Triomphe, the Garnier Opera House, and the Sacré-Cœur Basilica.
The great museums of the city are also indicated: on your map, pinpoint the location of the Louvre or the Orsay museums on the banks of the Seine, find the Centre Pompidou in the heart of the Marais district, and easily locate the most beautiful cultural buildings of Paris.
A tourist map which offers another view of Paris
Do you want to see a different side of Paris and visit hidden places, away from the major tourist sightseeing tours? Veritable gems await visitors who want to explore the authentic districts of the City of Lights: covered passages around the Palais Royal, narrow streets and squares in the district of Montmartre. On our map, next to the most popular must-see destinations, we identify other amazing tourist sites that will provide you with a unique travel experience.
Our practical PDF map is always accessible. Are you looking for a Paris tourist map that you can print and slip into your pocket? Do you want to download a map to take with you and use, even when there is no internet connection? We will provide you with access to the best tourist sites in Paris, free of charge, and all in one document!
Main Paris tourist destinations on one map
Our Paris tourist map identifies the must-see destinations and tourist attractions :
Museums
Monuments
Tourist areas

The Louvre
Orsay Museum
Centre Pompidou
Grévin Museum
Picasso Museum
Rodin Museum
Musée des Invalides
Cité Des Sciences

Eiffel Tower
Notre Dame Cathedral
Sacré-Cœur
Arc De Triomphe
Garnier Opera House
Catacombs
Moulin Rouge

Palais Royal
Montmartre
Latin Quartier
Marais
Saint-Germain-des-Prés
Other downloadable tourist maps
Plan your trip in advance and download our different PDF maps on your smartphone or tablet: