Songs About the Eiffel Tower
Are you an Eiffel Tower fan? Feeling nostalgic about Paris? Our teams have combed through entire databases of "la chanson française", or French chanson classics, to find the songs that immortalize Gustave Eiffel's masterpiece.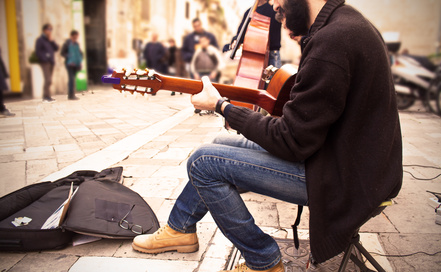 Not only has this historic and symbolic monument known throughout the world attracted artists to perform at the foot of its towering structure but it has also inspired countless artists to compose songs. The following song list, in chronological order, is a glimpse onto just how much the Eiffel Tower has influenced the music world.
In 1902 Félix Morteuil wrote, « Chant d'ballons, » (Balloon Seller) and along with his balloons flies up to the Eiffel Tower: « Here's the Eiffel Tower...I'm going to Heaven...up there to see my idol again."
In 1917 Robert Dieudonné and Roger Myra paid homage to the Tower with their song « Tu l'reverras Paname » (You'll see Panama again): « You'll see Panama, Panama, Panama, the Eiffel Tower, the White Square, Boulevard Notre Dame, and beautiful women..."
One of the most well-known French songs about the Tower was written by Charles Trenet in 1938, « Y'a de la joie » (There's Joy): « There's joy, the Eiffel Tower's going on a walk, like a crazy gal who'll jump feet first into the Seine..."
Mistinguett interpreted « La Tour Eiffel est toujours là » (The Eiffel Tower is Still There), a hymn to the Tower, symbol of a nation following the end of WWII.
In a very poetic tone, artist Michel Emer wrote, « Paris Tour Eiffel, » in 1946 that was sung by Jacques Elian. Rendering homage to the Tower: « Paris is the Eiffel Tower...Paris would never be Paris without it..."
In 1963 Cyrus Bassiak sang « Adieu ma vie » (Goodbye My Life): « Goodbye my life all dressed up in lace, under the shadow of the Eiffel Tower...Goodbye my life, I'll never go back, I don't regret anything..."
Jacques Dutronc's 1968 single, « Il est 5 heures, Paris s'éveille » (It's 5 am, Paris is Waking Up) also cited the Eiffel Tower: « The Eiffel Tower has got cold feet."
Pierre-André Dousset and Pierre Porte composed « Lève-toi, chante avec moi » (Get Up, Sing with Me) in 1974: « It's a new, lovely day and sunny...get up, sing with me...a day to paint the colors of the Eiffel Tower...get up, sing with me...a day to go up to seventh heaven...get up, sing with me."
In 1974, Claude Lesmesle and Gilles Marchal imagined the capital without the Eiffel Tower in their title: « On a volé la Tour Eiffel » (Someone Stole the Eiffel Tower).
Nicolas Peyrac's 1978 song « La Tour Eiffel » evokes nostalgia and memories: « The Eiffel Tower has existed for nearly 30 years...the Eiffel Tower has sometimes diffused the radio...the Eiffel Tower has been standing for nearly 100 years."
In her 1990 hit, « L'Europe s'ennuyait » (Europe Was Getting Bored), Léo Ferré sang, « Paris carried her big golden cross forged by millions of goldsmiths...the Eiffel Tower gambled its ridiculous nostalgia."
In 1994 Pascal Obispo sang « Je suis tombé pour elle, » (I Fell for Her), declaring his eternal love for the « Iron Lady": « I fell for her, I've only eyes for her, my home, my Eiffel Tower, when my lovers have troubles..."
In 1997, Arthur H. imagines the Eiffel Tower taking off with his song « Tour Eiffel Sidérale » (Celestial Eiffel Tower).
Fabien Martin wrote, « Ma femme est plus grande que moi » (My Woman is Bigger Than Me) -- but what exactly was he talking about when he sang: « Oh you, Eiffel Tower...who hoisted me up...oh you, my grand lady, this immense love...it's our last chance, it's the soul's greatness..."
Now you know what music to listen to when you'll visit the Iron Lady! Enjoy Paris Eiffel Tower with Paris City Vision : book your tickets to discover this special feeling that has inspired so many artists to write songs about this architectural wonder...