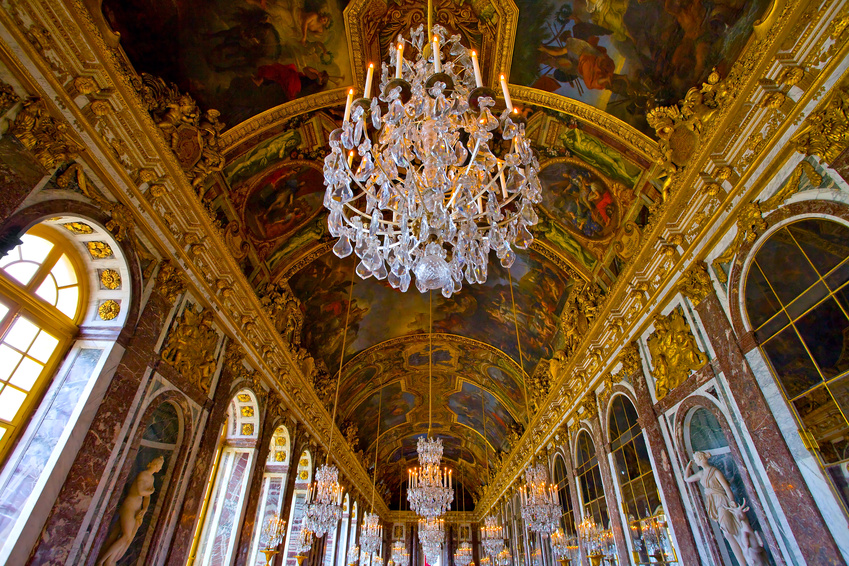 More than a residence for the king of France, the Palace of Versailles was above all a way to demonstrate the power and authority of Louis XIV and his successors. The Hall of Mirrors, formerly known as the Grande Galerie, represents the height of that policy of prestige, impressing all visitors with its pomp.
A magical and surprising place
The design of the Hall of Mirrors was completely revolutionary for the end of the 17th century. Its dimensions, sculptures, and paintings make up a constantly changing spectacle in which the lights and colors of the gardens are reflected in the immense arched mirrors hanging the length of the room. The artworks exhibited are mainly inspired by Greek mythology, in the purest neoclassical style. The arcades are alternately topped by a head of Apollo or a skin of the Nemean lion.
The Hall of Mirrors, which undergoes regular restoration, has lost none of its splendor and continues to be a cause for surprise and wonder for hundreds of thousands of visitors each year.
Staggering figures
This monumental room is around 239.5 feet long and 34.4 feet wide, for a total area of over 8072 square feet. Daylight enters the space through 17 immense windows and illuminates the plentiful gold leaf and the many sculptures and paintings. Facing the windows, huge mirrors are made up of 357 smaller panes assembled with lead cames and chiseled bronze cabochons. Each mirror, across from a window, is made up of 21 panes.
The presence of such a large number of mirrors is by no means trifling. At the time, manufacturing those mirrors required real technological prowess, obtained at an exorbitant cost; this was how the kingdom of France demonstrated its wealth and manufacturing expertise.
Over 10,763 square feet of frescoes and paintings, created by the studio of Charles Le Brun, also contribute to the superbness of the space.
Book your Versailles tour in English online with PARISCityVISION.
The Hall of Mirrors: a place of power
The care taken in creating the Hall of Mirrors is explained by the important political role it played from the moment of its inauguration in 1684. The most respected courtiers and ambassadors from neighboring kingdoms were received there, where they were stunned by the king's grandeur.
Symbolism is everywhere. Apollo, for example, figures in many representations in the Hall of Mirrors at Versailles. This Greek divinity was considered to be a sun god and the inventor of music and poetry. Louis XIV, nicknamed the Sun King, positioned himself as a patron and protector of the arts and presented himself as Apollo's natural heir.
By walking through the Hall of Mirrors, you will follow in the footsteps of a long line of sovereigns, heads of state, and celebrities from throughout the world.