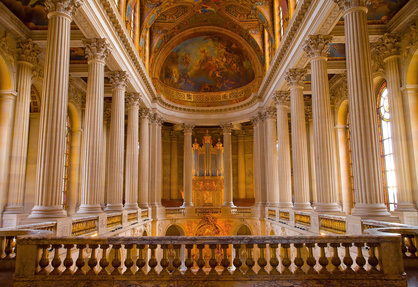 The Versailles Chapel—A visit to the Versailles Chapel is an important moment in your tour of the extraordinary royal domain commissioned by Louis XIV.
Completed in 1710, it is one of the best-preserved parts of the palace from the time of Louis XIV, and showcases the decorations of the 18th century's most illustrious artists.
A stunning chapel at the Palace of Versailles
Every château must have its own chapel, where daily mass and other religious ceremonies such as weddings and baptisms are held. In Versailles, many other chapels existed in different areas of the palace during different periods before the current one was constructed.
In 1687, Louis XIV asked the architect Jules Hardouin-Mansart to build a new chapel after living in the palace for five years. He asked that it be situated to the north of the central dwelling of Versailles.
Construction was completed in 1710.
From the outside, the royal chapel's very high roof sets it apart from the other buildings, as it is surrounded by many sculptures. It is the palace's highest structure, culminating at 144 feet.
From the inside, the chapel is divided into two levels, as was the case for palatine chapels, meaning the chapels which formed part of palaces. The king and his family attended mass from the tribune, on the upper level. The magnificent central colonnade is imposing and was inspired by antiquity.
Among the chapel's most beautiful interiors
The Versailles Palace chapel was one of the largest construction projects of its times and certainly the most ambitious. The project required more than two million French livres, more than half of which were dedicated to its absolutely stunning decoration.
The ground is covered in a sumptuous flooring of polychrome marble. More than 110 sculptors worked to decorate the space, and the best of the time completed the paintings that now adorn the walls and ceiling. Above the high altar, the half-dome in the apse features a painting of Charles de La Fosse depicting the resurrection of Christ. The arch painting is the work of Antoine Coypel and displays the Holy Father in his glory. The tribune where the king used to sit displays the painting Pentecost by Jean Jouvenet.
The Versailles Chapel, teeming with history
The chapel was completed in 1710. Louis XIV never marveled at the superb decoration, as he died in 1715. Nonetheless, a number of historic events took place in the chapel, namely the marriage of the Dauphin and future Louis XVI with Marie Antoinette on May 16, 1770.
During a general public visit of the Palace of Versailles, visitors can see the chapel through its entryway but cannot go inside. Chapel access is only possible during a guided tour.