Discover Notre-Dame de Paris and its neighborhood with comments written by Lorànt Deutsch. You may have already learned about it through his book Métronome, which retraces the history of the City of Light. With an audiopen and tour map in hand, you'll hear fascinating stories about the majestic Notre-Dame Cathedral as told by this consummate lover of Paris.
You'll immediately be immersed in the charm of the Ile de la Cité, emphasized by the grandiose Parisian cathedral. You'll be amazed by this wonder of Gothic and Romanesque architecture, whose construction took more than a century. Lorànt Deutsch invites you discover this incredible religious building and shows you its mysteries and secrets. You'll also appreciate the beauty of its decor, including magnificent rosettes at the center of the church, on each side of the altar, which depict scenes in the Bible. The central nave is illuminated by superb stained-glass windows running across its length, making the church's appearance and atmosphere particularly conducive for peaceful recollection.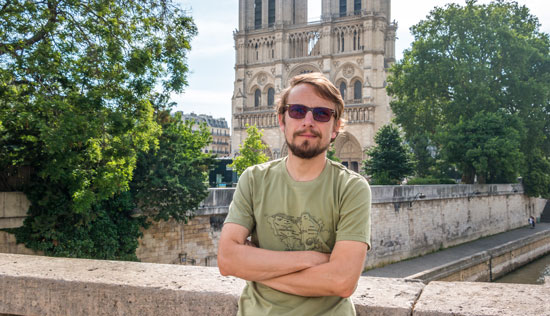 Lorànt Deutsch in front Notre-Dame de Paris Cathedral
The tour will start in front of the Hotel des Rives Notre-Dame. Your narrator will immerse you in the lively history of Notre-Dame de Paris. It was almost destroyed on several occasions, but each time was saved by several characters, including Victor Hugo's famous Quasimodo. You'll rediscover his novel through anecdotes told by your guide for the day, including the "Place des Fous" and the gargoyles who seem to be the guardians of this sacred site. Lorànt Deutsch's stories will reveal how Napoleon also played a role in saving this cathedral.
Your journey continues outside, following along your audio-guide's commentary, where you'll examine the little details hidden in the building's architecture. Let the narrator's enthusiasm guide you as he leads you through the neighborhood's picturesque streets: you'll venture into unusual areas that even Parisians aren't aware of. Just steps from the cathedral, you'll be surrounded by Paris's romantic atmosphere, and can dream along with the stories of love and intrigue told by this very knowledgeable Paris enthusiast. This neighborhood was also a meeting place for many French artists.
With this audio-guided tour around Notre-Dame Cathedral, you'll discover a Parisian icon that is inarguably one of the city's must-see attractions.
Please note :
A deposit of 30 euros per audioguide will be required at the agency upon the departure. You will need to return the audioguide at the agency at the end of the tour;
The price includes :
Audio-Pen available in French, English, Chinese, and Spanish
Route map of the excursion
The price does not include :
Further information on your confirmation voucher :
You will receive your confirmation and your tour voucher in 2 separate emails. Please print your tour voucher and present it to the PARISCityVISION office on the day of your departure.