Gold Beach during World War II
Normandy & D-Day Beaches tours
Starting from
229,00 €
Find out more
Gold Beach is the name of a D-day landing beach in Normandy. The code name Operation Overlord was given to a series of attacks on Normandy's beaches and the liberation of occupied towns and villages on June 6, 1944. This day marked the beginning of the Battle of Normandy. Our Normandy Tours often include visits of D-Days beaches like Gold Beach.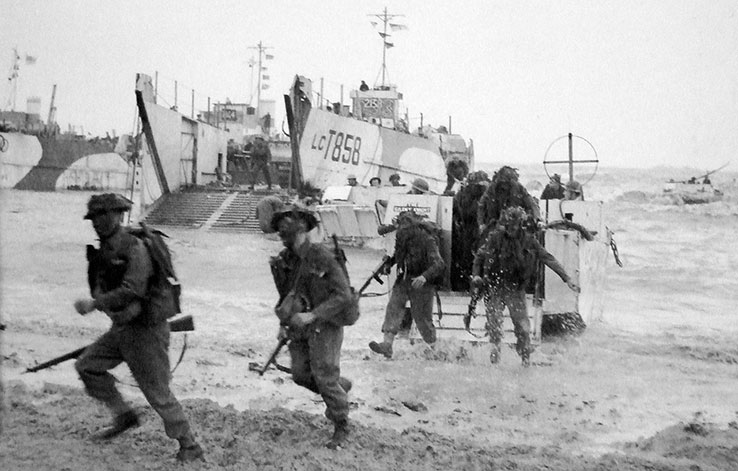 A Beach in the Hands of British Troops
At 7:35 am on June 6, 1944, 25,000 English soldiers from the 50th Infantry Division landed on Gold Beach. This beach, located in the Calvados region, goes from the town of Asnelles to Ver-sur-Mer. Other than at the beach's western zone, English troops experienced no major difficulties working their way inland.
The fortified village of Hamel was not significantly damaged during the bombings that preceded the landing. The German Army was thus able to retaliate, only to surrender in the afternoon after several Allied attacks. At the end of the day, English brigades joined up with Canadian troops who had landed to the East, at Juno Beach. The American Army had a much harder go in the West, at Omaha Beach.
The town of Arromanches-les-Bains was liberated, and its location chosen to set up Mulberry, an artificial port. Prefabricated parts from Great Britain were brought to the Normandy coast that then served as a supply line point for Allied troops. Omaha Beach was meant to have a similar artificial port but it was destroyed during a storm.
Bombing of the Longues-sur-Mer Batterie
Before landing on Gold Beach, the British Royal Navy warship cruiser, HMS Ajax, attacked the artillery batterie at Longues-sur-Mer. This imposing military installation was designed to defend Gold Beach and Omaha Beach in case of disembarkment. Despite the Allied attack, the Germans were able to bomb the beaches even though being attacked themselves by the Allied forces.
Royal Air Force bombardments damaged the batterie at Longues-sur-Mer that was taken by the C Company of the 2nd Battalion of the Devonshire Regiment before noon.
Gold Beach is an interesting place to visit, especially to see the vestiges of Mulberry, its artificial port, a project that highlights the complexity of the months-long Operation Overlord. At Ver-sur-Mer, the America Gold Beach Museum shows D-day from a British point of view. The Royal Air Force and Royal Navy 50th Infantry Divisions operations are documented.