Giverny is a town full of charm. More than just the abode of Claude Monet's house and gardens that have been transformed into a living museum, Giverny is also a veritable hotbed for French and traditional Normandy restaurants who will without a doubt titillate your taste buds -- and other senses!
Le Jardin des Plumes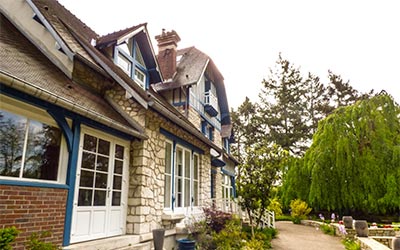 Run by Chef Eric Guérin, le Jardin des plumes welcomes you all year long. Although its prices may not be among the cheapest in town around the Monet foundation, you'll definitely get your money's worth. Traditional cooking and fresh, high-quality products guaranteed. Outdoor terraced lawn.
Address: 1 Rue du Milieu, 27620 Givery
Telephone: 02 32 54 26 35
L'Esquisse Gourmande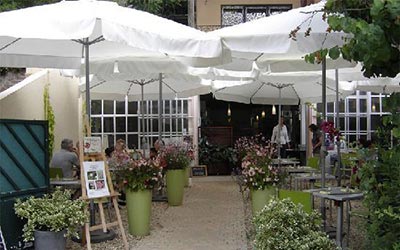 This gastronomic restaurant is considered to be one of the best in town. Better to make a reservation between April and June when it's not too hot and one can enjoy the outdoor terrace. The menu may be simple and scant in choice but this is for a reason: everything is homemade, thus guaranteeing very high quality.
Address: 73 Rue Claude Monet, 27620 Giverny
Telephone: 02 32 51 86 95
Baudy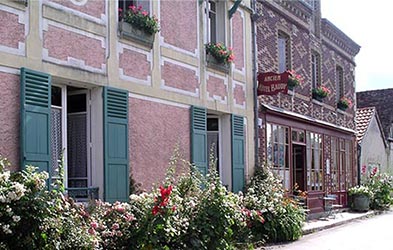 With both indoor and outdoor eating possible, we highly recommend that you reserve a table at Baudy if you want to take advantage of a beautiful spring day. Located in a typical Giverny building, its local, authentic charm will please both young and old whether you've come to enjoy a meal as a family or as a couple on a romantic night out.
Address: 81 Rue Claude Monet, 27620 Giverny
Telephone: 02 32 21 10 03
Croc' en Bus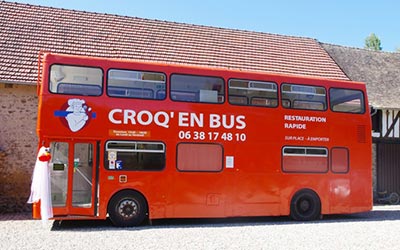 Le Croc' en Bus is Giverny's fast-food version. And yet, "Slow Food" is written in big letters on the bus. Huh? You won't find any burgers here but delicious pies made with homegrown products that one can take the time to savor in this typical English double-decker bus. Homemade desserts and pastries are also on sale. The ideal place for a unique eating experience in the heart of Giverny.
Crêperie la Musardière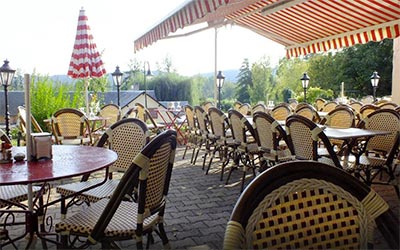 For lovers of crepes and of Giverny, Musardière will certainly delight your senses. What more is there to say about a crepe restaurant that proposes homemade, high-quality products?
Address: 123 Rue Claude Monet, 27620 Giverny
Telephone: 02 32 21 03 18
Le Petit Giverny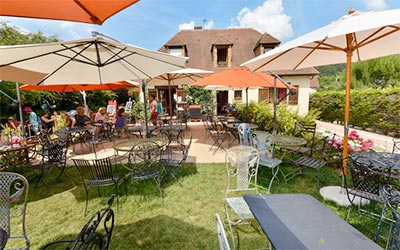 This restaurant has had fun creating a joyous ambiance and decoration. On its small, outdoor terrace there are colorful flowers that, just like the tableware, is scrupulously cared for and arranged with good taste. Try the grilled foods, the house speciality.
Address: 41 chemin du Roy, 27620 Giverny
Telephone: 02.32.51.05.07
Les Nymphéas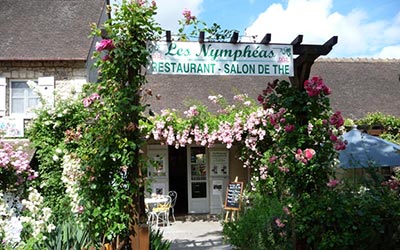 A traditional Normandy restaurant, Les Nymphéas offers both contemporary and traditional cuisine. The old building that houses the restaurant plunges you into a pleasant, relaxing atmosphere. Don't hesitate to stop by for an afternoon snack as the restaurant is also a tea parlor.
Address: 109 Rue Claude Monet, 27620 Giverny
Telephone: 02 32 21 20 31
La Guinguette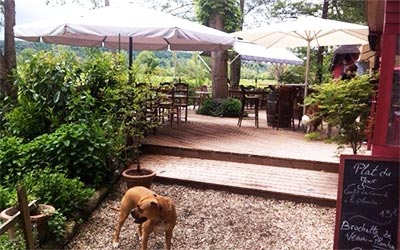 If you want to have lunch in a beautiful setting during your stay in Giverny, la Guinguette is the place for you. Located along the banks of the Epte River.
Address: 13 rue Falaise, 27620 Giverny
Telephone: 06 83 17 24 07
L'aquarelle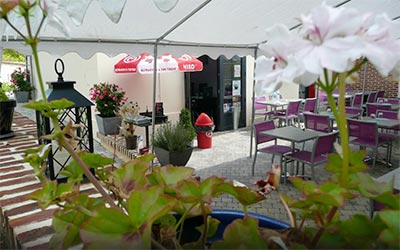 Here it's all about pizza! Every town needs a pizzeria and Giverny's #1 pizzeria guarantees an authentic Italian ambiance. The perfect stopover on the way to Monet's gardens and house.
Address: 96 rue Claude Monet, 27620 GIVERNY
Telephone: 02 32 64 27 63
La Capucine Giverny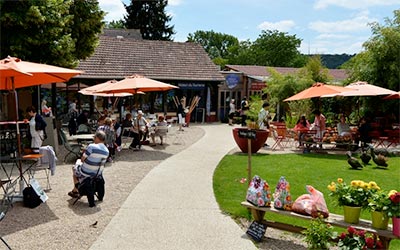 A little like the Croc' en Bus, this restaurant redefines the notion of service. We're not talking about fast-food but self-service though; certainly less "sexy" on paper, this veritable self-service restaurant is done in good taste and will challenge your preconceptions with its high-quality, homemade meals listed at reasonable prices.
Address: 80 Rue Claude Monet, 27620 Giverny
Telephone: 02 32 51 76 67
Le Gentilhommière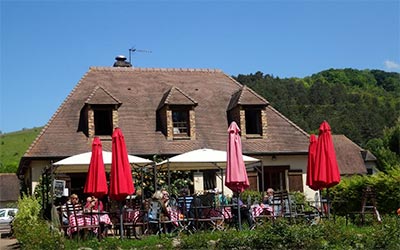 Terrace surrounded by nature, brick-oven cooking...Le Gentilhommière has a great reputation in Giverny. You won't be disappointed with its artisan ice-cream, warm welcome and affordable prices!
Address: 41chemin du Roy, Giverny
Telephone: 06 07 88 58 70 or 06 07 27 37 95
Le Terra Café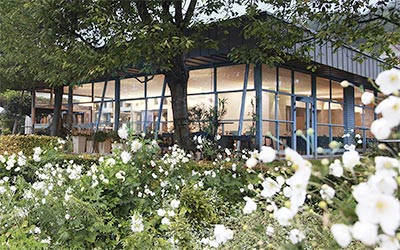 The Giverny Museum of Impressionisms in-house restaurant, Le Terra Café is tastefully decorated and has a sunny, outdoor terrace. The perfect place to lunch or to take a relaxing break in between your museum wanderings.
Address: 99 Rue Claude Monet, 27620 Giverny
Telephone: 02 32 51 94 61
If you have not chosen where you are going to stay, have a look at our selection of hotels in Giverny.