Claude Monet's Gardens at Giverny
Monet's gardens are one of the top things top do in Giverny. Discover the different gardens that inspired so many of Monet's paintings.
The Walled Normandy Garden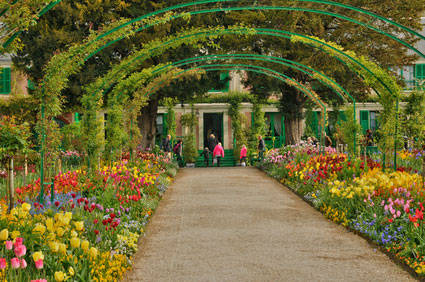 The garden that spreads out before Monet's home is called the Walled Normandy Garden. Roughly 2.5 acres, the garden overflows with flowers scattered here and there along the central walkway. In summer, the walkway would be filled with nasturtium (capucine in French) that blanketed the walkway as they grew. Monet's garden was never static; at times there were apple, cypress, box, and spruce trees, all of which he would then remove to create a central alley above which metallic arches supported climbing roses.
On either side of the alley, Monet planted beds of flowers where multiple colors and varieties grew and mingled: roses, nasturtium, tulips, poppy, iris, daffodil, peonies, narcissus and daisies to name just a few...
Monet also planted fruit trees such as Japanese cherry and apricot trees.
His passion for gardening was incorporated into his artistic style and influenced the way in which he designed and elaborated his garden. Flowers of varying heights and varieties gave different perspectives and allowed for color play.
Then and now, flowers grow freely in the garden, without constraint, just as Monet preferred to paint: independently and free of imposed societal codes.
The Water Garden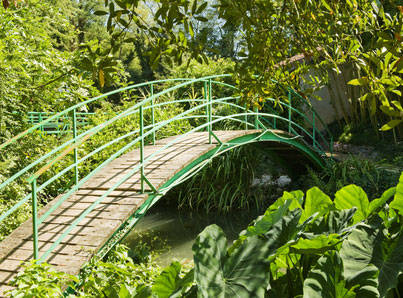 Japan-inspired, the Water Garden was painted by Monet many a time. Monet, fascinated by light and its myriad reflections on water, had white water lilies placed in a small pond -- embellished with flowers -- that he began painting in 1897. Around the pond he chose plants that are found in Japan such as bamboo, weeping willow, wisteria, peony, maple, gingko biloba and lily.
The Japanese Bridge
Monet had several bridges constructed over the pond, the most imposing located on the same axis as the central walkway, the Clos Normand. Not only was this particular bridge inspired by the Japanese prints Monet collected in his house but it was painted green to completely blend in with its surroundings. Made of beech, it would be a huge source of inspiration for Monet and his paintings; the bridge's curved lines produced a peculiar effect on the water's surface and between different lights and reflections, the water took on a certain aesthetic appeal depending on the time of day.
Doscover our large variety of tours to discover Giverny and Monet and appreciate the special atmosphere and the beauty of this place.